If we see the present progressive scenario, we can never deny the fact that today's youth are very much influenced by Entrepreneurial achievements.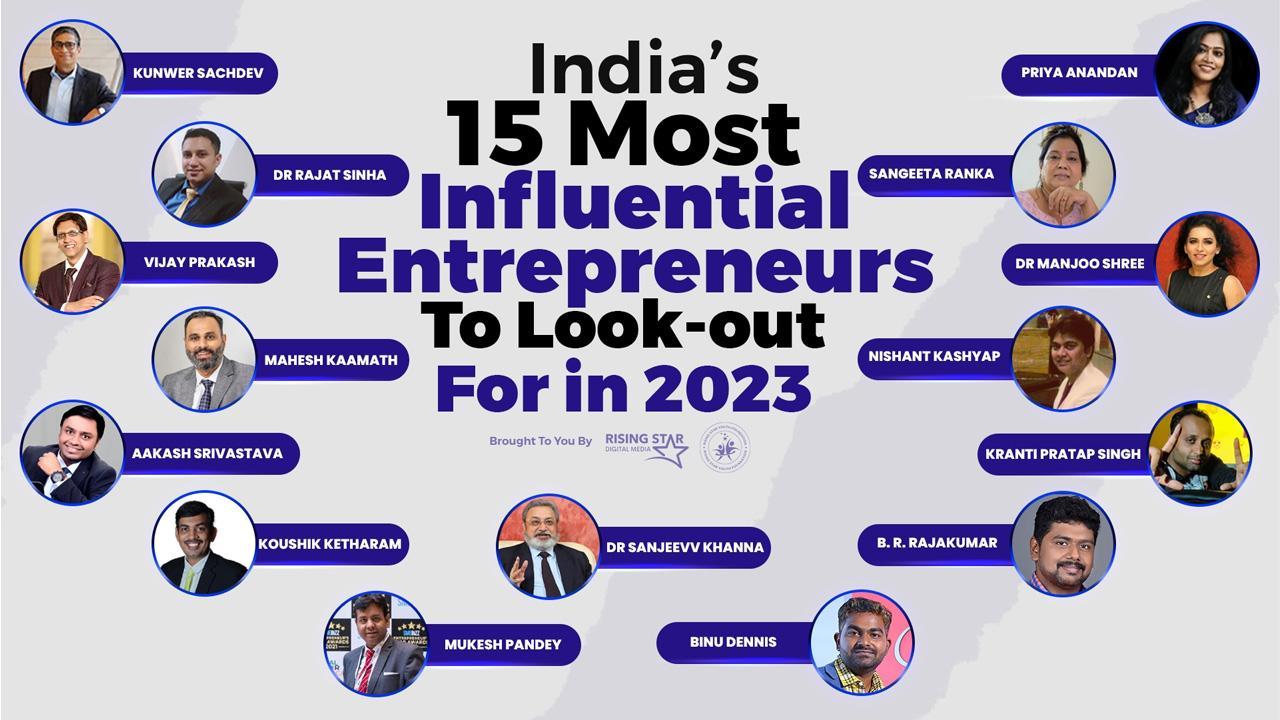 The spirit of entrepreneurship has in fact impacted many people from every corner of the country. Here are 15 such influential Entrepreneurs of India who have done remarkable work to inspire the generations to follow.
KUNWER SACHDEV
Mr. Kunwer Sachdev is the Founder of one of the most well-known brands in the Power Back-up Industry – Su-Kam. After leaving Su-Kam he is mentoring start-up Su-vastika.​
Kunwer Sachdev is called The Solar Man of India and Inverter Man of India. Born in a middle-class family, Kunwer started his career in business as a cable television distributor. He completed his graduation in statistics from Hindu College and later went on to pursue an LLB degree from Delhi University.
Besides being an entrepreneur, Kunwer is also a marketer, innovator, motivational speaker, and mentor of Su-vastika.
He is a self-made man who grew up to build a diverse entrepreneurial experience and revolutionize the power backup sector in India.
His innovative inverter and solar-powered UPS are loved by people across India and attracted customers globally, helping him build a significant base in the Middle East, Africa, and Southeast Asian countries, including Bangladesh and Nepal.
He has been honored with numerous awards, such as Government of India's 'Bharat Shiromani' and 'Young Entrepreneur of the Year' awards.
DR RAJAT SINHA
Dr Rajat Sinha is an MBBS graduate, a serial entrepreneur and a sales coach who has successfully built a strong community of business professionals at StartupFrat, a Business Education Community which is primarily engaged in helping aspirants pursue their entrepreneurial dream. His innovative methods have inspired more than twenty-five thousand business owners, Solopreneurs, Private Practitioners and Commission-Selling Salespersons to build their legacy. Dr Rajat's study of the Commission-Selling Market led him to discover the formula to help sustain a business while being involved in solving the 'Real problems' the world faces.
His community consists of two platforms on Facebook - the StartupFrat Hangout, and the StartupFrat Early Birds Club which helps users to book a free consultation and strike the right balance between Sales, Marketing and productizing. He helps budding entrepreneurs build themselves via The Lean Start-up Environment which has the potential to generate cash-flow at a faster pace than any other activity and also provides valuable guidance and advice which has led start-ups pick up the pace in the first year itself. Dr Rajat's most valuable advice is that 'All the Money in the world Comes from Someone Else's pocket' and learning the craft of asking for that money is all what he teaches.
VIJAY PRAKASH
Vijay is the Co-Founder and Director of GVD Wealth Professional Pvt. Ltd. He is co-author of Amazon's #1 Bestseller Slumdog Investor.
During the 16 years of his trading career, he learned various theories, approaches, and concepts only to realize that anyone can build a complex system, but it takes a genius to simplify it. He is also the creator of 5MMPT System (5-minute millionaire PRO. Trader) which helps the common man trade in the stock market in just 5 minutes.
He inspired 50,000+ people from various walks of life through his live seminars, workshops, videos, and online courses to become Professional. trader. His mission is to influence and impact 10 million people through his live and online programs & courses and live workshops. He has received numerous rewards and recognition for raising the financial literacy of the country.
His message to the common man is:  In your life, you will not have as much money as you want. You will make as much money as you deserve.
MAHESH KAAMATH
Mahesh Kaamath is an ex-hotelier turned trading expert, Stock Market Trainer, Price action Trader and the founder of MAK Trading school. He started his journey as a stock market Trader in the year 2008 and has a very rich experience of trading in volatile markets including the recent crash during the pandemic.
He has spent a lot of time and effort in getting to know the nuances of various aspects of trading and follows a simple rule-based strategy of Price Action Trading. Mahesh discovered his area of expertise in Supply Demand Trading, a strategy which focuses only on the price action of the stock to identify Institutional buying and selling activity. Thereafter started his own Trading School through which he has successfully trained and imparted education in this field to more than two thousand aspiring traders.
Mahesh also has a vast experience of working as a Consultant Instructor with Online Trading Academy (OTA) which adds to his skill as a training expert.
AAKASH SRIVASTAVA
An Ex- Ops Consultant and presently the Founder of Mindful Ideal Wellness, Aakash Srivastava leads people on the journey of transformation by helping them elevate their self-image through his consultation services. He is a visionary and an action taker who strongly believes in the philosophy "Your Best can be better than the rest but only if you put yourself to the test".
Besides being a Wellness Entrepreneur, Aakash is an MBA graduate who has successfully cracked the code of taking the offline business to the online platform and is on a mission to secure the entrepreneurial dreams of health advisors and coaches, including D2C supplement sellers. He has also managed to reach a six figure income in a time period of ninety days which has led him to create great health results globally. Aakash mentions the three key elements which are an essential for running a solopreneur business successfully in the post COVID era, Adaptation to the new world: Online is the new Offline; Being an authority figure: Don't rely on Company's brand, build your own and lastly; Building social proof- Online Tribe Building is the key.
KOUSHIK KETHARAM
Koushik is an investment consultant, personal financial adviser, and an entrepreneur who has an experience of more than twenty years in the wealth advisory space. Born and brought up in a traditional dharmic household, his financial values, hard work, exceptional analytical skills, and love for the subject helped him climb up the corporate ladder.
After gaining significant experience in the financial sector, Koushik embarked on the journey of establishing his own venture, Intelli360 Wealth, in the year 2015. Intelli360 Wealth is an investment advisory firm based in Chennai with more than 240+ Customers, company helps people increase their wealth through investments in Indian and overseas markets. The firm offers a wide range of services such as Mutual Funds, estate planning, secondary market bonds, Life Insurance, Health Insurance, and Unlisted Shares, and also provides Retirement Planning services to its customers.
Koushik strongly believes that as a financial professional, his chief responsibility is to expand his clients' wealth and safeguard financial security besides providing a quality experience to the customer.
DR SANJEEVV KHANNA
Dr.Sanjeevv Khanna, one of the most prominent name in Indian corporate world for over 3 decades, is a management graduate from Kurukshetra university. He has the unique distinction of setting-up and leading the business operations for Honda Cars, Samsung Electronics, ITC Ltd, Metro cash and carry and BigBasket, before joining Patanjali Ruchi-Soya group, as it's Chief Operating Officer. He has been a strategic advisor to numerous Boards and Top Management, providing guidance on Business Excellence, Supply Chain operations, Human Resources, Corporate Social Responsibility, and Sustainability.
Dr.Khanna is an avid learner and has done numerous management and life programs from prestigious institutions, such as IIM, IBMI-Berlin, University of Manchester, London, Canada, Stanford University, Oxford University, Harvard Business School, and the World Bank Group. He has done a Doctorate in management, as well as he has been awarded the Honorary Doctorate for his services, in the field of management.
He is a certified and registered Independent Director for Indian boards and, also a certified Human Resource Director, a Career and Life Coach certified by ICF, an NLP practitioner, and a Thought Leader. Dr.Sanjeevv Khanna is Founder of prestigious "Academy for Self-Maximization", as India's first licensed IKIGAI coach.
He is a well known author of Amazon Best Seller book like "IKIGAI is IKIGAI" and "Art of Self Maximization". He is on a mission to enable by 2025, over 1 million people, globally, to find their life-purpose for a successful and fulfilling life.
MUKESH PANDEY
Mukesh Pandey is a Fund Raising Expert, SME Growth Consultant, Mortgage Consultant, Financial Advisor and a Working Capital Loan Advisor based in Delhi, India. He is the Managing Director of Rupyaapaisa.com and is working on a mission to help SME business owners grow and achieve milestones in their business with strategic planning under the advisory of Rupyaapaisa.com. The company is built in such a way that it undertakes all the fire-fighting jobs to compare the product and policies of the different banks and nbfc and find the best solution at the best possible rate of interest.
With a vast work experience of more than fifteen years, Mukesh's expertise in the field of loan syndication has helped him serve more than 1000 SMEs to grow and scale up their interaction with the help of bank loans.
Mukesh has also been awarded as the best consultant for the specialist in business funding for MSME this year and has been featured on several reputed news channels for speaking on various important topics related to banking and others related to loans for MSME.
MRS. PRIYA ANANDAN
Mrs. Priya Anandan is a practicing lawyer turned certified counselling psychologist who holds a post-graduate degree in psychology. As psychologists are known to assess mental health issues and can help people regulate their negative emotions and deal with stress effectively, Mrs. Priya was always highly interested in human behaviour and relations which inspired her to pursue psychology.
She is the founder of Breathin counselling & wellbeing which was established in 2013 in Chennai where she uses a range of psychological therapies to suit the needs of individuals. Mrs. Priya has an expertise of helping people deal with a wide range of mental health problems such as Depression, Anxiety disorders, Obsessive Compulsive Disorder (OCD), Psychosis, Emotion regulation difficulties, PTSD, Combat Trauma, Addictions. She additionally holds certifications as a Counselling Psychologist, parenting expert and an inclusive educator and offers a free 15-minute no-obligation consultation call to all her clients.
Mrs. Priya believes that having patience, staying humble and being open to new experiences helps her get through the day.
SANGEETA RANKA
Sangeeta Ranka is a renowned Pranic Healer whose journey began when she found herself stuck in a corporate job while looking after her ailing father at home and supporting her family. As this situation took a toll on her physically and mentally, she decided to distance herself from the outside world and focus on Pranic Healing or the 'no-touch' energy healing where the body's energy is regulated by replacing the negative energy and blocks with positive energy.
After witnessing a positive impact in her life, Sangeeta went on to pursue an advanced level certification course through the World Pranic Healing Foundation in order to help people solve modern-life problems. She found solace in Pranic Healing as it is based on the fundamental principle that the human body possesses the innate ability to heal itself and has helped thousands of people heal across the globe including people from India, USA, Canada, Europe, Malaysia, Singapore, the Philippines, Hong Kong, South Africa, and more.
Her firm belief in scientifically backed ancient sciences led her to acquire and build expertise in Akashic readings, Vaastu, Numerology, and Tarot Reading besides her signature Weight Loss Program and the Chakra Balancing Program. Sangeeta is dedicated to improving the quality of human life.
Dr. MANJOO SHREE
Dr. Manjoo Shree is an International Life Transformation Coach, Psychologist, Artist and the Founder of Lifeolicious, a positive community start-up which is aimed at healing the world, one soul at a time. Born in 1981, Dr Manjoo Shree is also a published author, singer and organ donor who is on a mission to let young adults and women live with a genuine sense of happiness and joy, free from fear and anxiety caused by the threat of distress, limiting beliefs and rooted emotions.
She is the author of the first self help book for children in India - Life Parachute, independent artist - Yettadha Dhooram , Kaatre creating a niche of her own !
Her establishment, Lifeolicious based in Coimbatore, Tamil Nadu also became the biggest motivational platform of sustainability in the self-help industry, with its commitment to empowering women on sustainability and resilience coaching. She has also been awarded with the Women Icon Award in 2018, Global Award influencer in 2019 and more.
Besides this, Dr. Manjoo is also the Asia book of world record holder, India's public speaking champion and an IIMB certified start up incubator.
For Dr. Manjoo, Lifeolicious is a platform through which she inspires people to transform their lives into happy productive places. She has built a huge base of 36,000,100+ viewership, Individual workshops, 60 motivational group workshops - nationally and internationally and  35 outdoor charity events.
NISHANT KASHYAP
Nishant is a Corporate strategy and policy expert and the co-founder of Celebs Tea Co., a virtual marketplace for the new generation which offers a wide range of teas sourced directly from famous tea estates. Celebs Tea Co. consists of an exquisite variety of more than a hundred fifty teas and has a widespread customer base in different parts of the globe including US, Netherlands, UK, Germany, Singapore, and Australia.
His journey of establishing his brand began when he gained interest in the digital entertainment space. Further, while exploring the domain, Nishant built his expertise in consumer behaviour by analysing their buying pattern which helped several of his clients to re-evaluate their marketing strategies in the e-commerce industry.
Nishant's venture Celebs Tea Co. is also known for designing a unique concept which promotes fashion models by featuring them as their brands' cover model. Through this idea, Nishant has empowered fashion lovers all across the globe. This concept has greatly helped professional fashion models to convert their passion for modelling into a business.
Because of his vast knowledge on web technology, He has also tied up with global investors.
KRANTI PRATAP SINGH
Kranti Pratap Singh is an Indian director, writer and producer who began his career in the year 2009 as a producer partner with Kingz Films and Entertainment for the daily soap Karwaan Ek talash on Doordarshan. The company, has an experience of fourteen years in the field of creative content making and is ready to set foot into the digital world with Kingz Play on YouTube.
KingzPlay is a sister company to Kingz Films and Entertainment which will focus on producing digital content, initially for YouTube.  With content creation on the rise, and YouTube having a global reach, Kingz Play launched its first web series in Asi desi, featuring Arijit Singh and Sunidhi Chauhan songs. Following this release, the company plans to launch several short films and eventually develop its own OTT. The company has expanded its horizons by collaborating with Doodlu TV, to create animated nursery rhymes for children. This collaboration will not only make the process of learning fun for the children but will also result in the creation of new content thereby attracting new opportunities for the firm. Kranti states that his company intends to create and distribute high-quality content while also providing a firm platform for artists, writers, and directors.
B. R. RAJAKUMAR
B. R. Rajakumar is a young researcher-turned-entrepreneur who hails from Mylaudy, a rural region of Kanyakumari district in Tamil Nadu. He is the co-founder of Resbee Info Technologies and started it with the aim of integrating cutting-edge technologies into the e-learning sector and promoting research and development in machine learning and artificial intelligence.
Under Resbee Info Technologies, he formed a mission called "e-Khool" in 2016 to carry the best learning procedures and multimedia contents to the students of all grades, especially those from rural and sub-urban areas, through e-learning applications.
He strongly believes that Entrepreneurship is for the welfare of the society and this belief led him to launch a mobile learning app, Maazter in 2020 for the students of Tamil Nadu. After receiving widespread appreciation and a positive response for his efforts, his company has also signed an MoU with one of India's leading competitive exam book publishers for supplying digital materials to the country's higher secondary school students.
B. R. Rajakumar states that it is his ambition to bridge the gap between knowledge access and physical presence in order to enlighten the young mind in every nook and corner of the country.
BINU DENNIS
Binu Dennis is a Data Scientist, Corporate Consultant, Machine Learning Expert and a young Indian businessman who hails from Nagercoil in Tamil Nadu. He built his start-up, Resbee Info Technologies (P) Ltd. revolving around EduTech space around 2016 when he started guiding research aspirants.
He has always been exposed to the best education and career-building environment and holds a post graduate degree in Electronics and Communication Engineering, from Anna university.
He is the CEO of e-khool LMS, Maazter Learning, and Resbee Publisher. His brainchild, "e-khool LMS," is a SaaS based LMS software for schools, colleges, universities, companies, professional training, and coaching academies, bringing in a wave of change in the implementation of a digital learning environment. e-khool LMS has successfully converted over 200+ companies and institutions with over 1 million users to the digital learning platform to date.
He is continuously expanding the horizons of his venture and working with different governments to make the digital learning experience better. Under his leadership, he gave a new direction to SaaS based LMS software by including artificial intelligence to deliver customised learning experiences. By doing so, e-khool LMS, was named one of the 20 hottest AI startups in India in 2022 by Analytics India Magazine.
PS: These Entrepreneurs, their stories and the achievements are brought to the media By Rising Star Digital Media and Rising Star Youth Foundation!