Entrepreneurship is a profession that carries both big risks and heavy rewards. The significant rise in the number of self-made Indian entrepreneurs has been instrumental in shaping the country's economy, besides empowering the youth of the country.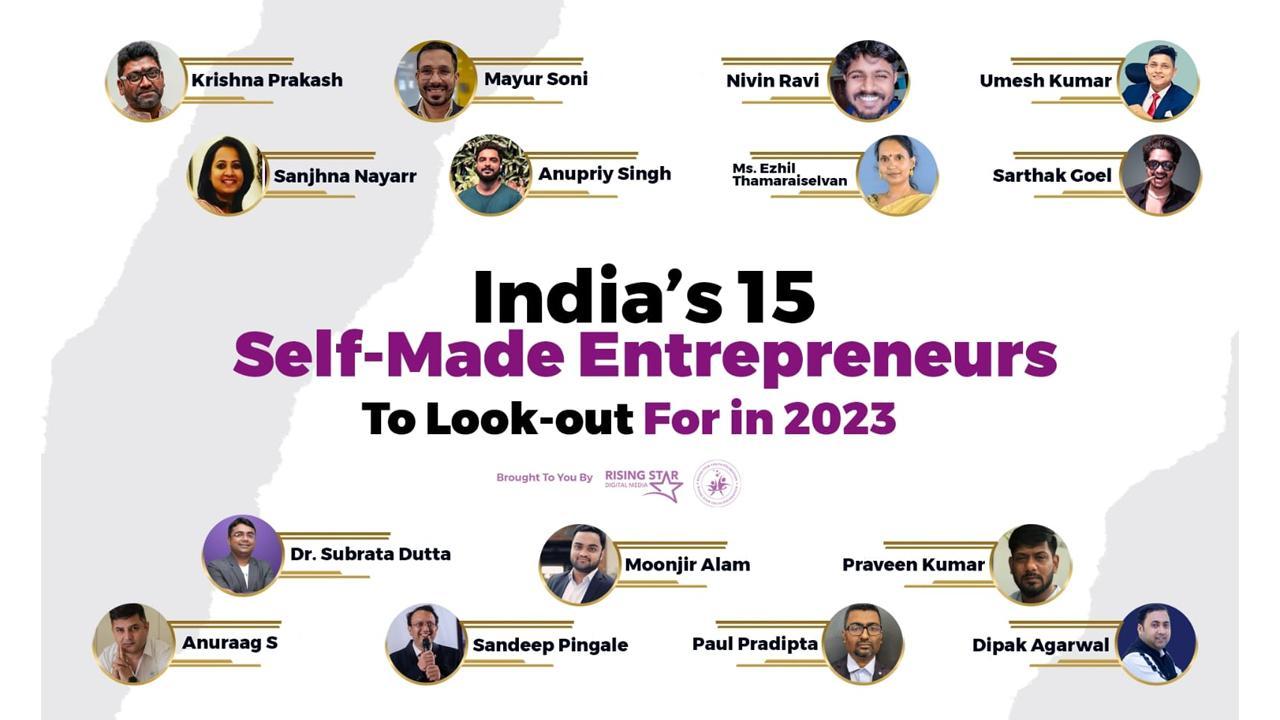 Self-Made Entrepreneurs
Entrepreneurship is a profession that carries both big risks and heavy rewards. The significant rise in the number of self-made Indian entrepreneurs has been instrumental in shaping the country's economy, besides empowering the youth of the country.
This article features the inspiring success stories of India's brightest business leaders, who have worked against all odds to make a name for themselves in the world by defining their goals and honing their entrepreneurship skills. 
Krishna Prakash
Krishna Prakash is a Life Coach, Yogacharya, Thought Leader in the Indic Knowledge Systems, Author, Entrepreneur, and the Founder of the international residential Yoga school, Shrimath.
After working in the Wellness space since 2003, Krishna sensed an opportunity for boutique Yoga schools where seekers from all parts of the globe could experience authentic Yoga as a complete system rather than mere postures and established Shrimath in 2011.
Shrimath is recognised by the Indian government supported by the Indian Yoga Association (IYA), Yoga Alliance International, the World Yoga Federation, and the Yoga Alliance.
Shrimath Yoga has served more than 12,500 clients and gained widespread international recognition as it offers a blend of ashram learning, home cooking, and simple living on its 2-and-a-half-acre campus on the outskirts of Bangalore.
The Yoga School has received several awards and recognitions, including the Certificate of Excellence since 2014, the Hall of Fame in 2019, and Travelers' Choice in 2020 from international travel portal TripAdvisor.
Mayur Soni
Mayur Soni is known as India's leading edtech entrepreneur. He is the founder of multiple communities and platforms aimed at providing students with the right training to get into the country's top Masters and MBA colleges, including TISS, IIMs, IITs, XLRI, SCMHRD, NMIMS, and others.
He is an alumnus of TISS Mumbai and has worked with several renowned companies such as Accenture, Crompton, Dr. Reddy's Laboratories, and Cipla. Furthermore, he has over ten years of teaching and mentoring experience and has trained over four thousand students to help them achieve their goals.
Vair and DreamMBA Community, two of the community-driven platforms established by him, cater to 5000+ students for start-to-finish mentorship for the complete selection process in top Masters and MBA programmes at present. Under his guidance, his students have been successfully placed in companies such as Ernst & Young, Deloitte, Reliance Industries, HUL, Wipro, Bajaj, and others.
Nivin Ravi
The first love of Nivin Ravi, a former Indian Air Force Technical Officer, was to nourish the inner light in everyone, including kids and grown-ups.
"My vision is to unravel the true inner potential of your children," says Nivin. He is building up 'THE SOUL -The School Of Universal Love', an experience based learning under 'The Psyche – God Within.' It is an open digital learning platform, which is artificial intelligence integrated, utilising tools of deep psychoanalysis, to serve pedagogical solutions to the young and the old.
The School is focussing on grooming children aged 3 to 13 years. The School is raising a compendium of psycho-analytical activities and a game-based curriculum that would offer digitally simulated experiences similar to our real lives.
He is the Managing Director of Aidan Group. He manufactures Terrasand, a superior construction sand material, runs 'The Justice Haqq', a law firm dedicated to serving the poor, 'Nostaad Media', a spiritual movie production company and 'Nostaheaven', an AI-integrated shopping & entertainment centre.
Umesh Kumar
Umesh Kumar is a young entrepreneur and crypto and blockchain expert. He is the founder and CEO of an Indian cryptocurrency exchange named SunCrypto, which is based in the city of Jaipur, Rajasthan. SunCrypto started functioning in July 2021 and has built a base of more than eight lakh registered and active users for crypto trading and investment in a very short span of time.
SunCrypto offers its users the facility of "Quick Trade," which means the minute an order is placed at the current or expected market price, it is matched and spontaneous execution takes place. Umesh's goal is to create a platform that enables easy and simple cryptocurrency exchange with zero complexity, making the trading experience unforgettable.
Quick Trade therefore helps to bridge the gap between a buyer and seller and resolve the issue of liquidity in a matter of minutes. SunCrypto under Umesh Kumar is emerging as India's leading exchange start-up, which is all set to transform the trading experience.
Sanjhna Nayarr
Sanjhna is an author, blogger, podcaster, psychic medium, rune and tarot counsellor, art therapist, tasseographer, graphologist, and energy healer. She is the founder and CEO of Safroneya, "the journey within," a holistic wellbeing center, and is strongly committed to spreading positivity and guiding people towards emotional, mental, and physical healing and growth.
She is a Representative of G100 Oneness and Wisdom as Assam State Chair; National President, Jewellery and Gems Council, WICCI; Project Baalikavidya Ambassador for the South Zone; and the Facilitator at CIC, SME Climate Hub. Moreover, she is a national award winner for Bharatanatyam and has also received the title of "best writer" in 2022 for "Savage Lemonade: An army wife's spiritual journey."
Sanjhna believes that union with oneself should be the prerequisite to recognising and realising dreams. She has also won many awards for her contribution towards the upliftment of women and her active presence in various social activities.
Anupriy Singh
There is no stop to growth when you are determined and here an Engineer proves that there is more to becoming an Engineer and thus is an inspiration to many Engineering students & aspiring entrepreneurs.
Anupriy Singh is an engineer turned entrepreneur who started his entrepreneurial journey with www.JugaadExpert.com, a home service company offering door to door services such as home tutors, technicians, legal experts, accountants, and home delivery of essential goods. After gaining significant experience from this venture, Anupriy started a horticulture company, Witwake Solutions Pvt. Ltd in the year 2019 which focuses on providing its customers all round services for efficient and healthy spaces.
He works as the Managing Director of Witwake Solutions Private Limited, and is involved in converting unused unban spaces into greener luxury or high yielding in-house farms. The Lucknow based company has expanded its horizons and now provides services to top corporates and has successfully converted hundreds of urban spaces by its expertise gardening services, vertical garden & landscaping services.
Ms. Ezhil Thamaraiselvan
Ms. Ezhil is a single mother who started her journey of entrepreneurship in 2016 to sustain her family's needs. She began her venture, Viraja Fashionista, a women's clothing and accessory brand, with a very minimal investment of five thousand rupees.
Hailing from the city of Salem in Tamil Nadu, Ms. Ezhil's success is a mark of her family's relentless support and undoubted confidence in her. Her brand, Viraja Fashionista also has an e-commerce platform that provides an exclusive range of sarees. Ms. Ezhil is the sole decision-maker for her business, which generates a lot of revenue because of her skilled decision-making ability and business ethics.
Her company is an inspiration to many people who want to start their own businesses without a large investment. Ms. Ezhil plans to expand her business to various locations in Tamil Nadu by forming partnerships with weavers across the state and gaining new customers.
Sarthak Goel
Sarthak Goel is India's leading men's personality coach and an expert in communication and body language recognition. Sarthak believes that emotionally investing in unhealthy relationships that create toxic cycles is a major problem in the modern-day dating scenario and kills the potential creativity of young brains, thereby affecting our nation's future.
Sarthak Goel believes that the current dating culture has significantly changed, and with the increased use of social media, people need to update their dating approach to be suitable for the 2020s. In an attempt to help men become better versions of themselves, Sarthak Goel helps them build their personalities and auras to reflect their true selves and reach their full potential, as their clear, creative minds will drastically revolutionise future India.
Sarthak Goel has influenced more than 150K males through Instagram and YouTube, garnering over 20 million views on these platforms. Also, Sarthak has grown his family business fourfold in the last three quarters and is currently focusing on his new venture.
Dr. Subrata Dutta
Dr. Subrata Dutta is an innovator, entrepreneur, motivation coach, author, and the founder of Renatus Wellness Private Limited, one of India's fastest-growing network marketing companies with a distributor base of over 2 lakhs.
He has more than eighteen years of experience in the field of network marketing and conceptualised the need to maintain a healthy balance despite a busy schedule by providing our bodies with the best possible natural nourishment. Dr. Dutta had introduced an all-natural nutraceutical healthcare product - Renatus Nova, about four years ago. It has been well accepted in the Indian market and abroad. Many more unique wellness, body care and home care products are in the pipeline waiting to be launched very soon.
He is the author of "A Map to the Pinnacle of Success" and has been appointed as an Executive Member of FDSA. In addition, he has also been awarded the "Doctor of Business" in November 2022 by Global Human Peace University for his contribution in the field of wellness.
Dr. Dutta has also been nominated as a recipient of the "Doctor of Business (Specialization in Business, Mind Motivational Training & Development)" award by the World Human Rights Protection Commission.
Moonjir Alam
Moonjir Alam, is an entrepreneur from Assam who is currently working in the education sector. Hailing from a small town of Assam, Moonjir completed his studies from IBS Mumbai. Post that working for 3 years as a marketing manager in Mumbai, Singapore and Dubai he started his own video marketing agency in Mumbai. But in the lockdown when he came to his hometown he felt the need of a quality senior secondary school along with NEET & JEE coaching in lower Assam. He along with his father started working on this and within 2 years he built one of the most sought after fully residential schools of Assam "Howly National Science Academy". He already has 300 students from different parts of Assam studying in his academy, making it the fastest growing school of Assam. Moonjir says while building the team and school my only vision was to build a school where I would love to study if I were a science student.  Using his brand marketing knowledge and focusing on quality service he was able to build a school which otherwise would have taken years. Currently Moonjir provides consultation to other schools owners, edtech founders or aspiring Eduprenuers on growing business with brand marketing.
Praveen Kumar
Praveen Kumar being a sales expert, an entrepreneur, a franchise expert, a business consultant, and with over 16 years experience in corporate and entrepreneurship, currently the founder and CEO of Business Brigade. He has expertise in formulating business development strategies that facilitate the growth of companies and brands widely spread in Indian Market today in the Franchising Segment.
The company, Business Brigade, is known to provide holistic solutions for any brand which needs expansion in the brick and mortar way in India and some parts of Middle East & South east Asia, Providing Services under Branding & Digital Marketing (Solution Seller), Franchise Consulting & Expansion ( Franchise Brigade ) & Turnkey Interiors - Design & Execution (UX9) - Pan India. He is known to be a detail-oriented professional who displays great skills in relationship management and has the ability to identify market, industry, and customer needs and make sure these are met effectively. Praveen believes that these skills set him apart and give him a professional edge in the workplace.
Under Business Brigade, Praveen with his Co Founder has established three successful brands, namely Solution Seller, Franchise Brigade and UX9. The enterprise Franchise Brigade helps in creating and formulating franchise models and its Expansion, Solution Seller's are expert branding and digital marketing team with core expertise in Lead generation and ROI based Marketing, while UX9 provides a one-stop solution for commercial and corporate interiors - Pan India
Anuraag S
Anuraag S is a well-known cartoonist and visual merchandiser who comes from an Army background. He is the founder of Pencilbox Design, a multidisciplinary design company that serves in the field of designing innovative products, services, and visual merchandising. The company also provides services such as brand identity creation, customer experience design, innovative and interactive packaging and kiosk design, and store design with façade and window displays.
The creative director also has prior experience working for the premium airline Jet Airways and has built a dominant name in the industry by collaborating with some of the biggest names in Indian retail. He specialises in domains such as creative advertising, experiential products and spaces, strategic communication, visual merchandising, out-of-the-box thinking, conducting master classes on design and creativity, team mentoring, and value engineering.
Anuraag has won several awards and accolades for his work, among which the most notable are the In-Store Asia conventions, windows, and Façade design.
Sandeep Pingale
Sandeep is a passionate civil engineer who hails from a family of farmers. He has a vast experience in structural engineering, holds an unlimited structural license, and has designed various key projects, including a G+81-story structure in Dubai.
After returning from Dubai due to the recession in 2010, he started his own company, E-Construct Design and Build Private Limited, as a consultancy service firm for civil engineering solutions. During the course of the expansion of his business, he witnessed the gap between the Civil Engineering course curriculum and the on-site requirements of working in the field, which prompted him to start a corporate ON-JOB Learning Centre for Civil and Structural Engineering students as well as working professionals to give quality training.
Sandeep's initiative has helped thousands of civil engineers get placed in top companies in India and abroad by helping them acquire the skill set and aptitude required to succeed in this field.
Paul Pradipta
Pradipta is the director of Sedulous Tech Solutions, an ISO 9001:2015 , DPIIT recognized and CMMI Level 3 Company , belives the only way to grow in this competitive market is to provide best services at a pocket friendly price. SEDULOUS offers excellent quality resources, quality performance, and trusted ERP supports at the best rates.
He holds a bachelor's degree in engineering from a reputed college in West Bengal ,  he believes that not having the proper support for IT applications could have a negative impact on any organization's day-to-day activities, which ultimately results in a lower return on IT investments.
Sedulous, as an IT consulting firm, has a solid track record of providing high-level expertise and operates in more than 80 countries.
He also works as the founder partner of DigitalTrainZilla, which is the training arm of Sedulous Tech Solutions LLC. The venture is committed to bridging the gap between regular college curriculum and industry requirements and is also engaged in corporate training.
The other two ventures by the same entrepreneur are SEDULOUS Electricals and The ASTRO Saga. Both the companies are ISO 9001:2015 certified.
This conglomerate donates more than 30% of it's profits in CSR activities involving Older people and Children.
As a group SEDULOUS had grown almost 400% YoY under his capable guidance. The group is on massive expansion mode and is expecting to touch USD 1 Million by the end of FY 23-24.
Dipak Agarwal
Dipak Agarwal is a Kolkata-based entrepreneur and the brain behind Onex Solutions, an innovative platform that provides digital marketing services.
He completed his graduation in commerce from St. Xavier's College, Kolkata, and is a CA by profession, whose passion and interest in the field of advertising and networking led him to establish Onex Solutions. His company deals in bulk SMS, bulk email, voice calls (VMN), and digital-based solutions and helps clients promote and market their products and services via SMS and email. Dipak also has an experience of working with the reputed brand Ernst & Young, where he did his internship and thereafter worked for one year after the completion of his CA course.
Onex Solutions has built a dominant presence in the market and has expanded its base to Bangalore and Mumbai, besides Kolkata. It also holds the record of serving 4000+ clients for marketing in 2000 cities and 10,000 pin codes. Dipak, the founder, is currently focused on the mission #PledgeVocalforLocal.
Conclusion:
India is fortunate to have such inspiring Entrepreneurs who are not only contributing to the economy of India, but also generating employment. The above successful entrepreneurs are role models to the upcoming generations and thus paving the way for a revolution in the arena of Business.