BCAS supported - The 2nd Birth' initiative – "Mission Zero School Drop Out" help TRIBAL Children by making sure that they get minimum 12th grade educated.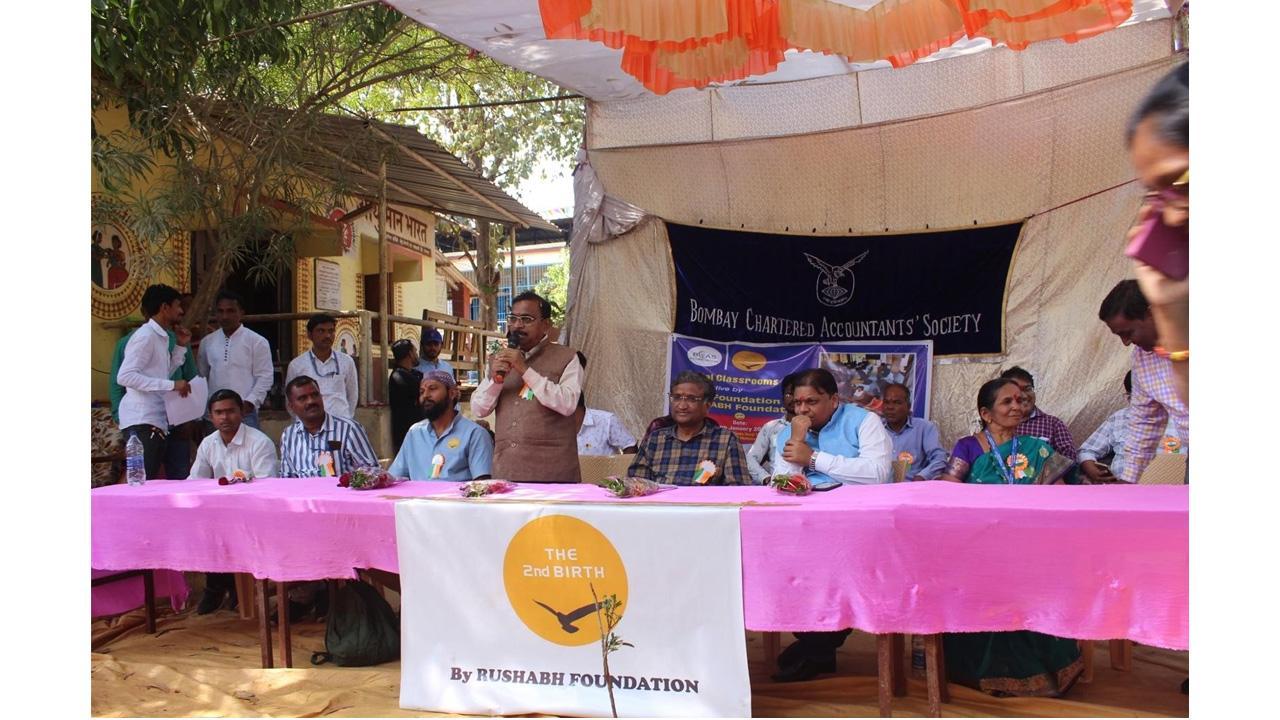 LAUNCH OF 23 OFFLINE-DIGITAL CLASSROOM by The2ndBirth.com 
With the support of BCAS foundation, The 2nd Birth Provided 23 Digital Classroom in 12 Government Z P School of Vevji Center in Maharashtra.
VEVJI, PALGHAR DISTRICT (MAHARASHTRA), 28TH JAN 2023 —
BCAS (Bombay Chartered Accountant Society) collaborated  with  The 2nd Birth (A project by RUSHABH FOPUNDATION) to Provided 23 Digital Classroom kit (43" Android TV with preloaded Maharashtra state Board Syllabus licensed content in AV form and hardware).
BCAS supported - The 2nd Birth' initiative – "Mission Zero School Drop Out" help TRIBAL Children by making sure that they get minimum 12th grade educated. In Tribal area the School drop Out rate is 72% which is 6 times of the national average of 12.6% and its very alarming. Every year, a large number of students drop out of school in India, this hinders their economic and social well-being as well as reduces the literacy rate of the country and creates a non-innovative environment & Un-employable population.
The Chief guest for the launch event was CA. Mihir Sheth President-BCAS; Dr. CA. Mayur Naik Trustee & Chairman of Project Committee, CA. Chirag Doshi VP- BCAS & few Govt. Authority were also present on the occasion. The event was presided by Mahendra Vanigota, The Chairman of RUSHABH FOUNDATION and Founder of The 2nd Birth Project.
About the "BCAS Foundation" – BCAS foundation which has been founded to support education and medical aid has helped many worthy institutions for the purpose. It has supported the efforts of the Local NGO "The 2nd Birth" at Vevji schools by equipping them with 23 TVs with preloaded education software which will be useful to 12 schools in the tribal area where finding teacher is a challenge. With the digital classroom this challenge will be overcome. During the visit of its Trustees Mihir Sheth, Chirag Doshi and Mayur Nayak at the school they were very impressed with the enthusiasm of the children teacher and volunteers. They have perceived the need of doing much more and have promised their best support.
About the "The 2nd Birth" Project by RUSHABH FOUNDATION
"The 2nd Birth" who works in the area which is much ignored by all society, the TRIBAL (ADIVASI) area of Maharashtra.  NGO is working for Underprivileged Tribal Upliftment in Palghar District which is close to Mumbai yet very deprived in all facets of life, be it Education, Health, Income, Safe housing & livelihood.
The founder Mahendra Vanigota, who Retired at the age 40 in 2020 (closed his 9 business centres across India in IT industry) and shifted to Tribal area to help the Underprivileged Adivasi Tribal. He has helped tens of Government schools with necessary items to help kids for a better schooling experience. He found that the problem is bigger & deeper than it seems in tribal areas and founded the Project named "The 2nd Birth" and started a MISSION #Zero School Drop Out.
The NGO is not only trying to bring children back to school but also focusing on putting strong remedial learning initiatives in place to ensure retention and continuity of learning. The Founder chalked out an 8 path program to counter the challenge of this massive dropout because of reason like poverty, lack of quality education, poor infrastructure, distance of school, illiteracy of their parent, gender inequality & lack of sense of belongingness.
The 2nd Birth NGO hand hold every student in the cluster village towards completing minimum 12th class education to each kid by bringing every change in education and mind-set of the people around with the "8 Path Programme " -
1. OFFLINE DIGITAL CLASSROOMS - Offline Digital Classroom In every school to fight the issue of lack of teachers and raise kids academic level.      
2. SPORTS ACADEMY - Establishing Sports Academy to create a deeper bond of kids with school and sense of belongingness & achievement
3. TOY LIBRARY - Bringing toy library in every school to make primary schooling very interesting & attractive, this increases the attendance of students in school 
4. CYCLE LIBRARY - Providing cycle to each student of class 6th and above for daily travel to the school which is minimum 9.8 KM away (one way walking distance) 
5. TEACHERS TRAINING - Our early dropout warning system enables school to identify students who are at risk of dropping out and then teacher focus on individuals who struggle to perform well    
6. AWARENESS CAMPS - Conducting camps in villages to expose the hazards of illiteracy which leads to unemployment and the main cause to poverty     
7. FINANCIAL AID - Providing financial help in terms of fees, stationary, extra activity cost, participation cost, uniforms, Books, health, nutrition and travel etc.    
8. PARENTS ORIENTATION PROGRAM - Frequent Parents orientation for continuity of children's study and encouragement 
NGO's OBJECTIVE:
Eradicating poverty is almost impossible without literacy. literacy becomes a channel and a medium to communicate and train very well. A higher secondary educated child can be fitted well in all spaces of earning; his employability chances multiply. Also bringing health awareness into the society needs moderate education. Every village with 100% literacy will make them prosper in all kind of development be it social, environmental, political, financial or health.