To identify a need gap, create an innovative product concept and translate that into a tangible success story. This is what most entrepreneurs are expected to do. But many a times what comes to the forefront is just the glamour of success. The hard work behind the scenes remains an untold story.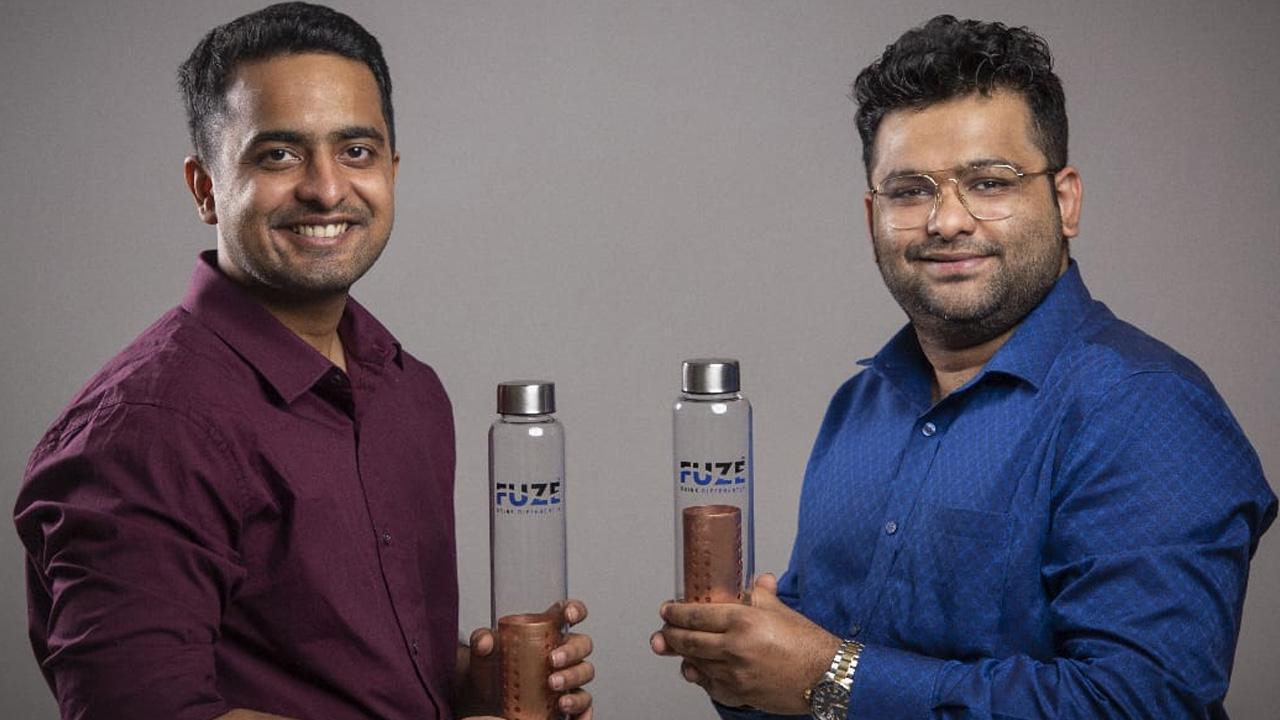 This is the story of FUZE, a well-being startup founded by Gagan Khandelwal and Hemant Vadodaria on 13th March 2020. Hemant and Gagan's innate ability to identify gaps in the market and capitalize on them is truly remarkable. Their business acumen and foresight enabled them to develop their flagship product - the copper glass bottle that filled a significant need in the market. Despite having no prior experience in the industry, they conducted a survey and decided to invest their time, money, and energy to create a copper glass bottle that was both functional and aesthetically pleasing. The process of developing the product was fraught with challenges, but they persevered and succeeded in creating a high-quality product that the market embraced.
In addition to their exceptional product development skills, Hemant and Gagan's strategic vision enabled them to overcome a multitude of challenges during the launch and scaling up of their product. Despite not having any prior network or experience in FMCG or D2C, they leveraged cold mailers and calls to connect with potential buyers and secured their first big break in institutional sales. Scaling up their operations proved to be a challenge, but they identified ways to reduce lead times and improve their packaging designs to increase their production capabilities. Their determination and commitment to progress allowed them to overcome various obstacles and set up their factory and manufacturing operations, positioning them for future growth and success.
ADVERTISEMENT
Their willingness to take calculated risks and experiment with new approaches has helped them stay ahead of the curve and maintain their competitive edge. Their success in the business world is a testament to their strong work ethic, exceptional problem-solving skills, and unwavering commitment to quality.
"Sourcing various components, customizing the bottle and the filter plus the capital investments to get things right was something we were not prepared for. But through trial and error we made things work. We learnt that in the midst of all the chaos, slowing down and taking a step back delivered results." says Hemant.
Gagan mentioned, "Even after we saw the finished product we were unsure how our prospective customers would respond to it. Those initial days really tested our patience and our faith in our own selves. But we trusted our gut feeling that we were onto something good."  
Persistence is the hallmark of the FUZE enterprise, and it helped while setting up the manufacturing plant. Both Gagan and Hemant were completely hands on in this entire phase and did not think twice before getting their hands dirty. Pumping in investment, finalizing location, installing machinery, and of course recruiting skilled manpower, all this was not only time consuming but also a tremendous strain on resources. However, trusting their own instincts and relying on cold calling and emailing, the business finally got a big break in the form of a sizeable institutional order!
Sales picked up and soon scaling up became the need to the hour. Using multiple vendors for production helped cut down lead time and turn around more volumes in a shorter time.
In all this there are lessons for every entrepreneur. Accept challenges, respond to them smartly with a cool-headed approach, believe in your product, give your customers the best and most importantly chart daily progress with small confident steps.
Success is a matter of taking calculated risks supported by pragmatic decision making…
Every entrepreneur knows that the success of a business in inherently tied to decision making. The risk element too needs to be managed smartly. The founders of FUZE having created a business model where the product and the product category were relatively new, had to make smart choices and tradeoffs to bring the brand to where it is today.
The founder duo of Gagan and Hemant are in complete harmony when it comes to expressing their thoughts of managing a business successfully. "Identify opportunities and learn from the wins and mistakes too. Taking calculated risks to push growth is essential but be pragmatic. Don't stretch your resources. Don't push your limits to touch burnout. Switch off, and you perform even better when you switch on and get back to work."
Another customer favorite is the Fuze Fruit Infuser Bottle and the Fuze Alkaline Bottle – both of which have done exceptionally well online and offline. Fuze's innovative products have been enthusiastically embraced by the corporate gifting industry, resulting in a deluge of orders for the company.
As the weather starts to warm up, Fuze is excited to announce the launch of our new range of glass bottles, tumblers, and kitchenware products designed to keep you refreshed and hydrated all summer long. Our fridge bottles and hydro bottles are perfect for on-the-go and our tumblers are a stylish addition to any tabletop. We're thrilled to offer these new products and can't wait for you to try them out! Customers will also soon be able to purchase these bottles in stores across the country. So follow Fuze on Instagram or Facebook for all the latest updates.