Sustainable, recyclable, and reusable packaging is no longer a choice, but a dire necessity.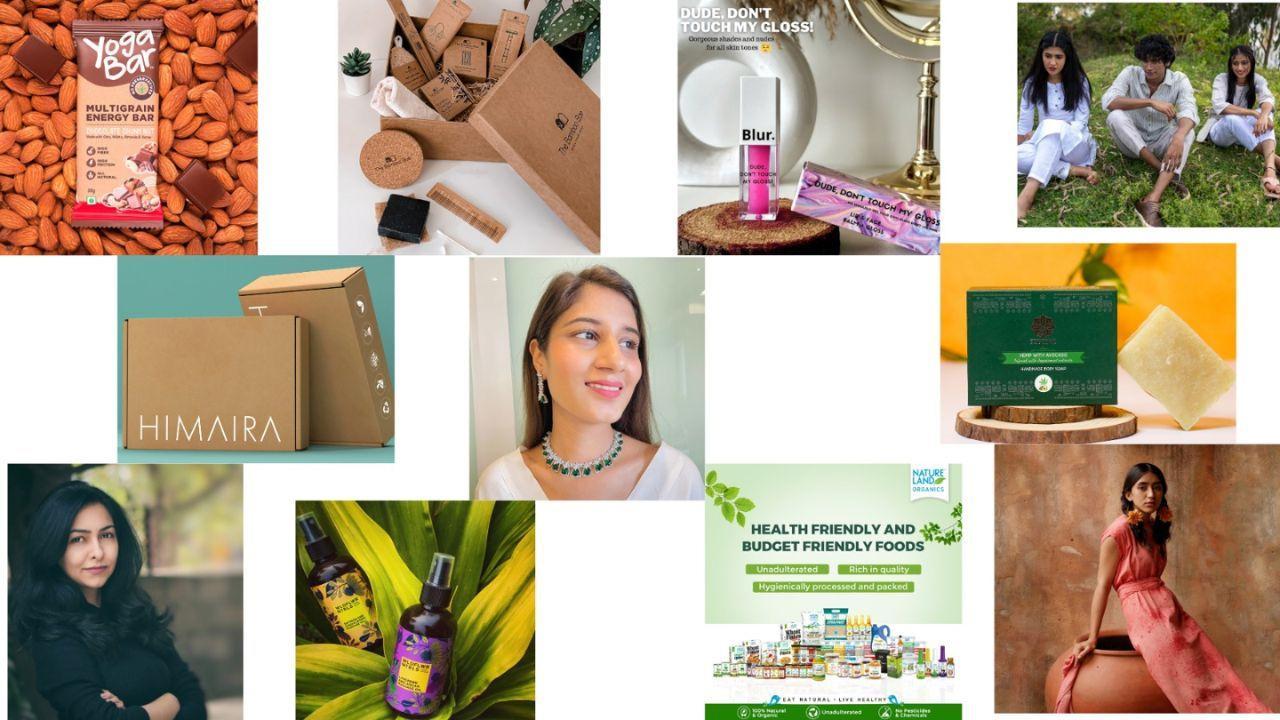 1. Yogabar
Yogabar is a nutrition-led food company offering a range of healthy snack options such as Protein Bars, Muesli, Peanut butter, and Gluten-Free Oats which are made with all-natural ingredients and have no artificial preservatives.
ADVERTISEMENT
At Yoga Bar, we are creating a movement towards healthier products, better ingredients, honest labels, and food you can trust. We take the harder route and make our products tasty without loading them up with junk ingredients. For our country, it's critical as India doesn't eat enough protein, and for too long it has been misled by products that claim to be healthy but are really not. We are here to change that.
The packaged food industry is famously tough to crack. Our competition includes some well-established players. But consumers love our bars and the brand has emerged triumphant. Yoga Bar is on a mission and we're just getting started.
2. The Bamboo Bae
THE BAMBOO BAE was born with a belief in mind that change is too small. Two travel Enthusiasts, Anuj and Sanchit; often encountered nature wrapped in plastic waste, and to find a solution to this endless problem, they came across exceptional handcrafted bamboo products during their expedition to the jungles of Northeast India. This was their moment of clarity, their "Eureka" moment when they developed an idea of introducing plastic-free products to the world by setting up a manufacturing unit in Noida with the help of a few artisans.  
The Bamboo Bae offers a wide range of handmade bamboo products such as Bamboo Toothbrush, Bamboo Razors, Bamboo Combs, Bamboo Cutlery, Bamboo Earbuds, Wooden Comb, Wooden Razor, and Soy Candles in Bamboo & Coconut. Along with providing Eco-friendly Corporate gifts, the company also helps hotels attain eco-certification by providing eco-friendly hotel amenities.
3. Blur India
Blur India is a vegan, cruelty-free make-up brand with rave reviews online. The brand creates clean make-up products with a touch of humour. Blur India's product names are unique (aka hilarious) with a liquid lipstick called Call Me Daddy (which has amazing reviews on platforms like Amazon and Nykaa) and a Kajal called Darker Than My Ex's Soul. Their bestselling gloss is called Dude, Don't Touch My Gloss and it has thousands of rave reviews on social media.
The brand wants people to have fun with makeup and smile during that 30-minute getting-ready routine. It has totally lived up to its reviews, from product names to product formulas, and textures to the completely biodegradable cardboard boxes they use for shipping! Plus, they actively partner with NGOs to help strays and have created a bullet lipstick shade "Reminder: Adopt Don't Shop" to remind people about strays that need a home. What's not to love?
4. Ecentric 
At Ecentric, we're committed to creating sustainable fashion that protects the environment. As a hemp-based clothing brand, we use materials that are eco-friendly and durable. Hemp requires minimal water, pesticides, and fertilizers to grow, making it a responsible choice for conscious consumers. Our clothing is not only stylish but also natural UV protectant, lightweight, and breathable, making it perfect for all seasons. 
Every day is Earth Day at Ecentric, and we believe that small changes in fashion choices can make a big difference in the environment. 
Join us in our mission to create a sustainable future for all.
5. Himaira
Himaira is a revolutionary sustainable skincare brand that cares for your skin and the planet. Himaira is dedicated to providing effective skincare solutions at affordable prices while minimizing their environmental impact. With a commitment to sustainability at its core, Himaira offers a range of high-quality skincare products that are formulated with natural, eco-friendly ingredients, and packaged in eco-conscious materials. The brand is dedicated to reducing its carbon footprint by using sustainable packaging. From packaging materials to product containers, they are committed to making eco-friendly choices to minimize their environmental impact. The brand has also made a conscious shift towards 100% recyclable paper bags and cardboard boxes for packaging. Raghav Katariya, the Founder, says together we can make a meaningful impact on the planet, and Himaira is leading the charge towards a more sustainable and conscious business model.
6. Nekhi Jewellery
Inspired by the women knowing that they are the best, Nekhi Jewellery is an affordable luxury brand. Started in 2019 by a sisters-in-law powerful duo, Dolly and Neha Khicha, Nekhi has shipped over 30,000 orders and has more than 5000 client reviews. The two important pillars of this brand are sustainability and versatility. Sustainable products, that are made with the finest quality and offer the greatest versatility for you to wear on any occasion. From extravagant ballrooms to tedious offices, Nekhi jewellery can be worn anywhere, any day and, at any time.
7. Satliva
Sustainable, recyclable, and reusable packaging is no longer a choice, but a dire necessity. The hoard of non-biodegradable waste generated through packaging is a number that would terrify anyone. 
There are many brands out there, actively working towards reducing their negative impact on the environment by switching to ultra-sustainable packaging options such as reusable aluminium tins, hemp paper, and bio-plastics. At Satliva, our products are important, but what's equally as important is how they reach you. Our packaging too follows an uber-sustainable choice that looks appealing while simultaneously ensuring the quality of the product is unhindered. 
Using sustainable packaging allows brands to cut the problem at the root, in turn taking the decision of sustainability off the consumers' heads and welcoming accountability for it on their own.
8. Nytarra
Nytarra is one of the few sustainable brands in the country delving into the slow beauty and wellness range. In the age of fast fashion and quick fixes, Nytarra strives to promote age-old traditions. Tara Malhotra founded Nytarra in 2020 out of the sheer will to break the mould of quick fixes and adopt slower, traditional beauty alternatives. As beauty and wellness go hand in hand, it was only time when Nytarra would also have its own wellness range. From havan cups crafted from pure cow dung, guggul & Loban to dhoop sticks made from discarded temple flowers, to camphor made for the spiritualists in us, Nytarra aims to promote a holistic approach to beauty and wellness.
9. Wildflower Naturals 
One of India's first personalised beauty care companies, Wildflower Naturals, was established in 2018 and is currently considered one of the country's top developing brands. Radhika D. Gambhir, the brand's founder, was very curious to learn more about the numerous facets of Ayurveda and how it relates to the environment. She decided to bring Ayurveda and organic skincare into every home as soon as she learned about their advantages. She established her natural, cruelty-free skincare line to provide everyone with a one-of-a-kind remedy. However, by championing the ideas of sustainable beauty and holistic well-being, the brand's appeal has soared in recent years. They are majorly recognised for their ritual-based skincare and bath care products.
10. Natureland Organics 
Natureland Organics was founded by farmers who are passionate about healthy living and aware of the need for organic products. The brand works directly with the farmers who grow and harvest each product.
Natureland Organics aims to create a sustainable lifestyle with all-natural foods that make us enjoy the food while keeping us healthy.
11. Unborn 
Unborn is more than just a sustainable fashion brand: it's a way to reconnect with nature and all the wonderful practices that go into making clothes. We craft clothes that respect the environment, the makers, and the people who wear them. Each piece is made using sustainable fabrics, handwoven in villages, and hand-dyed one at a time using only locally grown plant dyes so that you get to own a product that is beautiful in every way. As a consumer, choosing them means choosing to support the environment and artisans of our local communities, while adding a touch of exclusivity to your wardrobe.