Director Ribhu Dasgupta provides a delightful insight into the bustling city Kolkata and with a keen eye on detailing to 'TE3N'. But it is however, the performances by the two male leads - Amitabh Bachchan and Nawazuddin Siddiqui - that stand above everything else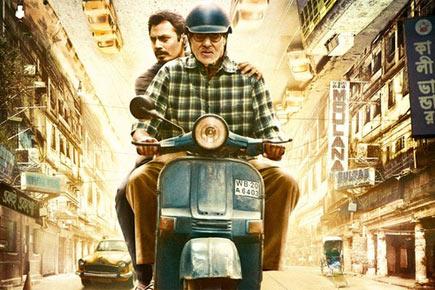 'TE3N'
U/A; Drama, Mystery, Thriller
Director: Ribhu Dasgupta
Cast: Amitabh Bachchan, Nawazuddin Siddiqui, Vidya Balan
Rating: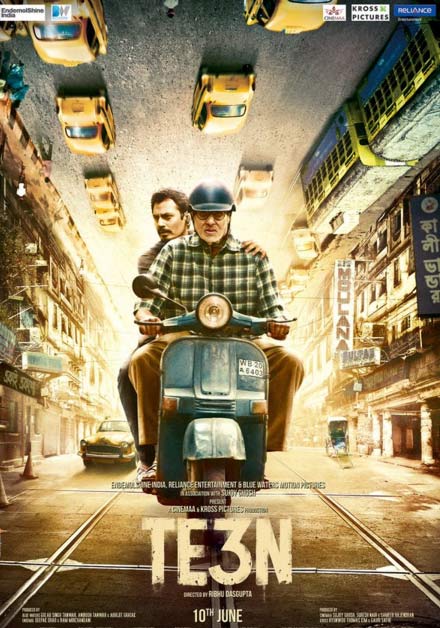 TE3N poster
The chaos and calm of Kolkata city makes for the perfect background for an intriguing story where an old Anglo Indian man, John Biswas (Amitabh Bachchan) deals with the chaos within. Cliched at times, with the Durga immersion scene and the buzzing fish market thrown in, but through 'TE3N', director Ribhu Dasgupta provides a delightful insight into the bustling city and with a keen eye on detailing and of course, with good help from the cinematographer (Tushar Kanti Roy).
Biswas lives in a house crammed with old world charm (you catch bits and parts of history hanging on the wall) with his ailing wife. Though 70 plus, Biswas has a mission to fulfill. He's fighting for justice for his grand daughter who was kidnapped 8 years back when returning from school. This mission becomes his only aim in life and he goes to the police station every morning, seeking help even as the lady cop there (Vidya Balan) tries dissuading him and requests him to move on. Biswas doesn't and continues hanging on to the thread of hope and seeks help form everyone, which includes the then police officer now turned priest (Nawazuddin). A breakthrough finally happens when another child goes missing in what seems like the same modus operandi by the same kidnapper.
A beaten down scooter, an old cassette player and many such interesting props seem to belong to a world removed from ours, but they provide a perfect setting to showcase Biswas' ordinary life and also to build up the suspense in a slow and sure footed manner. However, at points the proceedings get too meandering and self indulgent, perhaps reflecting on the infamous lethargy of Kolkatians. Also the experiment of juxtaposing different timelines at a crucial point in the film might throw audience off guard and keep them confused.
It is however, the performances by the two male leads that stand above everything else. Amitabh Bachchan lives and breathes Biswas with perfection. As his eyes glint with passion but also disappointment as his frail body is not supporting his intention. Nawazuddin as a guilt ridden man trying in vain to find solace in religion, is brilliant. Vidya Balan as expected is competent but her character is not fleshed out well. At times it looked like she's in a hurry to wrap up the case and the film.
Even though this film is a remake of a Korean film, 'Montage', full marks to Ribhu Dasgupta for giving it a strong local flavour, with familiar and comfortable sights and sounds.