'Ugly' manages to deeply disturb you, mildly depress you and tag along with you for a long time even after you come out of the theatre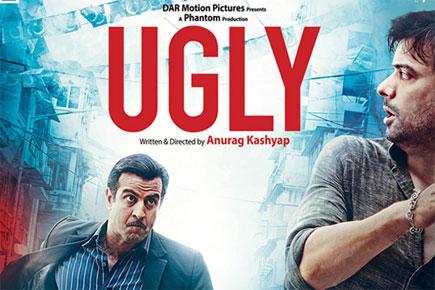 Poster of 'Ugly'
'Ugly'
A; Drama/Thriller
Director: Anurag Kashyap
Cast: Rahul Bhat, Ronit Roy, Tejaswini Kolhapure, Vineet Kumar Singh
Rating: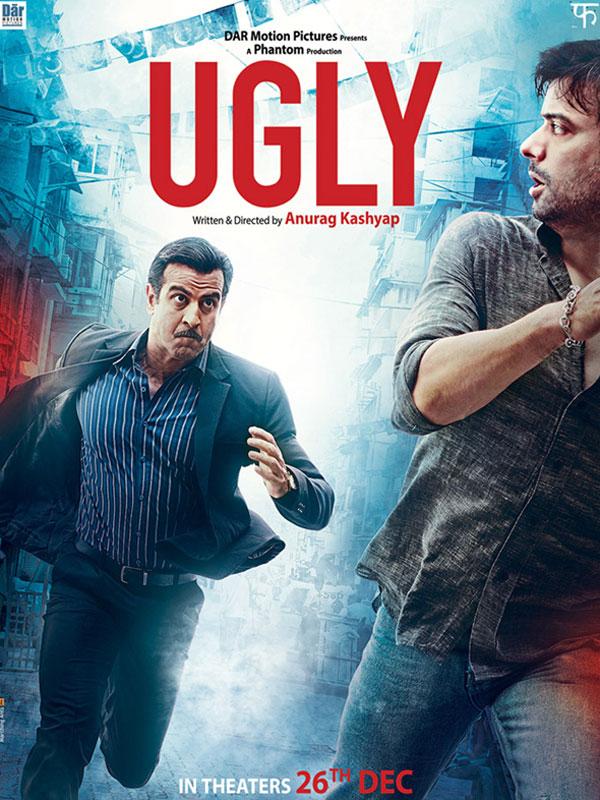 Poster of 'Ugly'. Pic/Santa Banta
What's the opposite of rose-coloured glasses? Grey-tinted? We all know that Kashyap is a glass-half-empty sort of a guy, but with 'Ugly' it looks like he's caught in the web of his own image. This 'gritty' and 'dark' director, on whose shoulders cynicism and realism sat easy during commendable films like 'Black Friday', 'Dev D' etc., gets too dark for comfort or discomfort with this one.
'Ugly' begins with a lot of intrigue and promise. Rahul Kapoor (Rahul Bhat), a struggling actor, leaves his daughter Kali in the car on a busy street for a few minutes and she just disappears into thin air. His friend, Chaitanya (Vineet Singh), and he are frantically looking for her. It doesn't help that Kali's mother is a depressive alcoholic woman, Shalini (Tejaswini Kolhapure), now married to a kind of a sadist, tough-as-nails cop, Shoumik Bose (Ronit Roy), who loves tapping people's phones. And yes, Rahul is his college time nemesis and he hates him with a vengeance. The child's disappearance snowballs into a series of events, which brings out the...err…ugly side of everyone around Rahul. While the disappearance of a helpless child stirs a strong sense of concern in you, surprisingly it seems to be the least of the concern for the characters involved in the film except, surprisingly, Bose. In what could be called the showcase of relentless greed of human beings, the rest of them are busy making ransom calls, trying to usurp money.
In the first half you are busy trying to keep pace with the assortment of these 'ugly' characters, especially Chaitanya whose motives are suspect from the beginning. Unfortunately this very breakneck pace gets you rather confounded in the second half as you are trying to keep track of the numerous phone calls made from everyone to everyone.
While one does appreciate the stark reality that this film brings us close to in some scenes, like the one where Rahul and Chaitanya go to file an FIR for the missing child and the callous police inspector (Girish Kulkarni) whiles away precious time asking idiotic questions, it is nevertheless little difficult to believe that in such a situation, every human being would put his/her materialistic greed above the cause of protecting the life of a child. Also, the climax seems not plausible and painstakingly tailored to chill. The intent always affects the impact.
In this world of gloom and doom, the only joy comes from watching superlative performances by Rahul Bhatt, Ronit Roy, Vineet Singh and Girish Kulkarni.
One, however, must say that this film manages to deeply disturb you, mildly depress you and tag along with you for a long time even after you come out of the theatre. That obviously is Kashyap's intent.