Produced by Zee Studios, Boney Kapoor, Akash Chawla and Joy Sengupta, the yet untitled film will be directed by Amit Sharma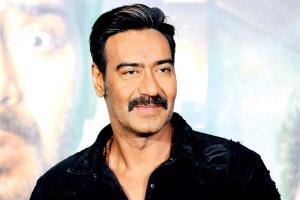 Ajay Devgn
Actor Ajay Devgn will soon be bringing the life of legendary football coach Syed Abdul Rahim alive on the big screen through a biopic.
Rahim served the Indian football team as its coach and manager from 1950-1963. It was under his guidance that the Indian football team won Gold at the 1962 Asian Games and he also led the team to the semi-finals of the 1956 Melbourne Olympics. He died of cancer at the age of 54.
ADVERTISEMENT
Produced by Zee Studios, Boney Kapoor, Akash Chawla and Joy Sengupta, the yet untitled film will be directed by Amit Sharma, while the screenplay and dialogues are written by Saiwyn Quadros and Ritesh Shah respectively, read a statement.
Boney said: "It's amazing to see football, world's biggest game, having such a fever in India, and yet our team is not being sent to important tournaments. When my partners Akash Chawla and Joy Sengupta brought me the true story of Syed Abdul Rahim, I was amazed that not many are even aware of this unsung hero and the achievements of that great team which had heroes like Chunni Goswami, P.K. Banerjee, Balaram, Franco, Arun Ghosh among others.
"With the momentum of Khelo India getting pace, it's time to push India."
On getting Ajay on board, Boney said: "An actor like Ajay is most apt for essaying this character. We hope that the film inspires millions of youngsters and soon India plays in the World Cup and becomes a potent force in world football."
Shariq Patel, CEO, Zee Studios, added: "We are happy to collaborate with Boney Kapoor once again to tell the story of India's football coach, Syed Abdul Rahim. Ajay essaying the character makes it even more special."
Catch up on all the latest entertainment news and gossip here. Also download the new mid-day Android and iOS apps to get latest updates
This story has been sourced from a third party syndicated feed, agencies. Except for the change in headline, the story has been provided "AS-IS," "AS AVAILABLE, without any verification or editing from our side. Mid-day accepts no responsibility or liability for its dependability, trustworthiness, reliability and data of the text. Mid-day management/mid-day.com reserves the sole right to alter, delete or remove (without notice) the content in its absolute discretion for any reason whatsoever