Bhavesh is currently shooting for his other film "Defaulters"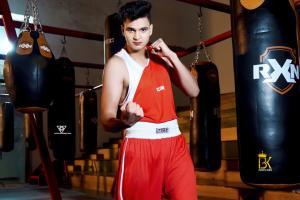 Bhavesh Kumar
Actor Bhavesh Kumar is all set for the release of his second film 'The Winds – Hawayein' hitting the theatres this Valentine's Day. Shot at around a hundred locations in India like Leh, Ladakh, Goa, Varanasi, parts of Rajasthan and many more majestic places, 'The Winds – Hawayein' is about the journey of a boy who has set out on a back- packing trip in order to explore the country and eventually himself in the process.
Upon asking him about how he felt as the release date is so close, Bhavesh Kumar said, "I'm expecting a lot of great things from Hawayein – it's my second film and it's completely different from my debut. As the film's premise might indicate, we've had to travel a lot for the shoots and I've given my 100 per cent and worked really hard to give the audiences a different side of me and to entertain them with my performance. I hope people appreciate it."
Further, we asked him what he wishes the audiences, especially the youngsters take away from  'The Winds – Hawayein', and he said, "I staunchly believe that until you explore every side of you, you are a stranger to yourself. To know who you really are and what you're capable of, you need to explore yourself, and in order to do that, one of the best things you can do is travel. In that sense also, I had an amazing time shooting for Hawayein and I can't wait to see people's reactions to it."