What Sonakshi Sinha-starrer 'Noor' gets right is how public interest journalism isn't so much about changing the world as it's about cracking a story. Throughout, you can't help but wonder how much better this movie could've been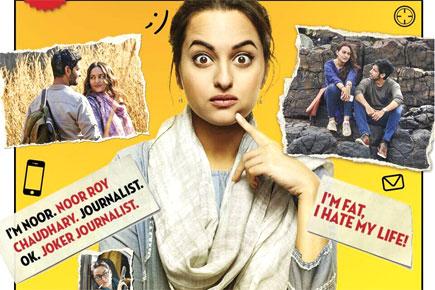 'Noor' - Movie Review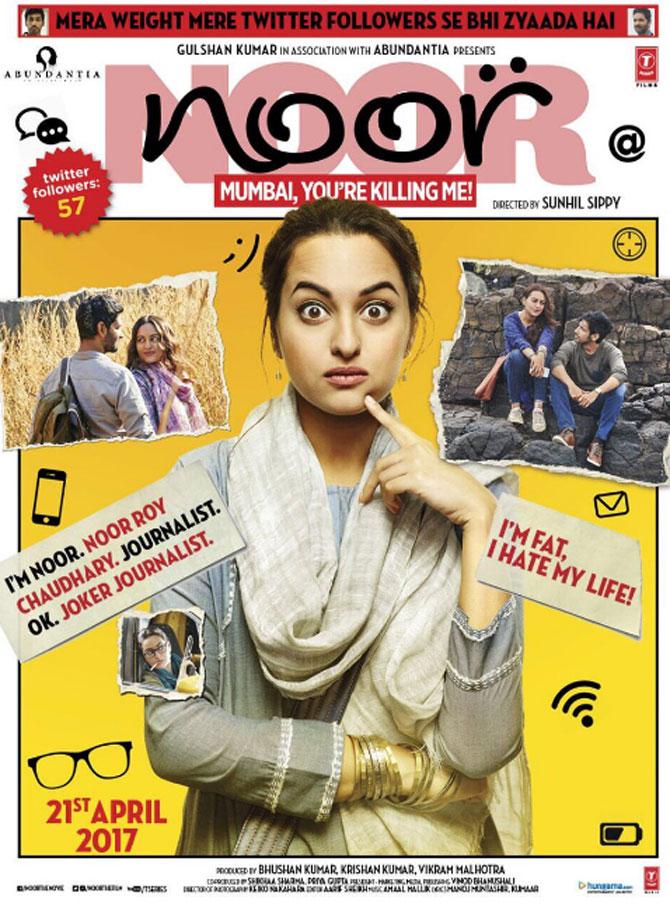 'Noor' poster
'Noor'
U/A; Comedy/Drama
Director: Sunhil Sippy
Cast: Sonakshi Sinha, Kanan Gill, Purab Kohli
Rating: 

On her way to interview Sunny Leone, Noor, this film's lead character, describes herself professionally as "dunia ki sabse pointless journalist!" While this picture's promotional tagline is #IAmNoor; for a sec, it felt as if I was really Noor! This is to let you know there is instant connect here for a lot of my past and present colleagues, working in the same profession as the heroine, although one can't tell exactly what sort of journalism outlet Noor works in.
She says it's some kind of broadcast news agency, called Buzz, and you see her work appear on television, where she's very much the face of the shows. This mystery is still hardly as baffling as the lyrics of the 1970 chartbuster that is used as a remixed track in this movie. The Mohd Rafi song, as you might recall, goes: 'Gulabi aankhein. Jo teri dekhi. Sharaabi yeh dil, ho gaya'. I'm sorry: Who exactly is attracted to a woman's gulabi, or pink/red eyes?
Never mind. Noor as a journo has her eyes on the prize. Her profession is designed around ratings and eyeballs. She'd much rather do stories that concern the common man. What this film gets right is how public interest journalism, which is no different from any other form, isn't so much about changing the world as it's about cracking a story. It's simply a competitive thing. Noor has chanced upon a kidney-harvesting racket. Her mind is on breaking that news rather than solving the problem. Which is fair.
While I haven't read Saba Imtiaz's 'Karachi You're Killing Me', the book this film is based on, you can tell the original text would be an enjoyable read. It's been adapted to screen and Mumbai by Ishita Moitra (Hello Ishita. Disclaimer: Friend!). And while I haven't been to Karachi either, transposing the Pakistani story to the Indian metropolis might make sense, for how similar Karachi and Mumbai seem to be, on the face it: coastal, mercantile, densely populated South Asian cities grappling with daily craziness and crumbling civic infra.
Director Sunhil Sippy does well to explore Mumbai beyond the clichéd samundar city, of Marine Drive and Worli sea-face. What's infinitely harder to crack are characters beyond the lead in this film, which is centred so heavily on introducing to us Noor, the desi Bridget Jones—sloppy, fun, and funny—that it develops beats and rhythms of a television show, with the audience hoping and wondering if we'll know details of everything else around her—the fleeting plot, or the caricatured people—in altogether another episode.
Sonakshi Sinha plays the self-obsessed Noor, and she's quite natural and endearing as a girl, perhaps in her late 20s, who talks to herself either in the head or to the wall. She is prone to cribbing about weight (even the thinnest women do), and late morning hangovers (that'd be all of us). She guzzles this rum called Old, constantly referring to Old Monk. I mean, come on. The least a film paying tribute to India's national drink—which has never bothered to advertise itself, and whose brand ambassadors are consumers themselves—is call Old Monk, frickin' Old Monk.
Noor's life that way is meant to mirror the urbane, liberal, progressive, metropolitan upper middle-class. As for her work, as I said, there are several colleagues in my newsroom who have stories like hers, if not better, and might actually want to make this film. This sense of recognition can be rankling. Throughout, you can't help but wonder how much better this movie could've been. But then, like journalism, this film should be seen for what it is. And hey it isn't bad at all.