Iranian actor who acted in Sacred Games opens up about three months of non-stop sexual harassment at the hands of Vipul Shah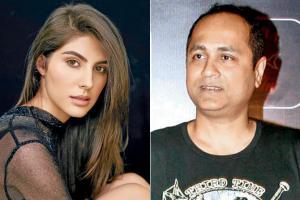 Elnaaz Norouzi and Vipul Shah
I came to Mumbai and faced a lot of sh*t. I met him (Vipul Shah) during [the pre-production of the film] Namaste England. My manager informed me that Parineeti Chopra was playing the main lead. And I could be cast as the second lead.
Vipul had offered the role to Jacqueline (Fernandes), who had let it pass. He met me, and I was surprised that in the first (quick) meeting itself, he spoke as if we were going ahead with it (the offer). "We just need to do a look-test, and sign papers," he said, making it (contract) sound like a formality. I hadn't even auditioned for the film. It was weird because things like these take time.
A few days later, he made me do an audition with (casting director) Honey Trehan, which wasn't even for an actual scene. I woke up at 6 am, reached Versova beach; was made to do a few natural scenes, just being myself. The casting director, it seemed to me, had not even been briefed.
Vipul got back saying this isn't what he wanted. I met him again in his office, and again he mentioned, "We will sign the papers over the next couple of days." This time, when we were saying bye, he came on to me. It was too close for comfort. I didn't get the right vibe. He gave a peck on my face. I didn't expect it. I called up my manager after this to say, "Vipul is serious. He wants to sign the papers. Get in touch with him and go ahead." For days, I kept chasing my manager, who told me that Vipul wasn't getting back.
(Norousi's former manager, who wishes to stay anonymous, when contacted independently by mid-day, corroborated the fact that the casting deal was nearly done, and then had fallen through, for no apparent reason) When I asked Vipul, he said he wanted to conduct another audition. Basically, I went through six rounds of auditions for the film, and he made me feel like the planet's worst actor. My confidence was shattered. I kept feeling like I was auditioning, and not cracking the part. It was only later I realised that this was his way of calling me to his office, over and over again, to get closer to me.
The next time we met at his office, he tried to kiss me. I backed off, said, "What are you doing? We are in your office!" I pushed him away, being affirmative; but careful enough not to come across as rude, because I really wanted the film.
Vipul didn't apologise, though I hoped he had understood (the point). During this time, I had asked him about when we were starting (the film). He told me we would begin the Punjab schedule, followed by a London schedule, and that I didn't have any work in the former, only the latter. He wanted me to get familiar with (lead actors) Arjun (Kapoor) and Parineeti (Chopra). So he told me that he would make sure that I get to go to Punjab, when they shoot the (film's) first schedule as well.

We did another set of auditions. Again, he said he needed to look at them, see if he can do workshops with me, after which, I would be ready (for the role). (During this meeting), once more, he tried to touch me inappropriately. I said I was unwell, and that I had to leave. I left the country thereafter to promote a film of mine. When I returned, and got in touch with Vipul, he called me over to Patiala. It was a five-hour drive from Amritsar. I did another audition there, in his presence. We were staying on the same hotel-floor. After the audition, we went up together. I asked him about when I could hear the (film's) story. He had always avoided narrating it thus far.
This time, he said, "Come to my room. I will make you hear the script." At this point, he touched my butt, and dragged me towards himself. I dodged him, went to my room, and sat there wondering if I should just give in. When I got a message from his assistant to come down for dinner, I thought everything was normal. But I felt there was something weird about him at the table.
(One of the associates working on Namaste England, when independently contacted by mid-day, confirmed that Norousi was in Patiala for no apparent reason. Shah was merely considering her for the part. She was never on-board. The associate claimed that Shah hadn't liked Norousi's audition tapes much. And, yet, she was a part of the film's recce).
For two months after this, I would wake up anxiously every morning, waiting for a text back from Vipul, on when I'd be signing (the contract). He kept delaying it. In the meantime, I had cracked (a part in the Netflix series) Sacred Games. They were keen to sign me up.
At that point, I took the offer to Vipul. He said that he would launch me in a big way. It was a girl-next-door part in Namaste England, and that he was clear he would not be able to cast me, as a result of Sacred Games, and that I should skip the offer, since they would make me do nude scenes. I was ready to let go of Sacred Games, when a friend of mine made me go back to Phantom, and ask them what my scenes were going to be like. I told Vipul that I had no (nude) scenes in Sacred Games, and that I had read the script.
He kept asking me to skip (the offer). He still had not signed a contract with me for Namaste England. I was mentally tortured for three months. It was evident that if I slept with Vipul, I would get the part. Every time I went to his office, he tried (to hit) on me. He (would) inappropriately touch me, and (try to) kiss me.
I want these men to stop doing this, because they think they have enough power to do so. He used my vulnerabilities to ensure that I give in. I almost agreed, at one point in Patiala, when I was away from home and family. I could see that it was a big offer. Thankfully, I had realised that the part was way smaller than how he was projecting it (to be). I wouldn't have been on posters, and in songs. I could have broken (down), and given in. I used the time to understand his tactics instead.
I didn't take the matter to the police, because as a foreigner, I didn't know enough about my rights. And I strongly believe in karma. I know this happens to women everywhere, not just in Bollywood. No one wants to jeopardise their jobs.
The police would (probably) laugh at me. Vipul is a stronger figure. I am a foreign national. They could create visa issues for me. I have had it hard enough here, already. So I was scared. I was happy that Sacred Games came my way, and I could pull myself out of months of depression over not bagging Namaste England. If I was such a bad actor, then how come they (Phantom/Netflix) hired me?
It's okay to be attracted to someone, and do something consensually. But this is coercing someone to get physical. It would have been okay if he had approached me saying, "Hey, I like you, but film won't work out."
But this was his way of keeping me hanging in there, so I give in, and he gets to take advantage of his power — being a big director. It (the episode) took me to dark places. It was funny when his guys (recently) called me back, saying they loved me in Sacred Games, and wanted me to do Commando 3. I let it pass. No woman should have to succumb and submit to get work.
The only reason I am sharing this is because I want these kinds of disgusting people to stop misusing their power. There are many like Vipul. There shall be more stories, if we see that things don't change.
As told to Mohar Basu
Also Read: Vipul Shah: Had approached Akshay Kumar, Katrina Kaif for Namaste England
Catch up on all the latest entertainment news and gossip here. Also download the new mid-day Android and iOS apps to get latest updates