The Internet lists August 23 as Malaika Arora's birthday. However, the hottie's big day is on October 23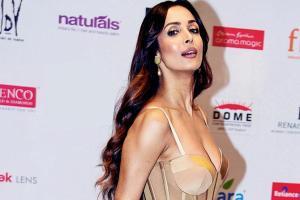 Malaika Arora
It was a hilarious comedy of errors on the set of Vishal Bhardwaj's Pataakha yesterday. The Internet lists August 23 as Malaika Arora's birthday. Some websites also have the same date, so when the hottie reached the set to shoot a dance number, several unit hands began wishing her.
Taken aback, Malaika had to explain that her big day is on October 23 and that some online search engines had mixed up the month. The unit had even ordered a cake for her. They had planned to stop the shoot mid-way and take Malaika by surprise. But the yummy mummy had to play party pooper at her own bash.
This also reminds us of another funny incident that took place last year, on the same date! Director Farah Khan took to social media to send Malaika birthday wishes - "Happy birthday to my Chaiyya Chaiyya girl, may your life be full of madness and dancing on train tops, love you". But Malaika soon replied, "my birthday is in Oct. bhool gayi Kya???" Later, fans pointed out that the real culprit was indeed the ever reliable Wikipedia that had got the date wrong!
What is more hilarious is that the director was only half wrong in wishing Malaika on the day. It was actually a Malaika Khan's birthday, just that this one was the lovely Malaika Khan, married to actor Zayed Khan, and sister-in-law of jeweller Farah Khan. And the fact that we too have often gotten the two Farah Khans mixed up while texting or calling only makes it even more of a comedy of errors. Of course, in the end all was sorted out and the two Malaika Khans and the two Farah Khans are all in fine fettle.
Also Read: Malaika Arora to do a sizzling number in Vishal Bhardwaj's Pataakha
Catch up on all the latest entertainment news and gossip here. Also download the new mid-day Android and iOS apps to get latest updates