Imtiaz Ali respects funders, but puts creative freedom above everything, says his personal enjoyment of making a film is more significant than if the audience had a good time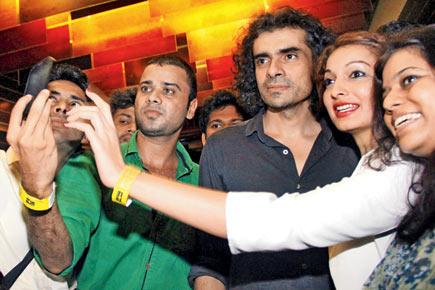 Director Imtiaz Ali (centre) poses for a selfie with his fans at the Mumbai leg of the 6th Jagran Film Festival. PIC/SHARAD VEGDA

On Wednesday evening, Imtiaz Ali caused a frenzy at Fun Cinemas, Andheri, when he arrived for an interactive session as part of the ongoing 6th Jagran Film Festival. Movie buffs as well as aspiring actors and filmmakers jostled for space as the director discussed his journey in the industry so far. In a tête-à-tête with hitlist, Imtiaz talks about the changing scene for independent filmmakers, his aversion to remakes and why he does not make much of people's expectations. Excerpts: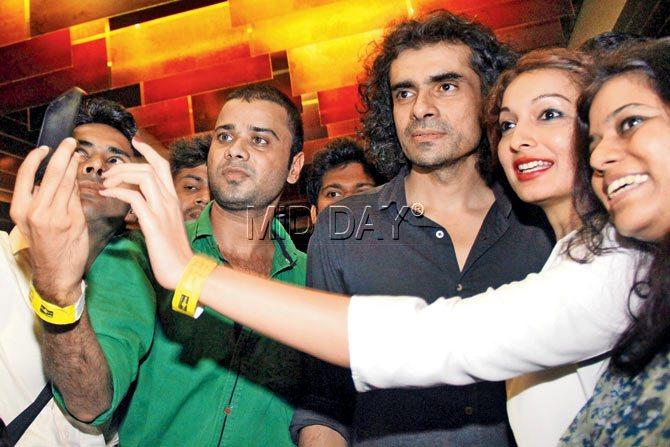 Director  Imtiaz Ali (centre) poses for a selfie with his fans at the Mumbai leg of the 6th Jagran Film Festival.
PIC/SHARAD VEGDA
Q. You are considered a new-age filmmaker. How do you perceive that tag?
A. I somehow do not relate to it. I have worked to the best of my abilities, but I feel the audience goes on its own journey while watching my films. I don't feel a sense of ownership as they move with or live the film. In fact, after a few months, my movies are gone and the audience lives some other film.
Q. How do you think you have done so far?
A. I think I am in a very fortunate place. I see a lot of people who are interested in working with me. As long as I get opportunities to make my films, I will be in a great place. I don't know what my comparative value is in the industry, but that's not my occupation anyway.
Q. As an 'outsider', do you think you have been lucky to work with stars?
A. I don't think so. Abhay Deol and Ayesha Takia were newcomers when I made my debut, 'Socha Na Tha' (2005). When I made 'Jab We Met' (2007) with Shahid Kapoor and Kareena Kapoor, they were known faces, but it was not a great time for them then. My third film ('Love Aaj Kal', 2009) was with Saif Ali Khan, but then again I did a movie with Ranbir Kapoor ('Rockstar', 2011), who was as big as any star.
Q. How tough is it for newcomers to seek support for marketing their films?
A. It has become easier now because of the media boom and digital revolution.
Q. What about theatrical releases?
A. I think the theatrical release scene has become marginally better. But the big deal is that the new filmmakers can make people watch their films using digital platforms. That was not available to filmmakers of our generation. And if people are still complaining, then I think they just want to keep complaining.
Q. You also make short films. Any plans to release them on digital platforms?
A. Often, I find there is something interesting going onaround me. It could be a sunset or a car moving through a jungle. I capture it all on my phone. Short films, at times, tell you deep, significant stories. I have put only two short films online — one on Kashmir and another on Rajdhani Express going from Mumbai to Delhi.
Q. How much time do you devote to writing?
A. I actually spend a lot of time penning stuff. I love the process of coming up with an idea and writing it down to tell a story.
Q. With every new film, do you feel the pressure of living up to audience expectation?
A. I think a human being can allow himself or herself to not feel the pressure of audience expectation by being shameless. Or by thinking no matter what the pressure is, I will do my job right. You need to put your head down and work. Shamelessness is my way of enjoying working on a movie. I value that more than someone else enjoying my movies. What they think about the film is important, but what's even more important is that I able to devote and surrender to the film. After that, if people have expectations, I don't care about it.
Q. But what about expectations of distributors or producers in terms of the film's commercial viability?
A. Yes, that is something important to my job. I do give it a rational thought. But, again, I don't think about it while working. I think about it only before or after shooting. If I have a story and someone is funding it for a release, I ask if the film will be able to recover the money. You listen to those monied people. But if they try to change the script, don't make the film with them. I don't change my scripts.