Close associate reveals how Om Puri had found it impossible to recover from family betrayal (wife Nandita in her book) and public humiliation (on Arnab Goswami's show) over his heartfelt statements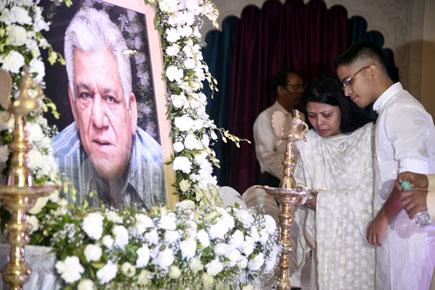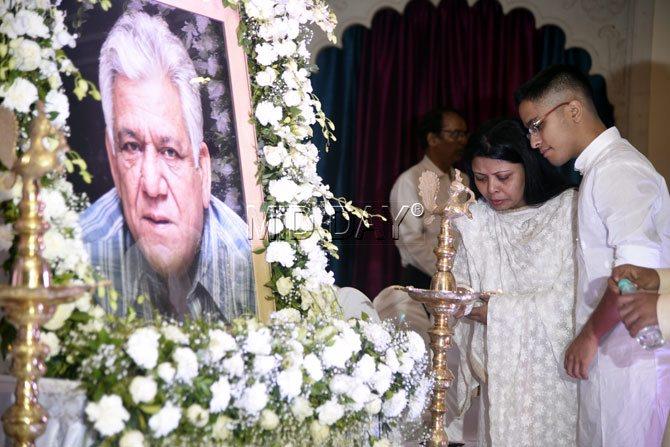 Om Puri's wife Nandita and son Ishaan
To those who knew him, the downslide for Om Puri started some time ago, when his outspokenness invited a backlash he had never imagined and never recovered from. Smita Singh, who had recently been brought on board for his 'image correction', tells mid-day about how, in the days before he died, Puri poured his heart out on everything that was troubling him.
"Over the last few weeks, he wouldn't stop saying 'Jab main chala jaunga, tab duniya ko meri value hogi…' He never got over the public humiliation on Arnab Goswami's show. His pride was bruised, more so, because of his army lineage. He was never the same after that night. He publicly admitted that he had said those words ("Did we force them to join the army?..."), but that wasn't all what he said.
Also Read: It's all over for me, says Om Puri's driver, seeks fair probe
The nature of news in this country, especially in the Twitter age, is such that only a part of the statement is shown to the world. Yes, he apologised. We started talking about that show. He was telling us how he went to Etawah (UP) to meet the parents of Nitin Kumar, the soldier martyred in the Baramullah attacks. He hosted a hawan at their home and gave them a huge sum of money. When he apologised to the family, Kumar's father had said, "Omji, insaan uttejna mein bohot cheezein bol jata hai. Aapko afsos hai aur humein aapse koi shikwe nahin hai." That was solace for him, to a certain extent, till the media made a mockery of that as well. He was patriotic. After that episode, he wanted to start his own political party, called Insaniyat, but could never muster strength for it. His spirit was shattered."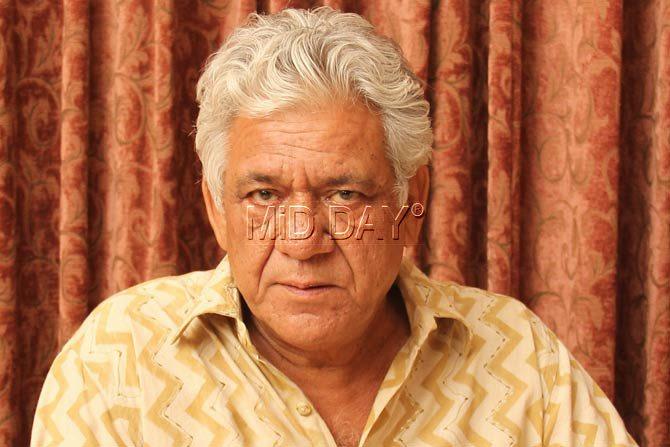 Om Puri. File pic
Losing a friend
Singh also talked about how a fallout with his best friend stung him. "That evening, we even got to know how he fell out with his best friend, who had been with him through college and drama school. After he spoke out against Aamir Khan's intolerance statement vociferously, his dearest friend sent him a text message saying, "F*** you!" That was that between them. He made multiple attempts to reconcile, but never got a reply," she said.
Wife's betrayal
Personally, too, his life was turbulent. The evening before he passed away, he talked about how his wife (Nandita Puri) had made a public joke of him (after she published his biography that had some salacious details about his life). "He was doing his best to move on. He was vulnerable that evening, gurgling down pegs of whiskey like he did every day, but he had the haunted look of a broken man. The producer of his next film (Rambhajan Zindabad) Khalid Kidwai offered to drop him to his friend, Manoj Pahwa's, house," she said.
Read Story: Om Puri's ex-wives hold two separate prayer meets; Bollywood left divided
His estranged wife Nandita tells us, "We were supposed to go for Pankaj Kapur's daughter, Sana, and Pahwa's son, Mayank's engagement ceremony. Om called me and by the time we got there, he reached my house. He went up to my mom and said, "Kya budhia, kyun sadd rahi hai yahan. Tu bhi mere saath swarg chal." He was in high spirits. He called me again and said, "Tum aur Ishaan jaldi aa jao." I told him we'd see him later. When he called me again, I told him, "It's too late; we'll see you tomorrow." Ishaan and I still regret not seeing him that day. Ishaan was going to be with him on January 8, 9 and 10 for the shooting of 'Tubelight', and they were to head to Khandala from there," says Nandita.
Nandita adds, "We were not divorced and are still legally married. We had a separation. Trishul is his home and my marital home. By the Hindu law, he was allowed one wife. It can be an ex-wife and a current wife. Om had only one wife. He helped his nephews and strangers, but now when his son needs him, he is gone. I'll miss him terribly because he is a habit. I have spent the longest part of my life with him more than my son or my parents."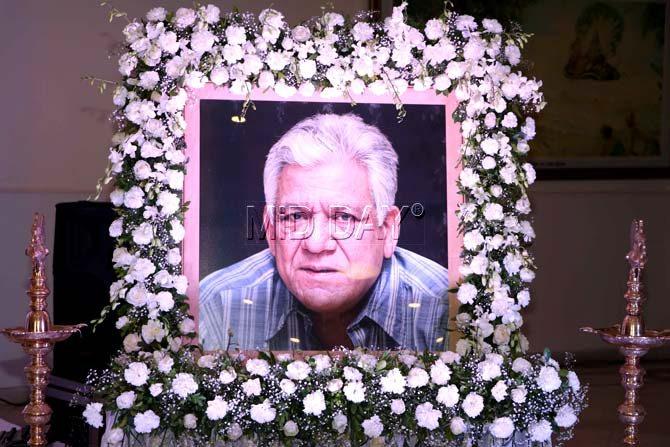 Waited for son
Manoj told us, "He came for barely 15 minutes and left soon after. I don't know where he was headed." Khalid drove him down to Nandita's house, but by the time they reached, Ishaan was already at the party. "Omji didn't want to go back to the party and asked Ishaan to return home. But, when Ishaan didn't come for a bit, we left. I dropped him home," said Khalid.
Buddhism beckoned
Singh said Buddhism and its values had immensely influenced Om in his last days. "He wanted to take a 15-day trip to Lumbini (Nepal), the birthplace of the Buddha. He was scheduled to be there for 15 days later this month," Smita said.