With Bollywood's happiest off-screen bromance gone awry, it's really hard to tell exactly what's going on inside the precincts of the creative production company Phantom Films, jointly run by Anurag Kashyap, Vikramaditya Motwane, Vikas Bahl and Madhu Mantena
Vikramaditya Motwane, Anurag Kashyap, Madhu Mantena and Vikas Bahl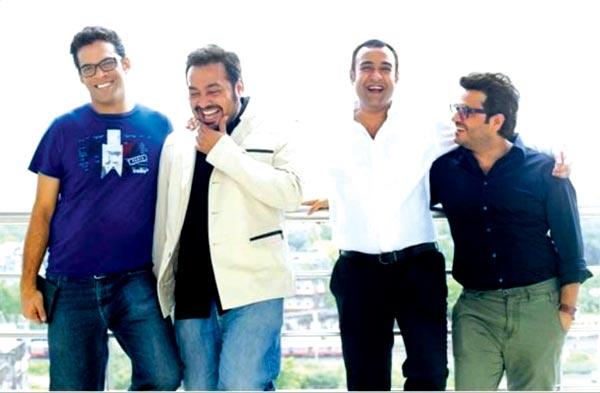 Vikramaditya Motwane, Anurag Kashyap, Madhu Mantena and Vikas Bahl
With Bollywood's happiest off-screen bromance gone awry, it's really hard to tell exactly what's going on inside the precincts of the creative production company Phantom Films, jointly run by directors Anurag Kashyap, Vikramaditya Motwane, Vikas Bahl, and business head, Madhu Mantena. The issue concerns the charge of molestation levelled against Vikas, and a formal inquiry launched against him, which apparently finds him guilty of assaulting a freelance female assistant director.
Sources say the woman used to be close to Anurag, and so, he has taken this very personally. As for the incident itself, which according to sources, took place in Goa in November last year, under the influence of recreational substances, Vikas' friend says, "He just woke up one morning to the news, and it (charges levelled against him) came as a shock to him too. He and the woman are friends, and they have always had their share of banter. Whether the charges against him are proven or not, this is definitely the end of the road for him in this company. His partners have turned against him and the reasons are not restricted to moral grounds alone, as it is being made out to be. There is a deep-rooted feeling that Vikas has become redundant. He hasn't submitted a script post 'Shandaar' (2015)."
Phantom insiders, however, suggest, "There were stray incidents of Vikas being overfriendly with employees and freelancers. But when the woman, with help from her sympathiser within the company, mustered courage to write an official complaint, the matter was taken seriously by Anil Ambani's Reliance, Phantom's benefactor, and partnering entity.
Now, the question is what happens to Vikas' 25 per cent stake if he's asked to step down, or compelled to leave. As far as an FIR goes, Phantom and Reliance, it is learnt, will jointly file one if the inquiry committee is able to legally prove the allegations. Calls to Anurag, Vikram, Madhu and Vikas went unanswered.