With the film being announced last year, rumours abounded that the Ayan Mukerji-directed venture was a superhero drama with Ranbir Kapoor's character apparently having the superpower of unleashing fire from his palms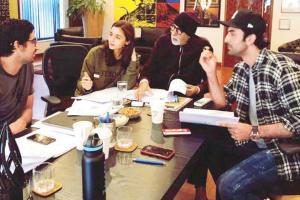 Ranbir Kapoor with Ayan Mukerji, Alia Bhatt and Amitabh Bachchan during Brahmastra's reading sessions
He may have one of the biggest releases of the year in Sanju, but Ranbir Kapoor is just as excited about what may be one of his most ambitious films to date — Brahmastra — that is slated for release over the Independence Day weekend in 2019.
With the film being announced last year, rumours abounded that the Ayan Mukerji-directed venture was a superhero drama with Kapoor's character apparently having the superpower of unleashing fire from his palms. Talking to mid-day, Kapoor, however, clarifies that the Amitabh Bachchan and Alia Bhatt starrer doesn't exactly belong in the superhero genre. "It is actually a supernatural romantic fairy tale at heart. Ayan will never make a character that doesn't have truth to it, or which is unbelievable. It's too early to talk about the film, but it is something I am terribly excited about," gushes the actor.
ADVERTISEMENT
Brahmastra marks his third outing with good friend and frequent collaborator Mukerji. With the runaway success of Yeh Jawaani Hai Deewani (2013) behind them, it wasn't surprising that producer Karan Johar agreed to back Mukerji's vision as a trilogy. "Apart from being my best friend and my favourite director, Ayan has worked on this film for six years. He is going to spend the next 10 years of his life on this trilogy. So when the first part is complete, the audience will know it's not the end. That is something really exciting for me as an actor."
Kapoor adds that he will be taking a breather from the series by working on other projects between the instalments: "After the first film is out, we'll shoot the second part and then the third. Between every part, Ayan has allowed me to do two films, which is great."
Also Read: Ranbir Kapoor to learn Indian martial art forms for his superhero film Brahmastra
Catch up on all the latest entertainment news and gossip here. Also download the new mid-day Android and iOS apps to get latest updates