From being constantly misunderstood to hating the celebrity status, much-respected Bollywood filmmaker Sanjay Leela Bhansali says it as it is in a freewheeling chat
Sanjay Leela Bhansali
With 2015 bringing him two coveted awards — the Padmashree and the National Award for his film, Mary Kom — filmmaker Sanjay Leela Bhansali has no reasons to complain. Busy amidst the release of 'Gabbar Is Back' and the shoot of his directorial venture, 'Bajirao Mastani', Bhansali takes some time off for a freewheeling chat...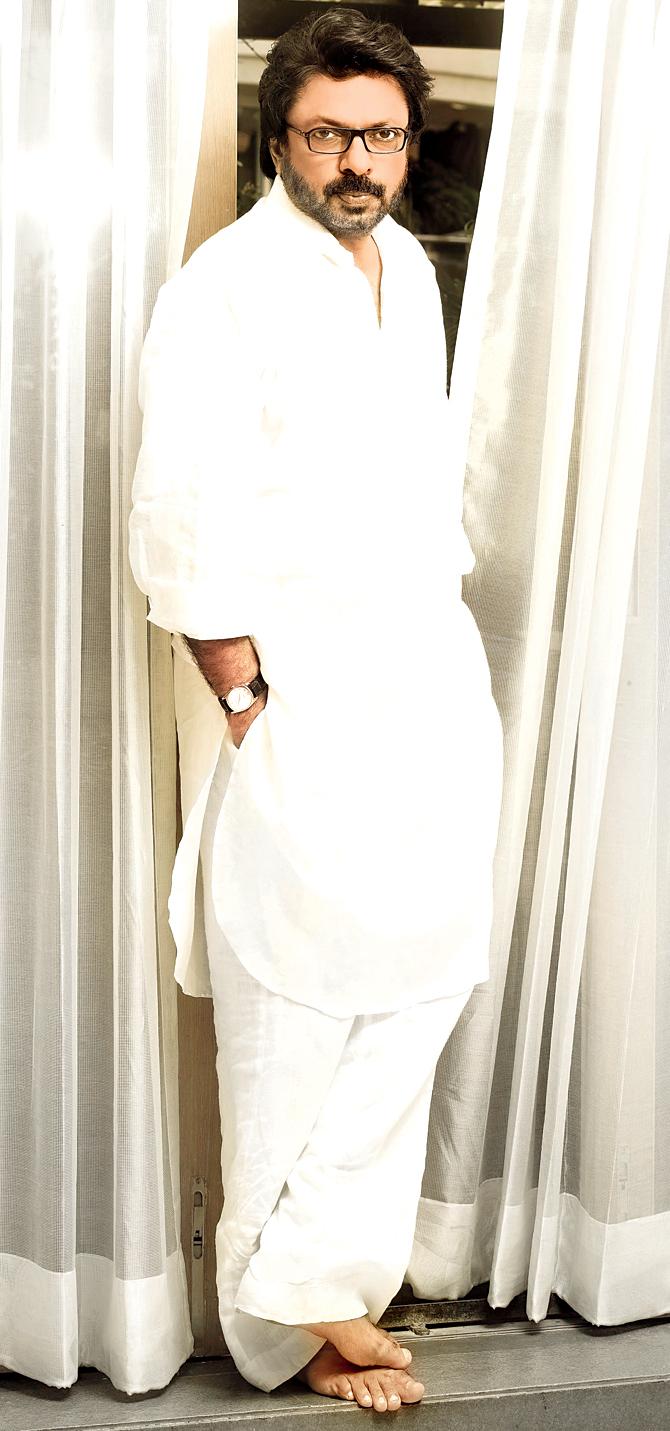 Sanjay Leela Bhansali
Q. Why are you so secretive about your films?
A. I need to protect it because there is a time to unveil, there is a time to tell the world come and see, there is a time to inform the world that there is this happening because that's the medium to get an audience. Now, if you keep talking about it or show it in bits and pieces it takes away the essence of the process. If a statue is being made and you keep saying, "Oh, now the hand has come, now the face..." and then when it is unveiled, what would you want to see? It's also about show business — you should see only when the curtain opens. You are not supposed to see backstage.
Q. Also, the way people will interpret your ideas... is that what bothers you?
A. There are so many things which happen. The idea goes out, somebody makes a film out of it, somebody can misrepresent. Sometimes that information could be wrong and can do harm to you. So there are so many things that go around which can actually cause damage to you for no rhyme or reason. There is always a time for us to tell. I firmly believe that when the performance happens you keep coming and peeping through the curtain and opening it — it's not the best thing to happen to the person who's put everything together.
Q. Does the invasion of privacy still matter as much as it did earlier?
A. Yeah it does, I would now say, "Yeah, leave it..." when I am asked questions about what I am doing or about rumours making the rounds. So it depends under what circumstances you are in. You are behind schedule, you are editing, shooting, catching a flight... So that timing bothers me a lot. If you put yourself in my place, you will understand what I am trying to say. I don't like publicity.
Q. Does that mean you are uncomfortable with the celebrity status?
A. I don't like being written about, so it bothers me a lot when something is written about me. I don't like doing interviews. I like meeting people, if it isn't cumbersome and it isn't heavy. I can't see myself as a celebrity because I still have to work a lot more. I still have those insecurities about how my next film will turn out to be. I fear if it will be as good as the last one or the one before that. I worry if it will work. There are so many anxieties here, even if I have given 200 successful films before this, there is no guarantee that my current film will work. On my sets, there is no difference between a spot boy and me. We all do things — clean things, pick up chairs, direct and talk. There is no hierarchy. You cannot think you are a celebrity because you are one of them. I work for almost 18 hours every day. I work more now than I used to work during Devdas (2002) or Hum Dil De Chuke Sanam (1999) because I have realised that I enjoy my work so much that I only live for work — much against the myth that people have created that I shout and throw tantrums on the sets.
Q. We were just coming to that. Don't you scream, run after people on the sets?
A. No, that doesn't happen. You think I am capable of doing that? It's a myth people have created.
Q. Then how did you manage to get this eccentric, taskmaster image?
A. It is something that's created because of the kind of films I have made. I am considered this dark and brooding film maker and so people think that I must be this intense, serious old soul who is always brooding with a glass of alcohol and cigarette in his hand. People enjoyed creating that image.
Q. Come on. There must be some reason for this image...
A. Obviously. Tell me something, who doesn't get angry? If a rickshawallah bumps into you and breaks the lantern which you were taking home you will get angry at him. So if that happens on the set, am I not allowed to get angry? The outbursts are out of love for the film and not to humiliate someone. If the anger is to humiliate the person, then my assistants would not have worked with me. All my assistants have worked for two to three films with me. When
you love your work, they understand your passion. This moment is being captured for a lifetime and let's give it our maximum possible best. Any director or any person running an office or a desk or anything will scold if something goes wrong. Then you say he's so abusive, he is so temperamental. Ab kya bolein, hum bolega toh bologe ke bolta hai! There was an assistant whom I don't want to name. She is a big actor now, she was assisting me during Black (2005). I asked her to hold a candelabra. I was talking to someone and suddenly heard a crash. When I looked at her, she said, "I
saved the candle." Now that was the only candelabra and was required it for continuity. Now if a situation like this surfaces, what do you say? But then we also sit back and laugh over things. I won't be able to sleep if I humiliate someone.
Q. There are certain expectations from a SLB film. Is that a pressure you can handle?
A. I don't expect anything from myself and I don't look at what other people expect out of me. Saawariya (2007) did not do well and Guzaarish (2010) did average business, but I have survived. They were well made, they had a great craft, well performed. During Khamoshi (1996), I did two interviews, during Devdas I did three and now there is social media that I don't understand. People say you must tweet, but I say if I open my mouth it will cause riots so let me keep my mouth shut. Is it necessary for me to communicate so much? I say everything through my work.
Q. But this is the age of hard selling...
A. When art was simpler, purer and less cumbersome of marketing that was a time when we had more comfortable directors. With good times good people have come in and great films are being made. The work would be even greater if they were less distracted about how they appear in the public eye. In 20 years, I have only done seven films, but people have a great connect with me.
Q. The industry is becoming more ego driven with the 100 crore club and biggest opening brouhaha, etc. Do you think quality is suffering?
A. Only from the trailer, we have started predicting that a certain film will an X amount of crores. We are not thinking whether it will do justice to the beauty or quality of the film. When we discuss projects, people talk about first day collections, which is now an integral part of designing or structuring a film. Even if a director wants to do something different he will follow that formula which will make the film and collect Rs 100 crore or Rs 200 crore. I am not here to make money. If your film is good, nobody will stop it from making money. Filmmaking is an art form which fortunately is the craze of the nation, therefore it sells. There are so many good films that are not made due to the fear if it will work or not. But what we invest, we need to cover up. If Bajirao Mastani gets back the huge money that is going into it, that is my responsibility. Having said that, there are many filmmakers who are doing wonderful, fearless work. Don't judge them by their films' collections.