What you observe throughout the film are strong yet subtle statements on caste and religion, identity and politics, anonymity and hierarchies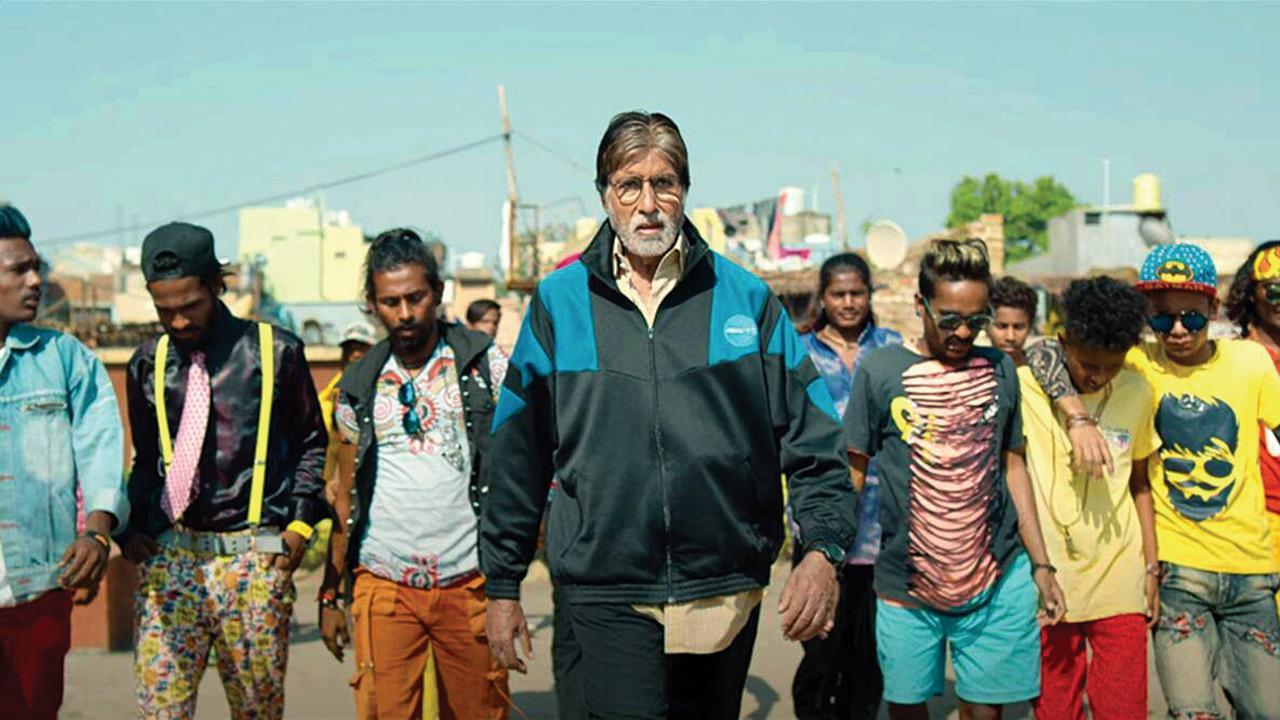 Jhund
Jhund
U/A: Biography, drama
Dir: Nagraj Popatlal Manjule
Cast: Amitabh Bachchan, Ankush Gedam, Priyanshu Kshatriya
Rating: 3/5
Totally love the title, Jhund. It literally means a pack, in reference to animals, usually. They're anonymous (to humans), by nature. By which one implies here: a large group of equally replaceable, generic, invisible, voiceless men and women. That is precisely what the poor in India (or Third World in general), look like, when observed from a distance.
In fact that's probably the point of this picture itself —to put a face to the faceless. Which the upper-class eyes are trained to look through; mainly on the streets, but otherwise too. Writer-director Nagraj Manjule zooms in, allowing the camera to linger on some faces, for just a little bit longer — just so they register among audiences. 
It could be completely inconsequential moments — whether it's the CISF cop frisking at the airport; or the fellow playing actor Rinku Rajguru's father, who if he wasn't in this movie, would simply merge among the proverbial unwashed masses.
The actual 'jhund' here, mainly boys picked off the street, to play football in this picture, are also precisely that — up until they're separated from the pack, as legit personalities of their own, with names, professions, histories and (mostly muted) aspirations. This happens much after an hour of the film, although the interval's still ahead. 
Just so you know this is also an exceedingly long movie —three hours flat. In the context of a theatrical release, it means almost half a work-day dedicated to a jhund of non-professional actors as rough, 'fikr'-free, street boys. Lending enough authenticity that it looks like they're playing themselves. The silences, casual 'huh' and 'hmm' in the performances decidedly belong to cinema verite.
Mira Nair pulled this off back in 1988, with Salaam Bombay — showing first to Bombay, the capital of showbiz, what was "right under their nose". Although packed with montages, it's hard to equally grasp the geography of this film. It is set in Nagpur alright. More specifically in a slum that shares its wall with a college compound — manned by security staff through a side-gate. 
A slum is usually the eye-sore for such gated communities/campuses — that 'approach' (road) you can't avoid, and who knows what happens inside. Even as random men stare at the posh women. So does the hero here, named Don (Ankush Gedam) — routinely eyeing a girl driving her Merc, which is quite reminiscent of Rajguru on a motorbike, from Manjule's sleeper super-hit Sairaat (2016).
This setting could've easily been Slumdog Millionaire's Mumbai, which has been so done to death; glad that this isn't. The jhopar-patti Gully Boys go about their usual chori-chapati (petty crimes), including jumping off trains, when they're not whiling away leisure hours, pursuing their drug-habit, alcoholism, and whitener addiction. 
The point still is that the level of reflexes and athleticism required to survive/ace the streets — being always on the run, as it were — ought to be an advantage, if they played sports instead, no? You see that point. As does a philanthropic professor, behind the wall from where these chindi chors live. 
He groups them into a jhund to play ball. Which is all you need to know. This story, I'm told, is based on one Vijay Barse, sports teacher at Nagpur's Hislop College, who spent his life making sports stars out of street kids. Amitabh Bachchan, best known over years as Vijay on the screen himself, plays Barse (named Borade instead). This is of course a very different kinda Vijay!
Like the rest of the film — he, more or less, desists from much bhashan-baazi. Old, understated, there is an inherent goodness about this gentile character that comes through. As an audience, you feel inspired to make life more than only about yourself. 
That Bachchan, who's dominated India's popular culture as himself for so long, manages to so convincingly hide behind a character still — among this jhund that look like Nagpur's TikTok stars to me — is a huge feat for the almost-octogenarian superstar. He rarely takes the spotlight.
This isn't quite Dead Poets Society (1989) or even To Sir, With Love (1967), as such. Neither is this, strictly speaking, a sports film, with its own predictable tropes of, quite simply, the victory of the underrated — what with multiple obstacles between the underdogs and the goal. Which is also why there are a series of great moments and multiple side-bars, not as much a tight plot; hence the inevitable issue with the duration.
What you observe throughout are strong yet subtle statements on caste and religion, identity and politics, anonymity and hierarchies. Few contemporary, entertaining filmmakers so accurately survey India's under-classes as Manjule (Fandry, short film Vaikunth). Vetrimaaran down South is another. This film feels like a lived experience.  
Class is obviously at the centre of the script. The only way to rise above it, as per the book/film The White Tiger (2021), is through crime and politics. To that, one can add talent. 
Which is what you see in the performers here — whether as footballers on the field, or actors in this film. That the slum-hero called Don manages to sorta impress the posh girl in the Merc was absolutely my favourite takeaway!