Bholaa is the official remake of Lokesh Kanagaraj's Tamil hit Kaithi (Prisoner, 2019), which in turn was already perceived as loosely adapted from Hollywood flicks, Assault On Precinct 13, and Conair, if you may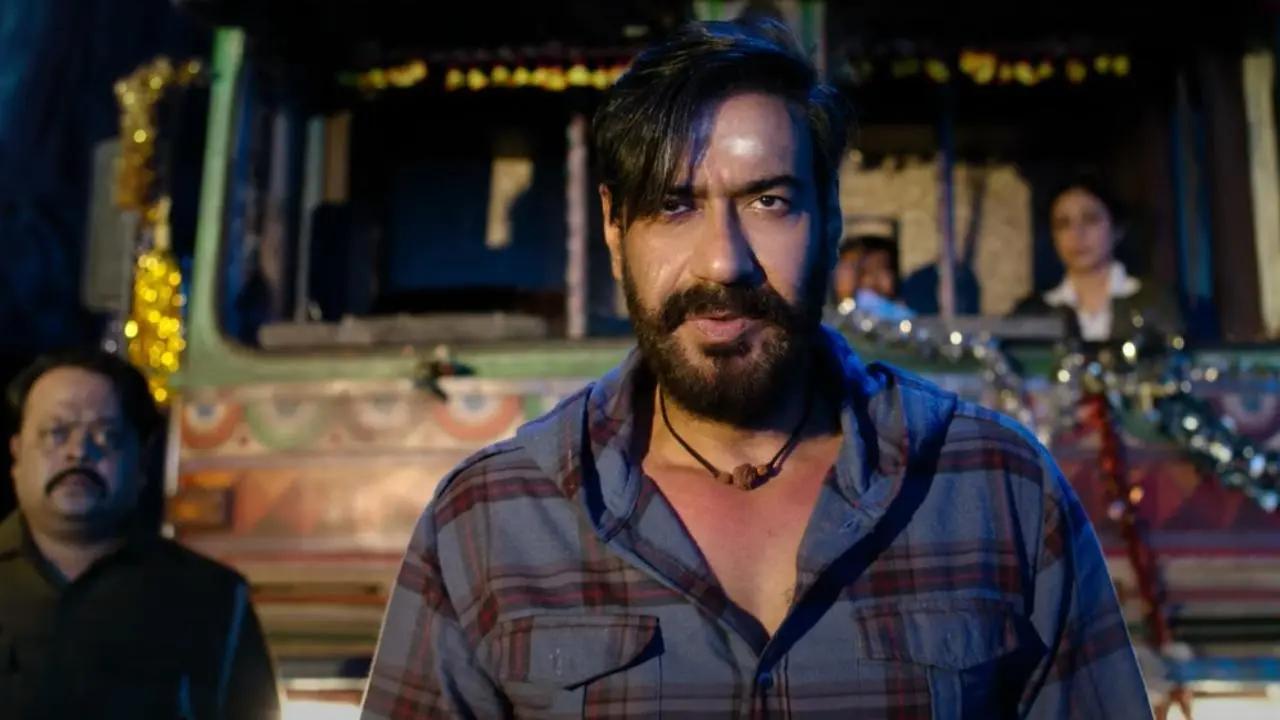 Bholaa
Bholaa
Director: Ajay Devgn
ADVERTISEMENT
Actors: Ajay Devgn, Tabu
Rating: 1.5/5
There is a point in this pointless movie, set inside a prison, where a boom-box is brought in, volume levels cranked up, to play a Bhojpuri song, to drown out the sound of a particularly loud inmate. 
There is a fully armed militia outside, led by a tiny tyrant (Deepak Dobriyal, always a pleasure on the big screen). Why this gang doesn't storm into the jail, with hardly any cops inside, is beyond me. Jungle laws altogether apply anyway.
If some dancers had magically appeared as well—to pull off an item-song style variety entertainment, with further no-head, no-tail, over whatever the hell's going on in the jail—Bholaa could qualify as a proper 'Bhollywood' picture! 
Meaning, a Bhojpuri movie, rightly placed in the eastern Indian/Hindi heartland. But, of course, this is a much better directed, produced, big-budget enterprise, with tight sound-design (that's uniformly cacophonous), and a vast visual palette (that defies desi geography). 
Hence, it's aimed at an equally wide, North Indian audience. Except, as with so many movies made in Mumbai, the actual story/screenwriting has been suitably outsourced to the South, namely Chennai. 
Bholaa is the official remake of Lokesh Kanagaraj's Tamil hit Kaithi (Prisoner, 2019), which in turn was already perceived as loosely adapted from Hollywood flicks, Assault On Precinct 13, and Conair, if you may.
Now I haven't seen Kaithi, mainly to avoid screwing up the Bholaa experience. That said, Kanagaraj, the Kollywood cat of the moment, is seen to have developed his own captive fanbase since. What with his Vikram (2022), in the same genre, having banged it at the national box-office. And Kaithi 2 is on its way. 
Besides the top Chennai superstar-actors supplying the stunts/set-pieces, a common feature of Kanagaraj's cinematic universe, if you may, appears to be hard-rock, bordering on thrash/heavy metal for an adrenaline pumping, English score. This isn't quite the unifying soundtrack with Bholaa—have already told you about a Bhojpuri track. 
There's a proper item number too. Which I watched intently wondering/spotting who's smoking among the backrow dancers, because the anti-smoking scroll randomly appears and disappears on the screen, every few seconds!
Apart from the music bit—just a casual glance of the original's trailer, and those who've seen the Tamil film will tell you too—Kaithi = Bholaa. The protagonist is replaced with a Bollywood star, that's Ajay Devgn. Tabu (Drishyam, Kuttey)—turning out to be a female Jagdish Raj (144 movies) of sorts—plays a good cop in khakee. Only the setting, therefore the twang, is totally Uttar Pradesh. 
Think of this then as the most recent Hindi remake of a Tamil actioner, Pushkar-Gayathri's Vikram Vedha (2022), starring Hrithik Roshan, Saif Ali Khan. The director's been replaced, too—that's the star Devgn himself, who's the producer as well. 
Talk of betting big on South/Tamil. Something that hasn't proved particularly profitable since the pandemic. Case in point: Vikram Vedha itself. The super crappy KGF: Chapter 2 (2022), in Kannada, biggest hit ever in Indian cinema, suggests audiences don't mind their mad action dubbed into Hindi (and other languages, after all). 
None of these things are rules, or apply to Devgn—he's just pulled off a Bollywood blockbuster (Rs 240-crore plus worth of theatrical footfalls), with a scene-by-scene copy/remake of the Malayalam, Drishyam 2 (2022). Let's just assume the son of the fight-master Devgn knows what he's up to here. 
Unleashing a pack of rando, nanga men, forming multiple armies, going after the superstar, for reasons he's not aware. Neither is the audience. The happily clueless, Diljale type Devgn is obviously here as Bholaa, with bhasam (grey chalk powder) on his forehead; a Shiva worshipping bloke, who's just been released from prison. 
He's forced to drive around a truck to, I'm guessing, the nearest hospital? God knows. What's inside: scores of "high ranking [police] officials", who've passed out from drinking spurious alcohol. No ambulance can be trusted to lug these officers somewhere safe! The dystopia is hard enough to force-fit into a film. 
But this, and the seizure of tonnes of drugs, is a good enough excuse for an action-thriller, with the gangsters who owned the maal, going in for the massive kill. The gangs just keep exponentially expanding. The entire film is set over one night in Uttar Pradesh—a raat that has no subah, clearly. There is simply no escaping the darkness all through. 
Plus, you're inside a dark hall. I'll tell you what makes it worse—3D, which darkens normal screens, to start with. What you have then is non-stop, fast and furious passages of daredevilry on motorbikes, mortal combat, somersaults, the works. 
Except, with such unnatural light, and money shots/sequences that look like animation under thick glasses, the actual, killer stunts, which must've been hard to pull off, feel too fake to appreciate for its realism! And it's not like you walked in for the best of side-performers, Gajraj Rao, Sanjay Mishra, etc. 
Even the lead characters, let alone others, aren't relatable. Backstories are for bozos. You care or worry for no one. Apocalypse is complete. As is the absurdity. But it doesn't look like waning at any point. 
The dimness on the screen eventually seeps into your brain, that checks on you, "Hola! All good?" Yup, just need some air, and light. 
Also Read: 'Bholaa' Box Office: Ajay Devgn and Tabu starrer opens at 11.20 crore Which is your favourite song from Salman Khan-Pooja Hegde`s `Kisi Ka Bhai Kisi KI Jaan?`