Shiv's fans from Amravati came out in his support and a flash mob was held in Amravati for his success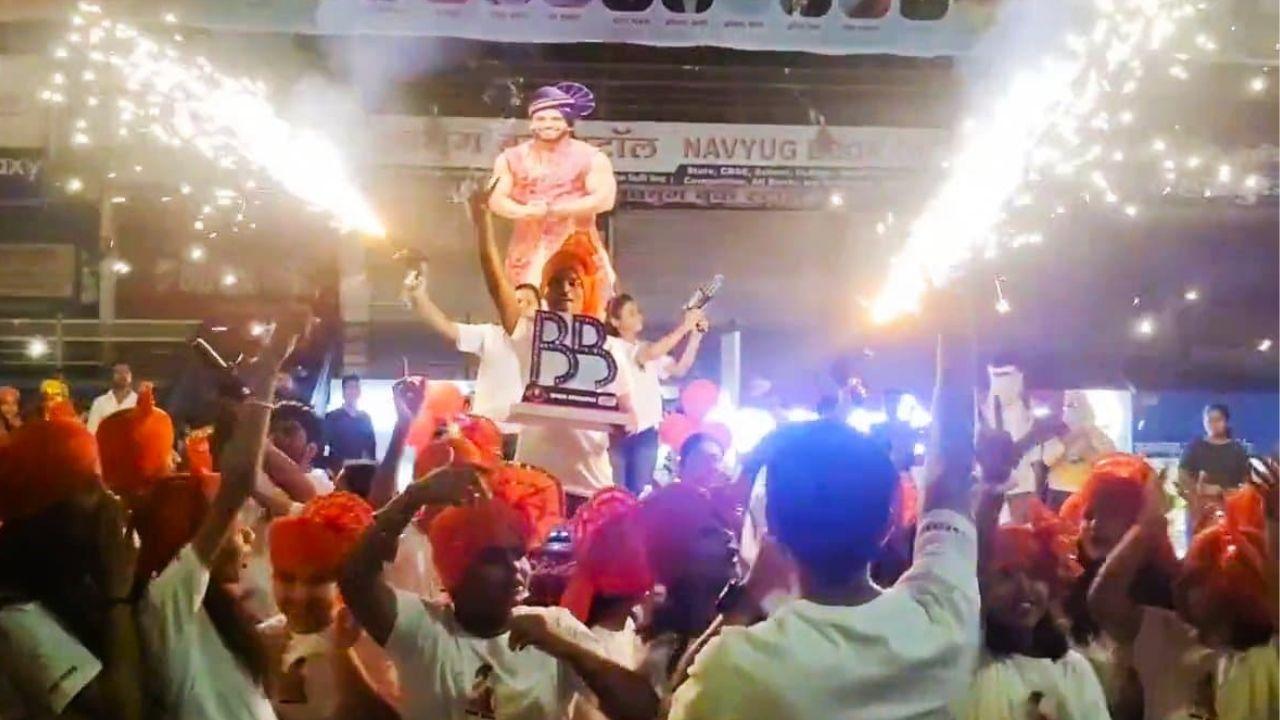 Pic Courtesy: PR
The grand finale of 'Bigg Boss 16' is just a couple of weeks away. Fans are doing everything to ensure that their favourite contestant wins the show. Shiv Thakare is one such contestant of this season who is earning appreciation from not only the viewers but also from fellow contestants, guests of the show and the host of the show Salman Khan. Shiv is from Amravati and yesterday his fans came out in his support and a flash mob was held in Amravati for the success of Shiv Thakare.
Also Read: It's mandali vs Priyanka Chahar Choudhary on Colors' 'Bigg Boss 16'
It is his hometown, where there was a proper flash mob wherein the entire street was inundated with thousands of people along with decorated cars, dancers and dhols. Shiv Thakare is the winner of Bigg Boss Marathi 2 and is one of the strongest contenders for Bigg Boss 16. Yesterday, a trend VIJAYI BHAVA SHIV THAKARE took over social media. Many neutral viewers are fans of Shiv Thakare. He has been a loyal friend and guided his 'Mandali' well on the show. Obviously, he is truly the deserving winner of Bigg Boss 16 and the fans cannot wait to witness the history to repeat itself.
Shiv Thakare is the Real Winner of BiggBoss16.

VIJAYI BHAVA SHIV THAKARE pic.twitter.com/D2RSNDuHNS

— Ayush Baliyan (@AyushBaliyan13) January 30, 2023
Winning Bigg Boss trophy has become a matter of national pride, not only Shiv but the entire nation by now wants Shiv to lift the trophy! Truly, such insane stardom is very rare to witness and Shiv has fortunately been blessed with all of it.
Also Read: Salman Khan, Abdu Rozik And Others At Rrahul Kanal And Dolly's Wedding & Reception
Only recently, Shiv Thakare became the talk of the town since the day he has entered the house. The former Bigg Boss (Marathi) winner, who was lauded by Salman Khan on the day first when the host of the show said "He's a winner who's always known for winning". The recent episode only consolidated Shiv's position as a winner when he was crowned as the king of the season by a number of housemates. Today, he has been trending on Twitter with the hashtag 'VIJAYI BHAVA SHIV THAKARE'. Has Bigg Boss 16 lived up to your expectations?