Sameera Reddy plans to return to the screen this year. The actress hopes that her new journey on the screen will be a different experience than what it was a decade ago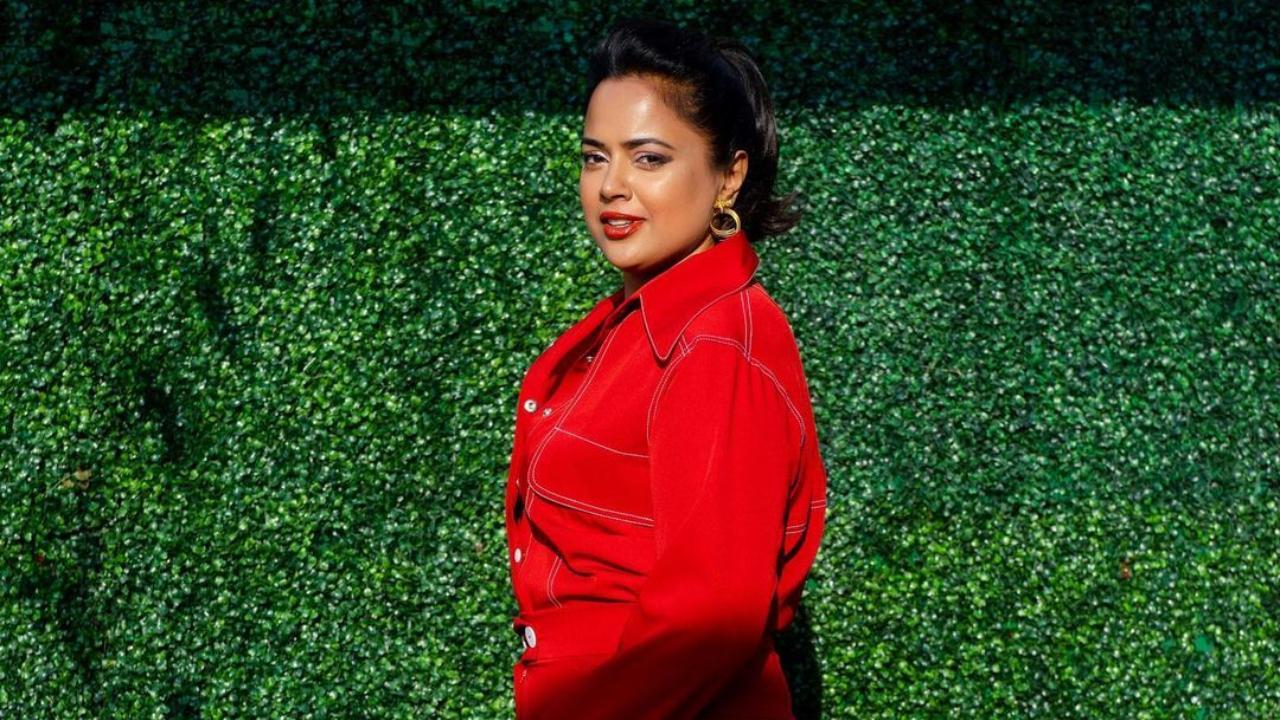 Sameera Reddy. Pic/Sameera's Instagram
Sameera Reddy who was first seen in the superhit music video of the 90s, 'Aur Aahishta' by Pankaj Udhas, took the Hindi film industry as well as the audience by storm with her bold and steamy on-screen characters. Best known for Hindi movies like 'Darna Mana Hai', 'Musafir', 'Taxi Number 9211', 'De Dana Dan' and 'Race' to name a few, Sameera has also proved her mettle down south. 
Currently enjoying her motherhood to the fullest, actor Sameera has been keeping away from the camera for a long time now. The actor who began her Bollywood journey with 'Maine Dil Tujhko Diya' alongside Sohail Khan in 2002, Sameera is now one of the stalwarts on social media who goes by the name, 'Messy Mama'. 
During her stint in the film industry, Sameera said she filled up to norms and therefore never lost out on roles because of her appearance. "I literally used to starve myself, eat one idli a day, black coffee; especially before songs. I remember starving myself and I really kept up with what was expected of me at that time which was very hard. It was mentally, and emotionally hard but I did it. I never allowed anyone to see my grey hair which started greying at 19. I didn't allow anyone to have a chance to say that she has put on weight, because I made sure that it was kept down. It was a lot of pressure and that was the need of the hour at that time," she confessed.
"But all that has changed today and I am hoping that when I come back it is going to be a different experience because I think they are going to let me be myself and that's going to be so refreshing," she added. 
While speaking exclusively to Mid-day.com, Sameera opened up about her plans to return to the big screen. "I definitely have plans. I think every month I edge closer to it and then I look at my kids and I know it is hard to leave them. But this may be the year I change that because thanks to OTT the roles that are available are unbelievable."
Also Read: Exclusive! Sameera Reddy: I had to pad my chest, was told to get a breast surgery
The actor who was last seen in Kichcha Sudeepa-starrer Kannada drama, 'Varadhanayaka', in 2013, today, Sameera is winning hearts by showing off her true self on social media. From talking about body positivity to embracing natural skin tone, Sameera has gained unprecedented popularity on social media for all the right reasons. 
The proud 'Messy Mama' of two adorable kids, Sameera is now planning to make a comeback to the world of cinema and face the camera again! From 'Sexy Sam' to 'Messy Mama', Sameera believes that her off-screen persona will reflect her choices on-screen going forward. "I have to say social media has helped me a lot in that aspect where it has allowed me to show parts of myself which are very different from what I was on screen. It allows me to be crazy, humourous and deep. I think that the roles I am offered are definitely different from what I used to do before," revealed Sameera.
Also Read: Sameera Reddy lost 11 kgs in one year; shares weight loss journey on Instagram