Siddhant Chaturvedi speaks to mid-day. com about reviving his dream of being a lead actor post the success of Zoya Akhtar's Gully Boy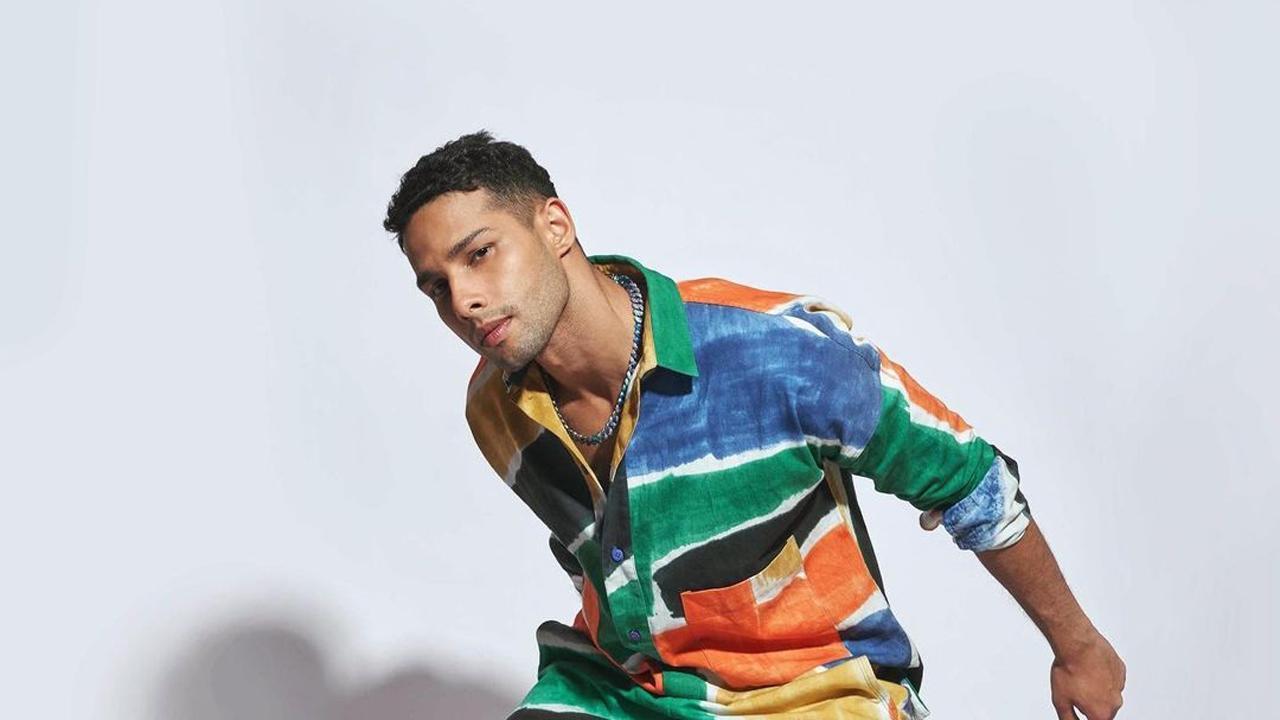 Siddhant Chaturvedi/PR image
Siddhant Chaturvedi whose film Bunty Aur Babli 2 with Rani Mukerji, Saif Ali Khan, Sharvari Wagh, Pankaj Tripathi and others hits the theatres today speaks to mid-day.com about making a mark in the film industry, memories of the original and what keeps him busy outside work.
Before you landed your big break Inside Edge, followed by Gully Boy what was it that kept you going towards achieving your dreams?
Even before my first break there was something where I knew I wanted this bad! I would always entertain people as a kid, at parties and everywhere else and I had this belief that I could make it. Nobody could convince me I can't! Of course there was no way to get in because of my background but you have to keep trying till people notice you. I did ads and web shows and then I got Gully Boy as supporting actor. Adi (Chopra) sir saw something in me and said, 'Tu toh hero hai.' He gave me Bunty Aur Babli 2 and to not give up is something I learnt, karna hai to karna hai ek hi life hai. 
It isn't easy to stand out in a film starring Ranveer Singh and Alia Bhatt but when you got the kind of love and adulation you did, was it surprising for you as well?
Of course it was surprising! The point was never to stand out but to just get noticed. I just did my part. To stand out and be a hero, is a dream that had died at 22, because I knew nobody is going to launch me and back me. So I took the route of working on my craft and characters I like, anything exciting. Every actor wants to be noticed, I won't lie when that happened I was surprised and happy, though I had such great actors around me. It was a moment of celebration at my place. When that happened I said lets revive the 22 year old Siddhanth's dream of becoming a hero why not! I took the route of plan B to get to plan A and I was ready with dance, action and had worked on myself in the years where I wasn't getting acting jobs.
What are your memories of Bunty Aur Babli?
I remember watching the film when I was 11 years old. I bought the film's cassette and put it in my Walkman. Since then I had been dancing on the film's songs at every party and everywhere! So it feels very close to home and there's a special connection. It's one of those iconic films which I'm still entertained by when I go back and watch it. To step into the shoes of Bunty after 15 years is overwhelming. 
Was it a challenge to pull off the five different looks and accents in the film?
It's not a challenge, it's fun. The method is borrowing from different places, like our relatives for example. My theatre group used to do a lot of comedy and musicals, so it comes with experience and picking up character traits from real people.
It's been a long wait of two years before Bunty Aur Babli 2 made it to the theatres…
Adi sir had faith this film would bring the family audience together and knew that we had made a good film. Cases have been going down and people want to have a great time. More than me I'm excited for the audience; this is the laughter they deserve. It's pure entertainment, not a story where they have to  think about life!
How do you handle the limelight particularly talk about your personal life and who you are dating?
I stay with my family and my friends too keep me grounded. I go to work, work out, I write and watch films…I've made my own world, I'm not always in the limelight. I share my thoughts on Instagram, paint or catch up with friends who are all getting engaged or married. I have to take care of my parents health and make them a part of my journey. I have a 17 year old brother and he's into music so I jam with him. These are things that keep me busy, I don't get excited about parties and other such things.
Also Read: Siddhant Chaturvedi: Plan 'A' was to have big-label launch with actioner