Having released his debut album days ago, Zaeden on including songs that cut across genres, to do justice to his own miscellaneous life experiences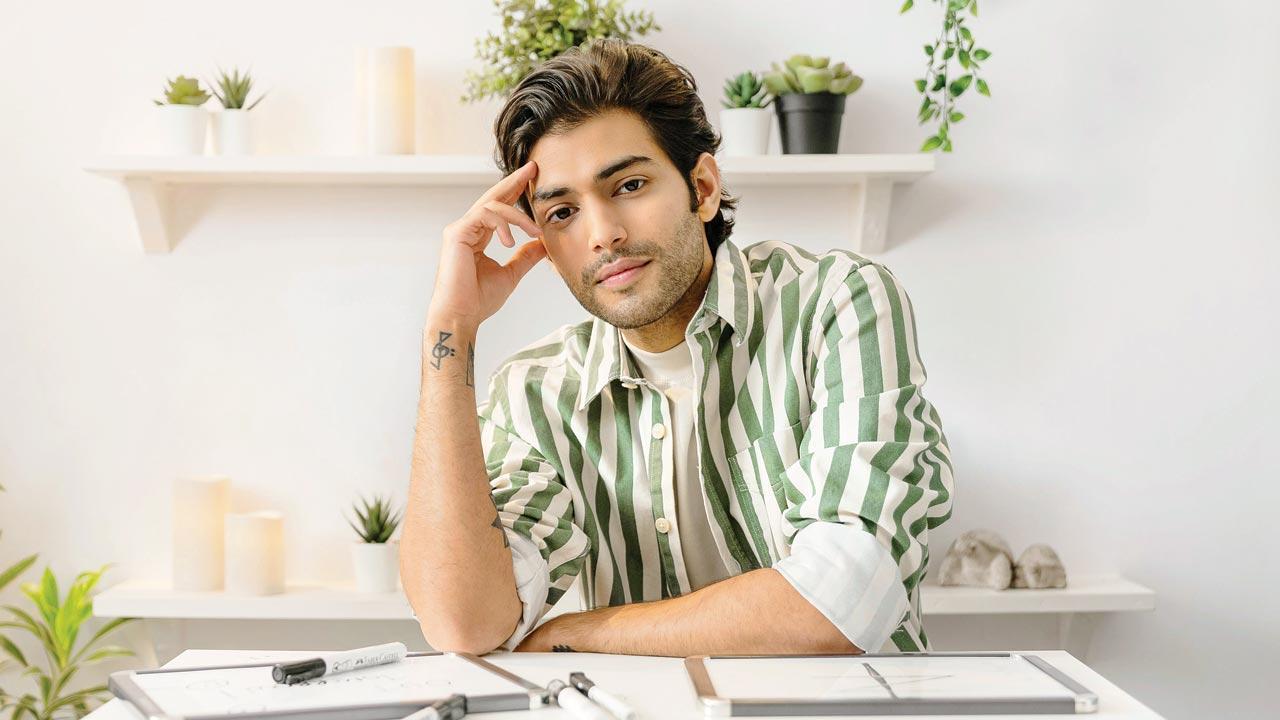 While primarily a Hindi album, Zaeden's Genesis 1:1 also features English tracks
Browsing through Genesis 1:1, it's easy to understand why Zaeden refuses to assign a genre to the 11-track album. Aptly touted as a musical amalgamation of his decade-long experience as a singer-composer, the project includes flavours of Hindustani music, dance pop, and English music, making it "neither too Indian, nor too western". 
Only 26, Zaeden has been fortunate to have had ample experiences. His success in composition early on in his life landed him a spot at the Tomorrowland festival, and on Dutch DJ Hardwell's radio show. He also subsequently bagged an opening act at a David Guetta concert. Complement this with the interactions he's had with the top brass of the Indian music industry, and Zaeden makes a case for himself when he says he has dabbled in way too many genres to bracket his album. 
"Genesis 1:1 started off as an experiment, with only three songs. I started to focus on sounds apart from hip-hop, and collaborated with producers like Polar Beats, who helped me learn a lot about the craft of song-making. Sonically, the track Kya karun set the tone of the album. I usually focus on the melody more than the lyrics, because I come from a dance-music background. But, the impactful writing of Duriyan, penned when I was missing my loved ones amid the lockdown, was an insightful experience. This song showed me how to experiment with words, sing, and learn about rendering different portions. Early on, as a song-writer, one [struggles] to arrive at a concept, and put thoughts to words. But if you can create a good melody, it serves as a [stepping stone] to arrive at the concept."
Including collaborations with artistes like Aakash Ravikrishnan, Tom Norris, Nischay Parekh, Nikita Ahuja, and Yashraj, the album, he says, features tracks that are sonically distinct from one another. "When piecing an album together, it's essential to have songs that do not seem similar. I don't want my fans to point that out about my music." 
Also Read: New year, new playlist
Experimental and nostalgic in equal measure, it also includes his top tracks, like Tere bina, his first original rendition that kicked off his career. Other offerings include Kya karun, Socha na tha, Yaadein, and the English track, 1000 pieces, among others. 
Admitting that having poured his heart out in this album, Zaeden says he needs time to zero in on the ideas that will be part of his next. His decision is aligned with that of artistes as young as he is, who often take time off to garner enough 'life experiences' to serve as fodder for their music. "Having said that, I think every song-writer [could] place themselves in someone else's shoes instead of merely drawing from their own journey."
In the pipeline is another English EP with Polar Beats, and an offering with Los Angeles-based music duo, Fly By Midnight (of Lost without you fame). "Another  project with  Shah Rule from the Gully Gang is also underway." 
Also Read: DJ Zaeden wants the world to tune in to pop music