'Kanjoos Makhichoos' trailer is out! Kunal Kemmu and Shweta Tripathi star in this comedy-drama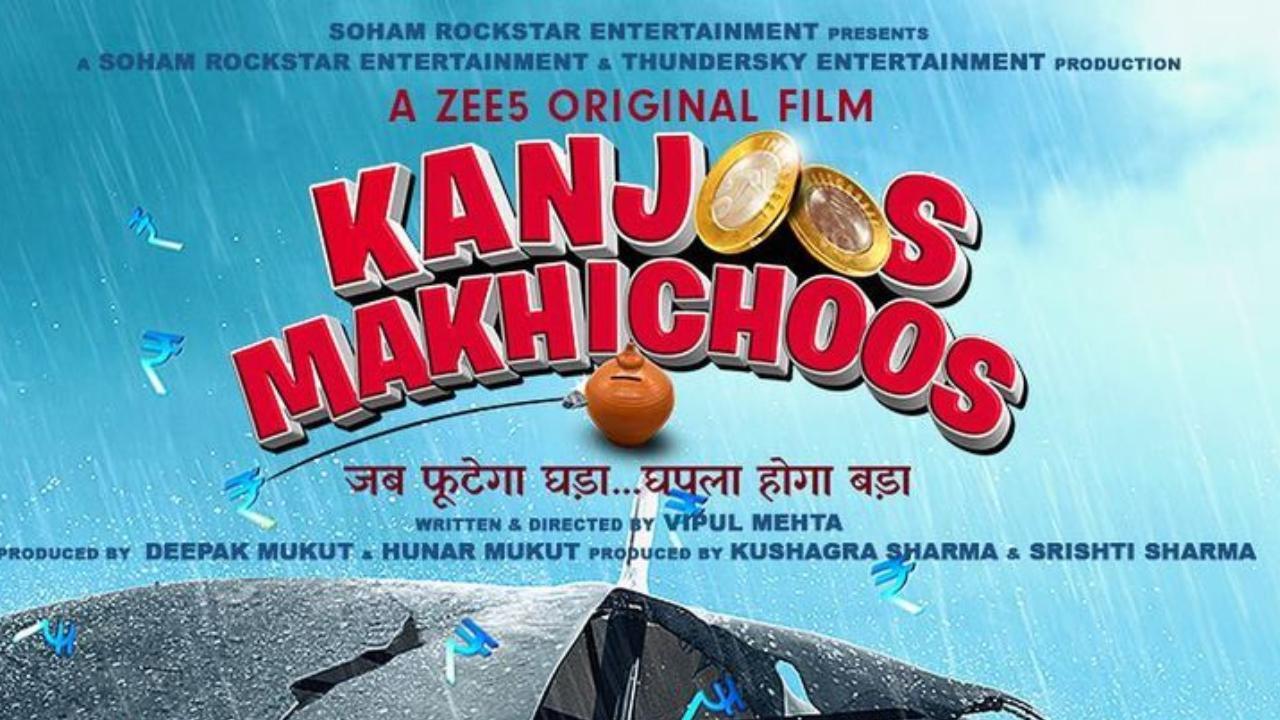 Kanjoos Makhichoos movie poster
The trailer of Kunal Kemmu and Shweta Tripathi's upcoming comedy-drama 'Kanjoos Makhichoos' is out.

'Kanjoos Makhichoos' is the story of Jamnaprasad Pandey (Kunal Kemmu) who is infamous in the entire town of Deoria, Uttar Pradesh as a miser. His parents, Gangaprasad Pandey (Piyush Mishra) and Saraswati Pandey (Alka Amin), wife Madhuri (Shweta Tripathi) and son Krish, are fed up with Jamna's penny-pinching habits. Right from allocating one bucket per person for bathing to using one agarbatti throughout the month, Jamnaprasad never spares a single rupee unnecessarily. However, little does the family know that Jamna has been saving up to fulfill his father's longstanding wish of going on a char-dhaam yatra.

Director Vipul Mehta took it to Instagram and posted an official trailer of his upcoming comedy-drama 'Kanjoos Makhichoos' captioning it, 'Pandey parivaar ke karnamo par hasne ke liye ho jaiye taiyaar! Hain thode se kanjoos lekin entertainment denge full on!'.
 

 

View this post on Instagram

 
ADVERTISEMENT
Meanwhile, actor Kunal Kemmu also posted the trailer of his upcoming movie with the caption, 'Hai yeh bahut hi bade kanjoos lekin family ke liye apna pyaar dikhane mein kabhi nahi karte kanjoosi! Dekhiye Jamnaprasad Pandey ki anokhi kahani in #Kanjoos Makhichoos'
 

 

View this post on Instagram

 
The film is written and directed by Vipul Mehta. Piyush Mishra, Alka Amin, Rajiv Gupta and the late Raju Srivastav are also a part of the film.

Excited about the film, Kunal said, 'Kanjoos Makhichoos is the kind of film that I would love to watch with my family because it is a complete mass entertainer. It has the perfect dose of drama, comedy, plot twists, a sweet message and a whole lot of entertainment. Also, I had a great time shooting with my co-actors and the entire crew because the energy on-set was great. I am sure that my fans and their families will enjoy this film.'

Director Vipul Mehta also shared details about the film.
Also Read: Kunal Kemmu salutes to the 'legend of comedy' Satish Kaushik as he drops trailer of his upcoming show, 'Pop Kaun'
'Kanjoos Makhichoos is a story of a middle-class, simple-minded Pandey family, belonging to Lucknow. The story has a very realistic approach with humane and relatable characters. The humour depicted in the film is also very natural. In this world of nuclear urban families, our film is focussing on the story of a joint, close-knitted family. The protagonist Jamnaprasad is a miser minded person and his miserly ways will steal the heart of the audience,' Mehta added.

'Kanjoos Makhichoos' will be out on Zee5 on March 24, 2023.
(with inputs from ANI)