'Boom Padi' marks Kruti Mahesh's fourth Garba choreography of the year after 'Ghani Cool Chori' from 'Rashmi Rocket' featuring Taapsee Pannu, 'Dholida', and 'Jhumi Re' from 'Gangubai Kathiwadi' featuring Alia Bhatt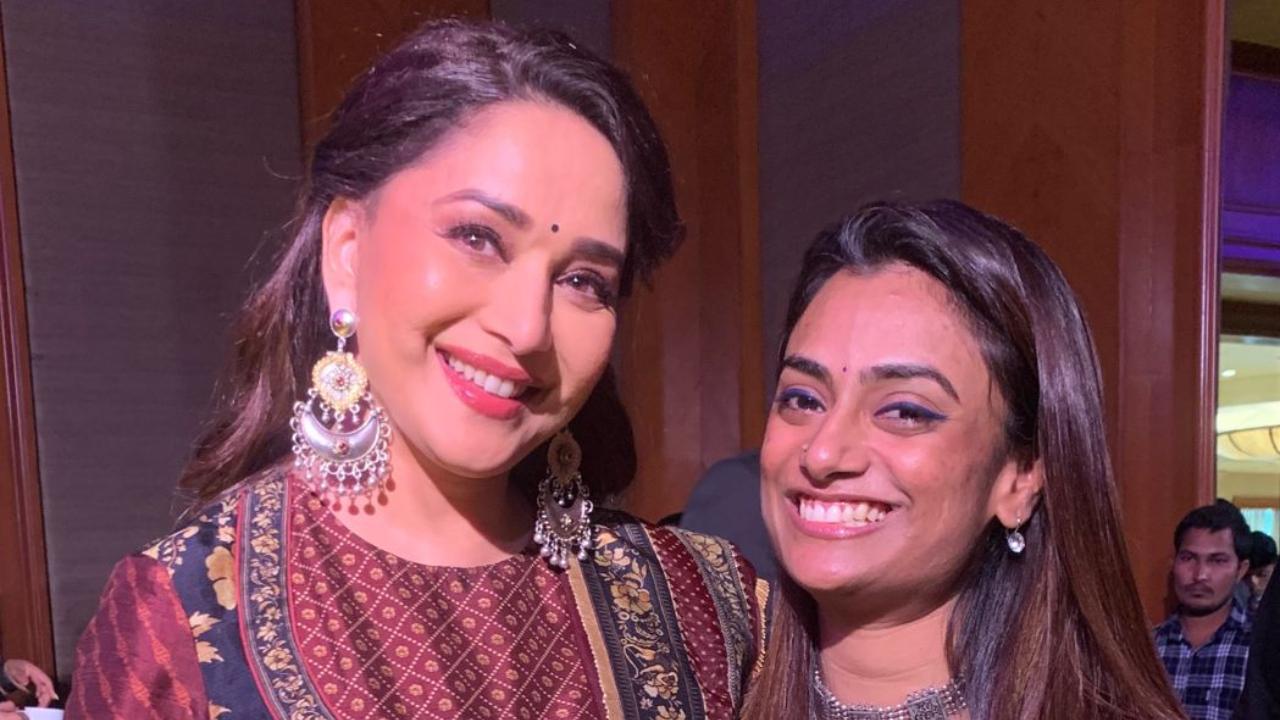 Madhuri Dixit and Kruti Mahesh. Pic- PR
Madhuri Dixit treated the audience with her first 'Garba' song on screen this Navratri season. She featured in the song 'Boom Padi' from the Prime Video original film 'Maja Ma'. The song has been receiving immense love and the vibe of the song is being recreated through reels by many Instagram users. The song has been choreographed by National Award-winning choreographer Kruti Mahesh. This also marks her fourth Garba choreography of the year after 'Ghani Cool Chori' from 'Rashmi Rocket' featuring Taapsee Pannu, 'Dholida', and 'Jhumi Re' from 'Gangubai Kathiwadi' featuring Alia Bhatt. 
Does having Dixit on screen makes Kruti's job as a choreographer easy, Kruti promptly said, "On many levels. Off course it does, because it is not just training, it's the amount of experience that Madhuri Dixit herself comes along with. It's an experience for someone like me who is pretty new to the industry. I am just passionate about my work but that is someone who is absolutely passionate, absolutely honest about her work, and has so much experience and love for the art form. She is standing, living, breathing art herself. I have told her so many times, 'ma'am aap khade raho bas, hum camera idhar udhar ghuma denge'(You just stand there we will just move the camera around). She is such a beauty, she is grace personified."
Also Read: Remo D'Souza's dream comes true after watching Neena Gupta perform live on 'Choli Ke Peeche'
"Obviously, my job becomes easier, but at the same time, it is difficult. It was difficult with this piece especially because she has never done Garba before. In her entire career, she has never done Garba on screen, so I was happy that there is still a first for Madhuri Dixit and that was my first as well. It was challenging also because I have done three Garbas in the year. This was my fourth Garba. It was a level-up moment for me as well," she added.
Talking further about teaching Madhuri, Mahesh said, "Madhuri Dixit is also an amazing student. When someone is speaking she is all ears. It is very rare to find an artist who even at this point, with all love and experience she garnered, is still the same. The humility is what makes Madhuri Dixit a legend." Are you excited to watch Salman Khan in Chiranjeevi's 'Godfather'?