After Adipurush's teaser gets negative reactions, dialogue writer says film envisioned with modern technology to appeal to current generation; hopes upcoming trailer will change audience's mind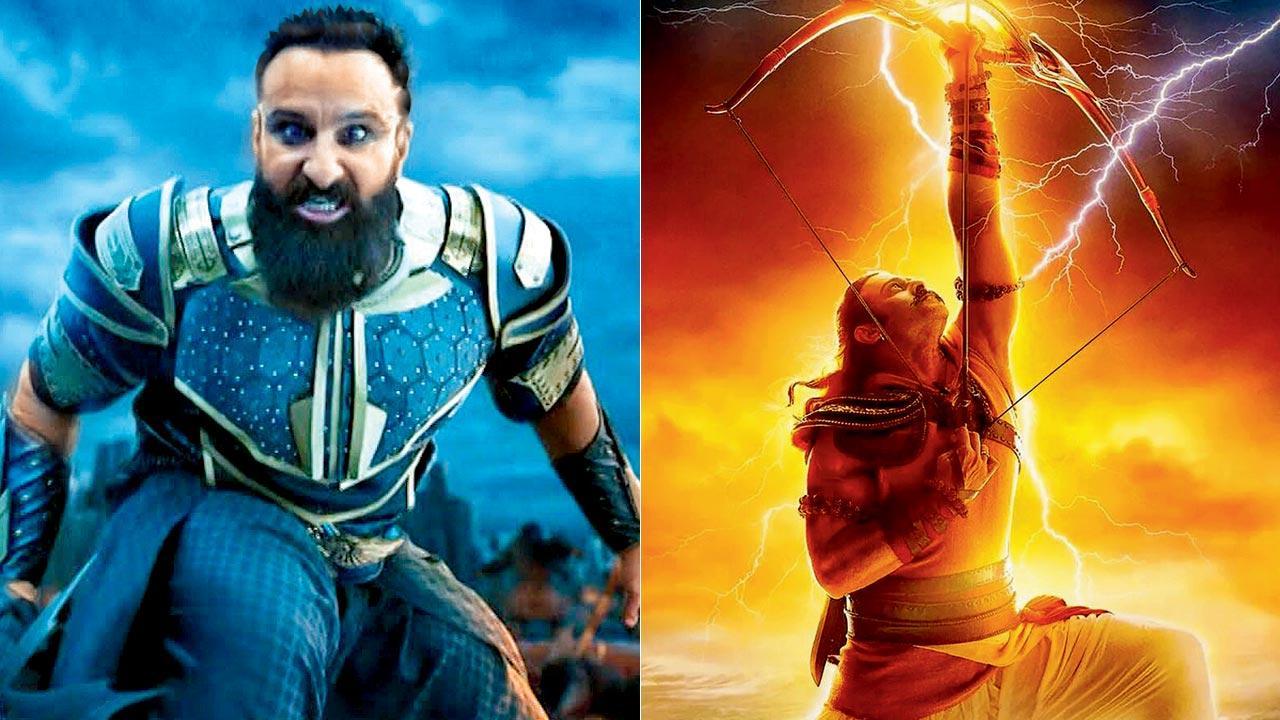 Saif Ali Khan as Lankesh in the film; (right) Prabhas in Adipurush
With great expectations comes great responsibility. Om Raut's Adipurush has been one of the most anticipated films, as the director offers a retelling of the Ramayana. All eyes were on Prabhas and Raut as they unveiled the teaser earlier this month. However, it received mixed to negative reactions, with netizens trolling its visual effects. Social media users also claimed that the movie borrowed heavily from international offerings — be it Aquaman (2018), Rise of the Planet of the Apes (2011) or Game of Thrones.  
Raut had earlier stated that the idea of retelling the epic struck him while watching Japanese director Yugo Sako's anime film, The Prince of Light. Manoj Muntashir, who has served as the lyricist and dialogue writer, says that Adipurush is designed in keeping with current technology. He begins, "In every age, you have to retell the story with whatever creative tools are at your disposal. In 1987, when Ramanand Sagar ji made Ramayan, he made a series ahead of its time, with VFX that depicted 10 arrows being shot from one bow. When we made Adipurush, we too tried to experiment with the available VFX. In the 90-second teaser, we have conveyed that Ravana has abducted Maa Sita, and Lord Ram, with the help of Hanumanji and others, attacks Lanka, wins the battle and brings her back. Is this narrative wrong?"
Manoj Muntashir
Also Read: Katrina Kaif and Vicky Kaushal give a glimpse of their "pehla" Karwa Chauth
Muntashir says that the movie — also starring Saif Ali Khan and Kriti Sanon — was born out of the team's "reverence for and faith" in the epic. The idea was to present the traditional narrative in such a way that it appeals to today's generation. "Adipurush was never just a project for us. It was always a responsibility. We needed to tell the story in a way that it's understood by today's kids, who have not been exposed to the story of mighty Rama. How do you reach out to the kids who are watching movies like Batman, Thor, and Dr Strange? You cannot show them the Ramayan of 1987."
Another point of contention has been Khan's look as the demon Ravana. The dialogue writer-lyricist agrees that it is a far cry from actor Arvind Trivedi's look in Ramanand Sagar's television offering. "Giving Arvind ji [the thick, handlebar moustache] was their creative visualisation. His performance impacted us. We wanted our Ravana to look evil and menacing." Insisting that they don't want to hurt people's sentiments, Muntashir appeals to the audience not to jump the gun. "We will soon come out with a song and trailer. I hope people will change their mind after seeing them. As makers, we are listening to people's suggestions, and seeing what it teaches us. Every voice matters."
Also Read: 'Bigg Boss 16': It's a house of war as contestants lock horns Are you looking forward to BTS`s Jimin`s birthday live chat?