As Shabaash Mithu kicks off, Indian team captain Mithali Raj discusses gender bias in sport and why Taapsee Pannu is perfect fit for the biopic.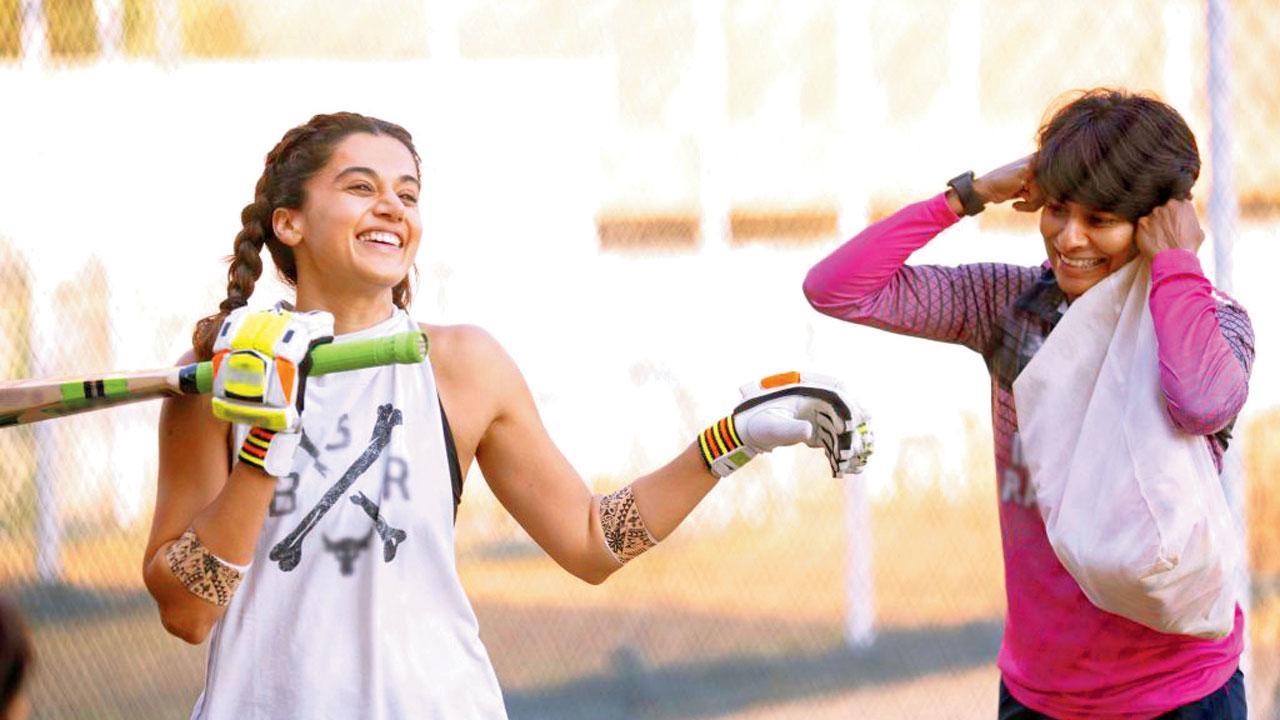 Taapsee Pannu with cricketer-trainer Nooshin Al Khadeer
The pride in Mithali Raj's voice is palpable as her biopic Shaabash Mithu goes on floors today. In her 21-year international cricket career so far, the Indian women's team skipper has shattered the glass ceiling, compelling the country – unfortunately obsessed with the male cricket team for far too long – to acknowledge that the women in blue were equally accomplished.
"The country woke up to women's cricket when our team became the runner-up in the 2017 World Cup. My story isn't as much about me as it is about the contribution of all the women cricketers. It's important to highlight the struggles, (earlier)lack of resources and inequality when it comes to women pursuing a career in sports. The gender biases a sportswoman had to endure are real, but at the same time, things are changing. We need to consciously work towards changing perspectives," says the skipper. 
The Rahul Dholakia-directed story will trace her journey from the 2005 World Cup to the 2017 outing that changed it all. Stating that she has yet to read the script, she says, "After coming under the BCCI [Board of Control for Cricket in India] in 2006-07, we have better access to facilities and resources. We have made great headway in closing in on the gap between men and women's cricket." 

Mithali Raj
In some ways, Taapsee Pannu is the perfect casting choice to play Raj . "I wasn't a part of the casting process. Taapsee is a good actor and keeps track of matches. She had texted me after watching the India versus South Africa home series. She is learning my mannerisms and trademark shots." 
To do justice to the unlikely hero and her achievements, Pannu has trained in the sport under the able guidance of Raj's colleague Nooshin Al Khadeer. "Nooshin has seen me through my vulnerabilities. She is in a better position to help Taapsee train. She can help her understand how I run between my deliveries. She often asks me questions on specific things I do," adds Raj.
On her part, Pannu who comes off the shoot of Anurag Kashyap's Dobaaraa, says the most challenging bit for her in depicting Mithali's character is her game. "She is such an effortless player on crease and with that ease she hits the most classic of shots. For someone who has never played cricket before that is the biggest challenge. As a human her journey is inspiring so I am looking forward to the drama part of it for sure," she tells us. 

Ajit Andhare
To be shot amidst rising cases and persistent fear of lockdown, Ajit Andhare, COO, Viacom18 Studios is holding fort on the production front. "Firstly, in these tough times with the possibility of looming lockdown, cases being record high, a film of this scale going on floor in Mumbai and being shot across multiple locations in India, South Africa, London itself makes it a very significant film. It's symbolic of our ability to keep the industry going even amidst unprecedented challenges on the ground.
Women's cricket has never been the subject of Indian Cinema. For a cricket-loving country to overlook the world class achievements of its women cricketers is a striking irony. Cinema has the ability to bring to center stage stories that are unheard of. It's time we celebrate women in blue through the story of Mithali Raj. So I believe it's a film on a really significant mission."