'Gumraah' features Thakur as a cop while Aditya Roy Kapur will be seen in a double role. The 'Jersey' actor said since her role of a cop demanded her to sound firm she was unsure if she could pull it off, primarily because of her soft voice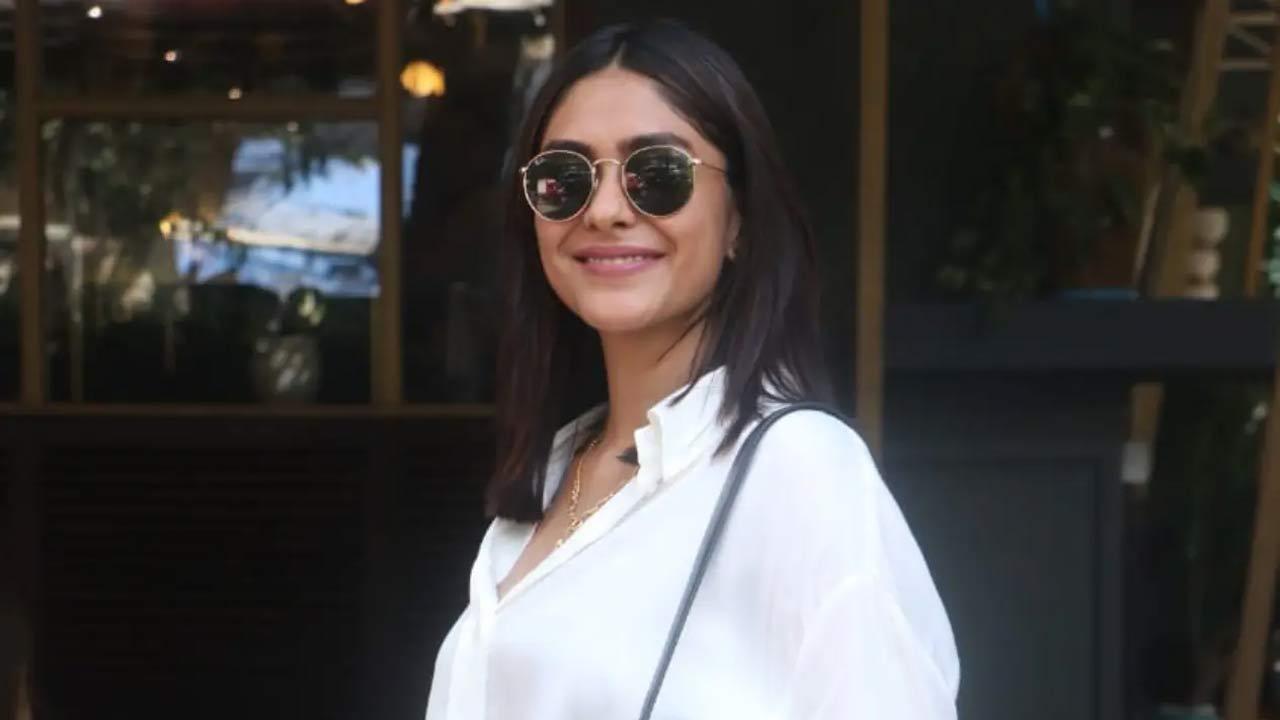 Mrunal Thakur. Pic/Yogen Shah
Actor Mrunal Thakur says it was challenging to play a cop in her upcoming film 'Gumraah', a role that she has tried to deal with responsibly. The crime thriller is the Hindi remake of 2019 Tamil hit 'Thadam' starring Arun Vijay and Vidya Pradeep.
'Gumraah' features Thakur as a cop while Aditya Roy Kapur will be seen in a double role. The 'Jersey' actor said since her role of a cop demanded her to sound firm she was unsure if she could pull it off, primarily because of her soft voice.
ADVERTISEMENT
"When you play a cop there is a responsibility. For the first time, I have played someone, who is firm. It is difficult to play a cop. But the way my character is written is interesting. There are a lot of shades, there are a lot of ups and downs. It was challenging," Thakur told reporters here at the trailer launch of the film.
"There were times when I would go to Vardhan (Ketkar, director) and tell him, 'I don't think I can do it' and he would say, 'you got this. And sometimes my voice is sweet that we had to be firm'," she added. The actor said she also took notes from her family members, who have been police officers to flesh out her character properly. My family belongs to police department and it was nice to go back to them, take some anecdotes, listen to their stories and implement in my character," she added. Thakur, who garnered wide critical acclaim for her performance in "Love Sonia" and "Sita Ramam", said she is grateful to writers for penning powerful roles for female actors and hopes this trend continues.
"There are strong women personalities out here, who do not get the recognition... It feels good to be in the centre (of the poster in 'Gumraah'), who wouldn't want to? It's about time. We need to change the definition of how Indian actresses were treated role-wise and not the other way. It is lovely to get such powerful roles and I hope there are many more to come," she added.
Speaking of comparisons with Tabu and Rani Mukerji, who have played cop roles in two different films, 'Drishyam' and 'Mardaani' respectively, Thakur said, she looks up to both the actors and hopes she has done justice to her role in 'Gumraah'.
Watch: Gumraah Trailer: Mrunal Thakur On Being Compared To Tabu and Rani Mukerji | Aditya Roy Kapoor
"I look up to Tabu ma'am and she is the goddess I worship. One of the reasons why I want to do 'Gumraah' is when I heard the story, I could picture only Tabu ma'am. This is something I want to explore, this space and this genre. "I have never been part of a thriller movie and this is a film, where you will sit at the edge of the seat, your mind will be at play. I am happy they are comparing me to Tabu and Rani ma'am, I hope I do justice," she said.
The film follows the story of a murder investigation by the police, who find two lookalike suspects (Aditya) claiming to not know each other. For Kapur, the challenge was to make the two characters look different. He also credited writers Aseem Arora and Ketkar for making his job easy as an actor because they had written it as two different characters. "What was interesting was the character needed to feel very different and we couldn't play with the look and you will realize it when you see the film. So, we had to find a way to make them speak differently... I did some diction classes to bring about the difference in the way they speak," he said.
Also Read: Mrunal Thakur drops a crying photo on her Insta story, says 'It's okay to be naive and vulnerable'
Aditya said 'Gumraah' pushed him to tap into a space as an actor that he had not explored in his 15-year-long career. He also said even though two of his projects, 'Malang' and web-show 'The Night Manager' have been successful thrillers, he was excited to explore the genre again with 'Gumraah'.
"When you do a film that has worked in that space like 'Malang' came out and this ('The Night Manager') was in that space, (then) you want to do more of it. Having said that, you don't want to keep repeating yourself. What I found with this ('Gumrah') was that the role was exciting. It was an opportunity to push myself to do something I had not done before. So, it all added to that," he said. Produced by Bhushan Kumar's T-Series and Murad Khetani's Cine1 Studios, 'Gumraah' will release theatrically on April 7.
This story has been sourced from a third party syndicated feed, agencies. Mid-day accepts no responsibility or liability for its dependability, trustworthiness, reliability and data of the text. Mid-day management/mid-day.com reserves the sole right to alter, delete or remove (without notice) the content in its absolute discretion for any reason whatsoever