The unlikely casting of the super-star Varun Dhawan in October is very much part of the sweet detailing.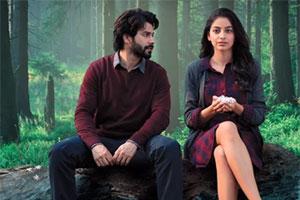 Varun Dhawan and Banita Sandhu in a still from October
October
U; Drama
Director: Shoojit Sircar
Cast: Varun Dhawan, Banita Sandhu
Rating: 

Okay a quick warning for those who often complain about films being 'too slow' (and these aren't necessarily excited consumers of Varun Dhawan's Judwaa 2 alone): You must slow down on your way to the theatre, right away. Not saying there is danger ahead. But you're looking at a film that isn't simply programmed around a plot, as it progresses from point A to B or Z.
Tempo isn't of primary importance here. This isn't a suspense thriller, murder mystery, or even a regular love story, if you may. You're instead being invited to gently feel something—an emotion perhaps, but mostly a strange kind of empathy.
In line with that quiet melancholy, I guess this film is titled October—referring perhaps to the temperate season, autumn, when leaves fall, the world begins to look bereft, and bright days become shorter as glum evenings take over.
The central event in October, however, takes place end-December, when the lead character (Banita Sandhu) falls off a building while hanging out with her friends/colleagues at a New Year's Eve party. The casualness with which she accidentally slips off the ledge of a terrace—by far the movie's most dramatic moment—tells you more about the life-like tone of this film than any scene would.
Also Read: Varun Dhawan's Journey From A 'Star Kid' To Becoming One Of The Most Bankable Actors
Watch the trailer of October here:
The girl works as a management trainee in a Delhi hotel, along with several others, including an equally young boy (Varun Dhawan) she knows as any other work-mate. The fact of this girl getting into a coma, though, affects that boy more than others.
In terms of scenery, what you have therefore is a motion pic set, chiefly between a hotel, and a hospital—two transient spaces that nobody ever checks-in to, knowing anything more the certainty of checking out soon. The camera compels you to follows its every move, zig-zagging through these sanitised, indoor environments. The level of detailing—from the hotel lobby/laundry to the hospital ICU, or even down to the classroom at IIT Delhi, where the girl's mom teaches—holds your attention first.
Even the unlikely casting of the super-star Dhawan is very much part of the sweet detailing. There's something about the age of adult innocence—21, in the lead character's case—that you wholly appreciate, or even long for, only when you're not 21 anymore; and of course, you'll never be. That endearing purity very much naturally shows on Dhawan's face. How else would you be able to explain, on screen, this strange, visceral sort of care/attraction for an unconscious girl—especially with zero back-story on the boy himself?
I mean, we've seen films that delve into caring for a severely ailing loved one—the fab Pedro Almodovar's Talk To Her (2002), or Richard Eyre's Iris (2001), or even Nick Cassavetes's The Notebook (2004), for that matter. But October essentially delves into the idea of unconditional love, and whether it can ever exist, and to such degree. The film evidently argues it can, even if it seems slightly inexplicable.
I certainly believe it must, although have met, and have even been close to some, who're sure that a relationship between a parent and child—let alone siblings, or lovers—isn't totally unconditional either. Maybe they're right (about themselves). Who knows? What you do know is this story, in a really odd way, will still make sense to a sensitive few. And that's not only for what you see, but what you don't.
For instance, the first thing you expect in a Bollywood picture of this genre is a haunting, lilting tune (the chocolatey 'melody', as it were) informing most sentimental scenes, that thereafter becomes the title track. If it was the '80s that song may even have a "happy version". Staying miles away from the obvious tricks/topes, including melodrama, what director Shoojit Sircar, and his writer Juhi Chaturvedi, pull off is effectively stretch a one-line thought/plot into a feature of two hours, that instantly moves you for its striking sincerity, honesty.
Which is also what explains master-director Sircar's incredibly eclectic career thus far, where he's brilliantly bounced between genres, without calling much attention to himself — right from his debut, Yahaan (2005; romance in the times of Kashmir insurgency), Vicky Donor (2012; comedy), Madras Cafe (2013; thriller on the assassination of Rajiv Gandhi), Piku (2015; a lovely ode to father-daughter love).
This subtle, lyrical drama had me slightly teary-eyed on occasion — it could be because of an emotional trigger, or perhaps a memory it subconsciously draws one towards. This happens to me a lot at the movies by the way. Just so you know, and can probably treat that as a word of caution as well!
Also read - Varun Dhawan on October: There's no repetition of expression or dialogue delivery
Catch up on all the latest entertainment news and gossip here. Also download the new mid-day Android and iOS apps to get latest updates