At the Pathaan success meet, Shah Rukh Khan and John Abraham were seen showering love on each other. While they are pitted against each other on screen, the two share a affable bond off screen and the audience got a chance to witness the same at the success meet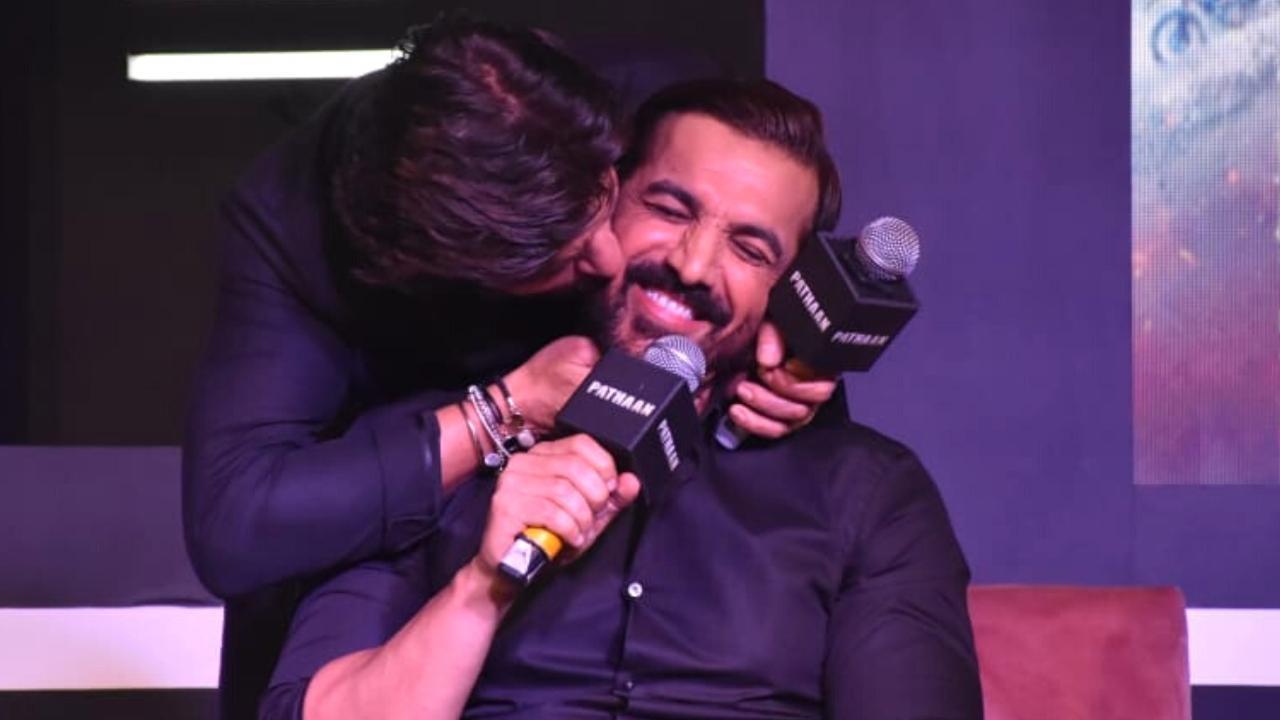 Shah Rukh Khan plants a kiss on John Abraham's cheek
Shah Rukh Khan took a 4-year break from the big screen only to return with the spy thriller 'Pathaan'. The film which was released on January 25 has been breaking several records at the box office every day since. 
In a first, the team of 'Pathaan' including Shah Rukh Khan, Deepika Padukone, John Abraham, and Siddharth Anand met the media and fans after the release of the film. The team had decided to not do any promotional events for the movie including trailer and song launch events and media interactions, therefore making the event in Mumbai the first gathering of team 'Pathaan' off-screen. 
ADVERTISEMENT
At the meet, Shah Rukh Khan and John Abraham were seen showering love on each other. While they are pitted against each other on screen, the two share a affable bond off screen and the audience got a chance to witness the same at the success meet. The duo also addressed the almost-kiss memes that was doing the rounds on social. There were moments in the film where the two got really close to each others faces while delivering dialogue which fans called the almost-kiss. "I love him too. I tried kissing him also. He did too. Not like it was one-sided love," said SRK addressing the memes. 
Meanwhile, John who was all praise for Khan said, "I got an opportunity to work with Shah Rukh. I don't think he's an actor anymore, he's an emotion. May be that's why I nearly went to kiss him in a lot of scenes (laughs)." The actor also called SRK, the number one action hero of the country.
Khan also went on to praise John and his character. "I really believe the backbone of 'Pathaan' is Jim played by John. To play a bad guy who is so... To be rightly bad, to take a cynical viewpoint of the world and to play it to such strengths. He was very gentle and kind to me in action scenes," he shared.
On one occasion, Khan also got up from his seat and went to give John a kiss on the cheek saying, 'Raha nahi gaya mujhse'. John was all smiles and blushing after this gesture. 
Also Read: 'Pathaan' director Siddharth Anand on why film worked: There was a thirst Shah Rukh Khan created for him