Shah Rukh Khan, Deepika Padukone, John Abraham, and Siddharth Anand for the first time as team Pathaan gathered together at an event in Mumbai to talk all things Pathaan and Pathaan 2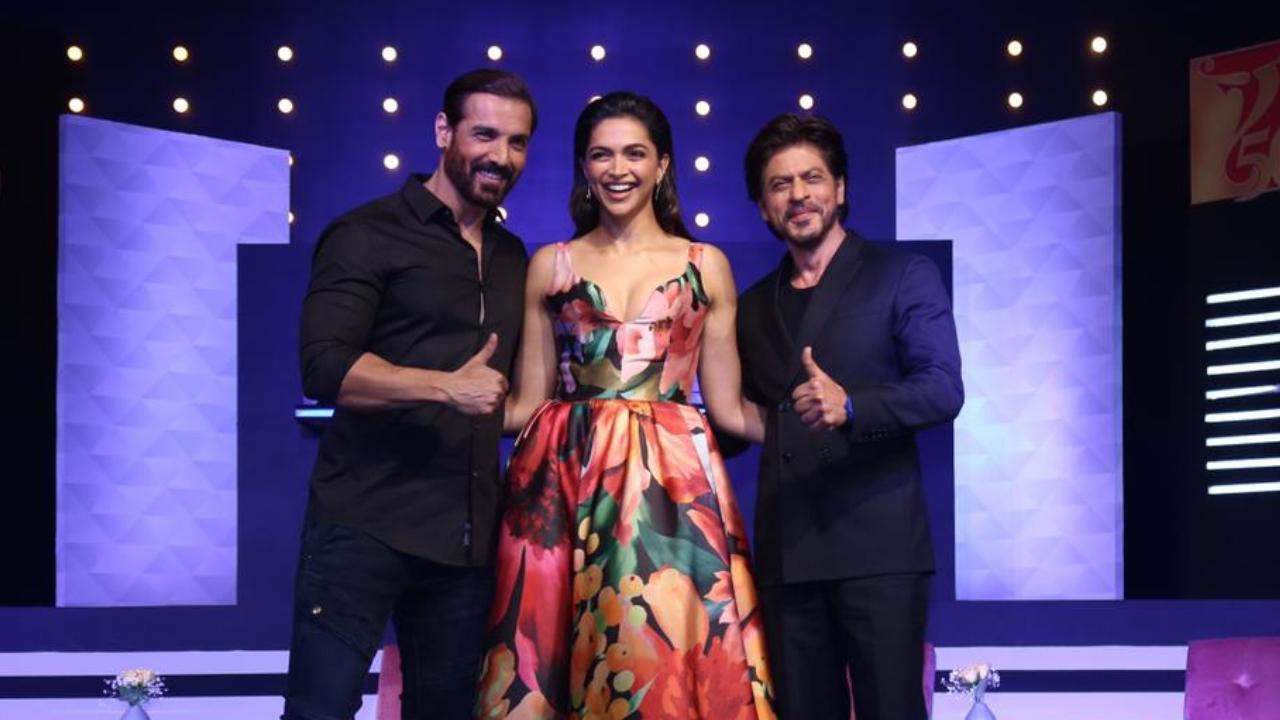 SRK, Deepika and John. (Photo/Pallav Paliwal)
As fans in the room cheered, 'Shah Rukh Khan is back, Bollywood is back', John Abraham interrupted to say, "Shah Rukh Khan is not back. He just went to a loo break." John's remark was received with a  thunderous cheer. 
Khan took a 4-year break from the big screen only to return with the spy thriller 'Pathaan'. The film which was released on January 25 has been breaking several records at the box office every day since. From the biggest opening day collection in the history of Indian cinema to the fastest Rs. 500 crore collection, the SRK magic has spread across the world. The past five days has been nothing short of a festival for fans as they cheered, cut cakes, burst crackers, and danced to celebrate the return of the King. 
In a first, the team of 'Pathaan' including Shah Rukh Khan, Deepika Padukone, John Abraham, and Siddharth Anand met the media and fans after the release of the film. The team had decided to not do any promotional events for the movie including trailer and song launch events and media interactions, therefore making the event in Mumbai the first gathering of team 'Pathaan' off-screen. 
While they spoke, sang, and danced their heart out at the event, here are some highlights from the meet:
On Pathaan's reception:
The night before the release of the film, director Siddharth Anand revealed that the whole team was together till 3-4 am, and the first show of the film was scheduled for 6 am. "This is the first time in my career that I was nervous. Gauri had asked me, 'Can you sleep before a release?' I had told her I sleep easily. But this time, I just couldn't sleep. Our film was coming out at 6, so the heart started beating fast. I now know why, because the film was about to be a blockbuster. From now, I won't sleep before any release," Siddharth said.
Shah Rukh Khan said that the past four days since the release of 'Pathaan' helped him forget the past four years. "This is an experience that's yet to sink in. Maybe we will be more grateful to God. There were times when we had to make calls to people to make them release the film with ease and they did that. I want my films to release with love. I am sure some friends of mine got too excited while watching the film and must've broken a chair or two. But the goal is that they should just feel happy watching the film. That it should be an experience, more than an empty packet of popcorn."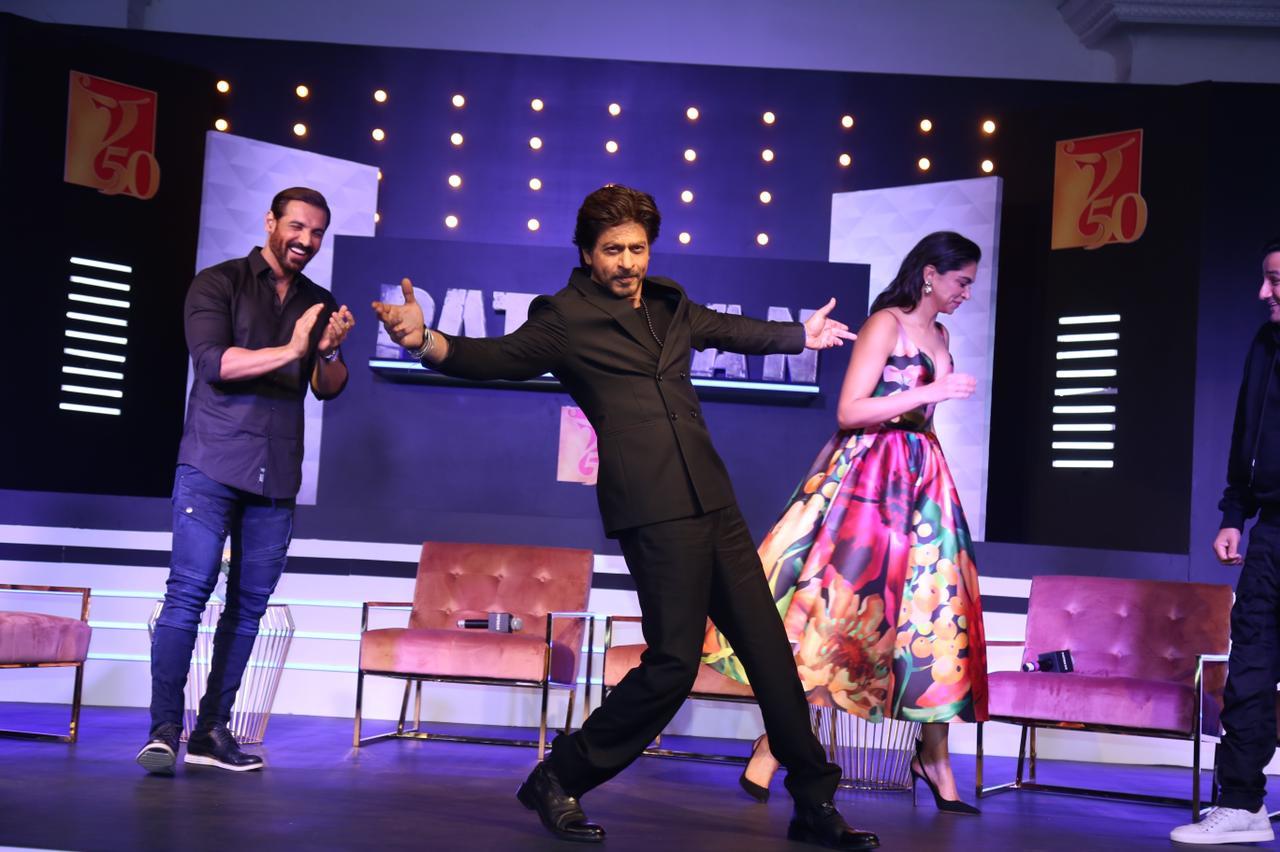 The real romance:
Soon after the film was released there were memes of the almost-kiss between Shah Rukh Khan and John Abraham. While Khan played 'Pathaan', a RAW agent, John played the antagonist Jim, a former RAW agent who went rogue. While they are at loggerheads on screen and not leaving any opportunity to bash each other or outsmart each other, on stage SRK and John just could not stop showering love on each other. It seems like the two also saw the memes on the almost kiss between them as addressing it SRK said, "I love him too. I tied kissing him also. He did too. Not like it was one-sided love."
"I got an opportunity to work with Shah Rukh. I don't think he's an actor anymore, he's an emotion. May be that's why I nearly went to kiss him in a lot of scenes (laughs)," says John Abraham about the almost kiss. The actor also called SRK, the number one action hero of the country. 
Khan also went on to praise John and his character. "I really believe the backbone of Pathaan is Jim played by John. To play a bad guy who is so... To be rightly bad, to take a cynical viewpoint of the world and to play it to such strengths. He was very gentle and kind to me in action scenes," he shared.
On one occasion, Khan also got up from his seat and went to give John a kiss on the cheek saying, 'Raha nahi gaya mujhse'. John was all smiles and blushing after this gesture. 
Also Read: Pathaan: Shah Rukh Khan's thank you note for 'mehmaans' will win your heart
Deepika Padukone on performing action on screen:
Deepika got to perform some well-choreographed stunts as she plays an ISI agent in the film. Talking about performing action, she said, "Every scene requires a different emotion, whether it's romance, action, comedy. I have been underutilized in action, though I've done a few films where I had action scenes. Chandni Chowk To China had some scenes. You have to be careful while doing action, but I treat it like any other scene. Action, emotion, crying, it all has to flow".
Siddharth Anand on directing SRK:
The title 'Pathaan' has been with Siddharth Anand for a decade. "It was on my wish list to make a film with him. You have to earn a Shah Rukh Khan film. I finally got the gift to make a Shah Rukh Khan film," he said.
"When we made the film, I realised that directing Shah Rukh Khan is a responsibility. He is like clay. Whatever you say, he'll do it without any loss of faith. Through that I realised that if by any chance a Shah Rukh Khan film doesn't do well, it is because of the director, not him," he added.
"His fans love him just so much. It's a responsibility. There are big fan clubs. Only then I realised that this was a mammoth task. Our last two months were stressful, jo maahol ban raha tha film ke around... Now I'm relieved," he said.
Amar, Akbar, Anthony of cinema:
The path to 'Pathaan's release was not an easy one. There were accusations of hurting sentiments, boycott calls for the film, and vandalism in theatres in some parts of the country. At the end of the press conference meet, Khan sent a message of peace and love. "Sabka maksad ek hi hota hai (Everyone has one motive). We should spread happiness, brotherhood, love, kindness, even when I'm playing a bad guy like in 'Darr'. Even if I'm playing a 'Baazigar', even if John is being bad in a film. None of us are bad. We are all playing characters to make you happy. If we say things in the film, none of them are meant to hurt any sentiment or anybody. It is just entertainment."
"We love each other, we joke with each other. We have fun with each other. Fun, entertainment should be left at that. Don't take it more seriously. We all are one. All of us are loving each other and trying to make that love spread just to tell you in a very simple manner... this is Deepika Padukone, yeh Amar hain. Main Shah Rukh Khan hoon, main Akbar hoon. Yeh John hain, yeh Anthony hain. And this is what makes cinema," he concluded to claps from the audience.
Also Read: The roaring success of 'Pathaan' inches towards Rs 600 cr gross worldwide