With the right mix of adventure, expanding business interests, politics and a sprinkle of religion, the film could have been our version of Indiana Jones and National Treasure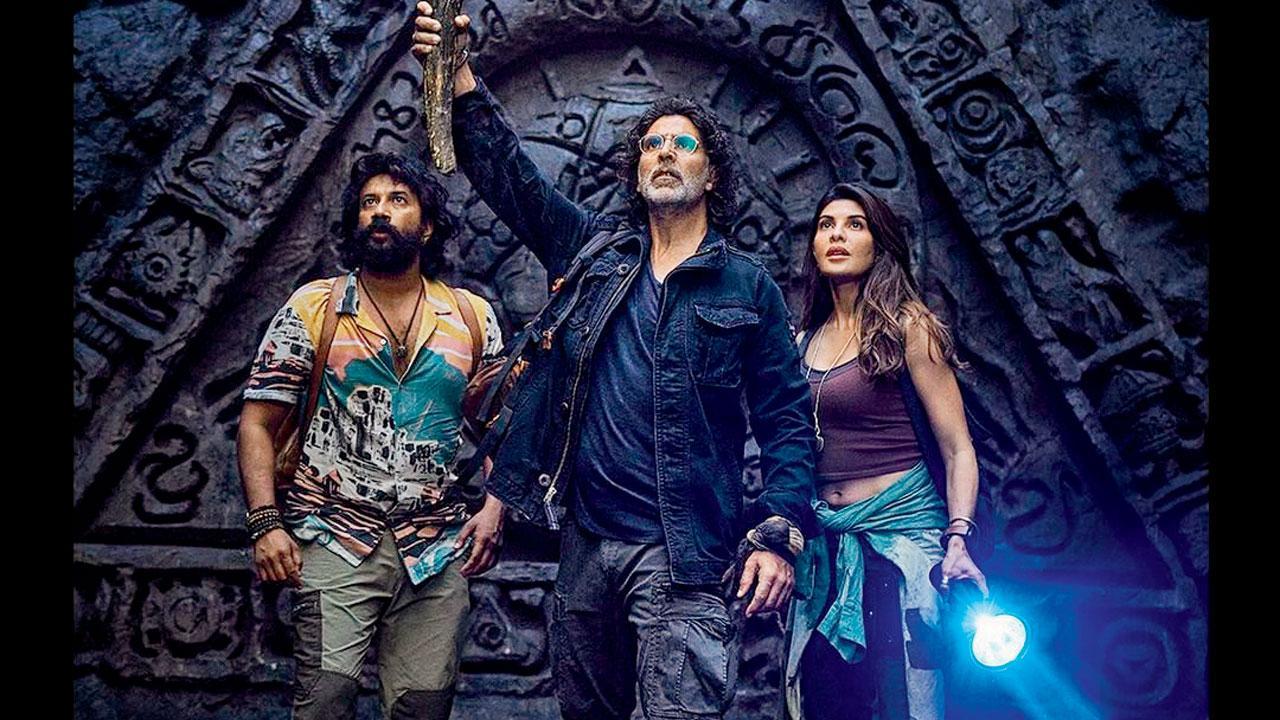 A still from the film
Ram Setu
Dir: Abhishek Sharma 
Cast: Akshay Kumar, Jacqueline Fernandez, Nasser
Rating: 2.5/5
At the onset, the idea of diving deep to unearth the reality of Ram Setu — the bridge that Lord Ram built with the help of his vaanar sena, to fight Raavan, the demon-king of Lanka, and bring back his abducted wife Sita — is an engrossing story to tell on the big screen. With the right mix of adventure, expanding business interests, politics and a sprinkle of religion, it could be our version of Indiana Jones and National Treasure.
ADVERTISEMENT
Also Read: Kanika Kapoor: Discussed giving exposure to British-Indian artistes
The film opens in Bamyan, Afghanistan, where the Taliban is bombing the sixth century monumental statues of Buddha. Indian archaeologist Dr Aryan Kulshrestha (Akshay Kumar), along with his Pakistani and Japanese counterparts, is brought in to help restore the statues. The story is set into motion when protests against business magnate Indrakant's (Nasser) company, Pushpak Shipping's Sethu Samudram erupt. The shipping channel in the Indian Ocean is aimed at saving fuel and reducing travel time between India and Sri Lanka. Though he has the support of the government, a PIL (Public Interest Litigation) posted in the Supreme Court threatens to thwart his plans. The Archaeological Society of India (ASI) is approached to help confirm a report that states Ram Setu is natural and not man-made. 
Aryan, an atheist, is entrusted with the job. However, his questioning of the Ramayana triggers a controversy. Despite being suspended by the ASI, Indrakant insists that Aryan go to Rameshwaram to prove that Ram Setu is not man-made. At Indrakant's facility, Aryan meets project manager Bali (Praveshh Rana), environmentalist Dr Sandra Rebello (Jacqueline Fernandez), and Dr Gabriel (Jennifer Piccinato), who have been tirelessly  studying the truth about Ram Setu. As his research progresses, Aryan slowly begins to question his beliefs as an atheist. He starts believing that Ram Setu could have been built by Lord Ram and his monkey army about 7,000 years ago. 
Kumar appears comfortable playing his age. He puts in a sincere performance as an atheist who turns advocate for Ram. Despite being an ace martial artist, Kumar restrains his action movements when pushed into a corner. Fernandez and Nushrratt Bharuccha, as Aryan's professor wife Gayatri, lend due support. Known for his acting chops in south films, Nasser doesn't get much scope to perform in this one. In fact, Rana, his henchman, has more screen time and easily passes the muster. Telugu actor Satyadev Kancharana (of Jyothi Lakshmi, and Bluffmaster fame) is the best part of the film. His portrayal of AP, a guide who helps Aryan and Sandra on their mission, is effortless and enjoyable. He gives the narrative some light moments, without indulging in buffoonery. Shweta Kawatra plays her part well as Indrakant's legal counsel. 
Though interesting locations are featured in the course of their expedition, Aseem Mishra's cinematography doesn't exactly do justice to the film. Thankfully, there are no songs, and the theme track plays only during the end credits. Daniel B George's background score surely heightens the drama, but had the action been on par, it would have been more thrilling. A crisper edit and better VFX effects would have better aided the film. 
It is known that the Sethu Samudram ship channel project initiated by UPA-1 Government was stalled in 2007 by the Supreme Court following petitions by various individuals and groups. Earlier this month, the apex court directed the central government to file a counter affidavit to the petition by Rajya Sabha MP, Subramanian Swamy, hoping for the National Heritage status for Ram Setu. While the subject has blockbuster potential, it is marred by a lagging screenplay in the first half. And it tries to pack in too much in the second half. Considerable footage is wasted in the Afghanistan section in trying to establish the protagonist as an archaeologist of repute.
Also Read: Watch video! Janhvi Kapoor: I tell Khushi to learn from my mistakes
The under-water sequences are a little underwhelming and don't exactly take your breath away. Considering all the equipment at their disposal, even if Indrakant's team had managed to source one loose rock from Ram Setu earlier, Aryan's character would be irrelevant in the whole scheme of things. The scene in which Aryan emerges from the Indian Ocean, carrying the rock from the ancient bridge, does make an impact. However, consistency is not the film's strong suit. Director Abhishek Sharma, who has previously made Parmanu: The Story of Pokhran (2018), seems to be overwhelmed by the subject and has failed to offer an engaging film.
*YUCK  **WHATEVER  ***GOOD  ****SUPER  *****AWESOME
"Exciting news! Mid-day is now on WhatsApp Channels

Subscribe today by clicking the link and stay updated with the latest news!"
Click here! Are you looking forward to Ravi Teja`s Ravanasura?