The script (by Aastha Tiku), in fact, shines brightest, or bites hardest, when pricking holes in people in pompous positions, by simply revealing their real selves.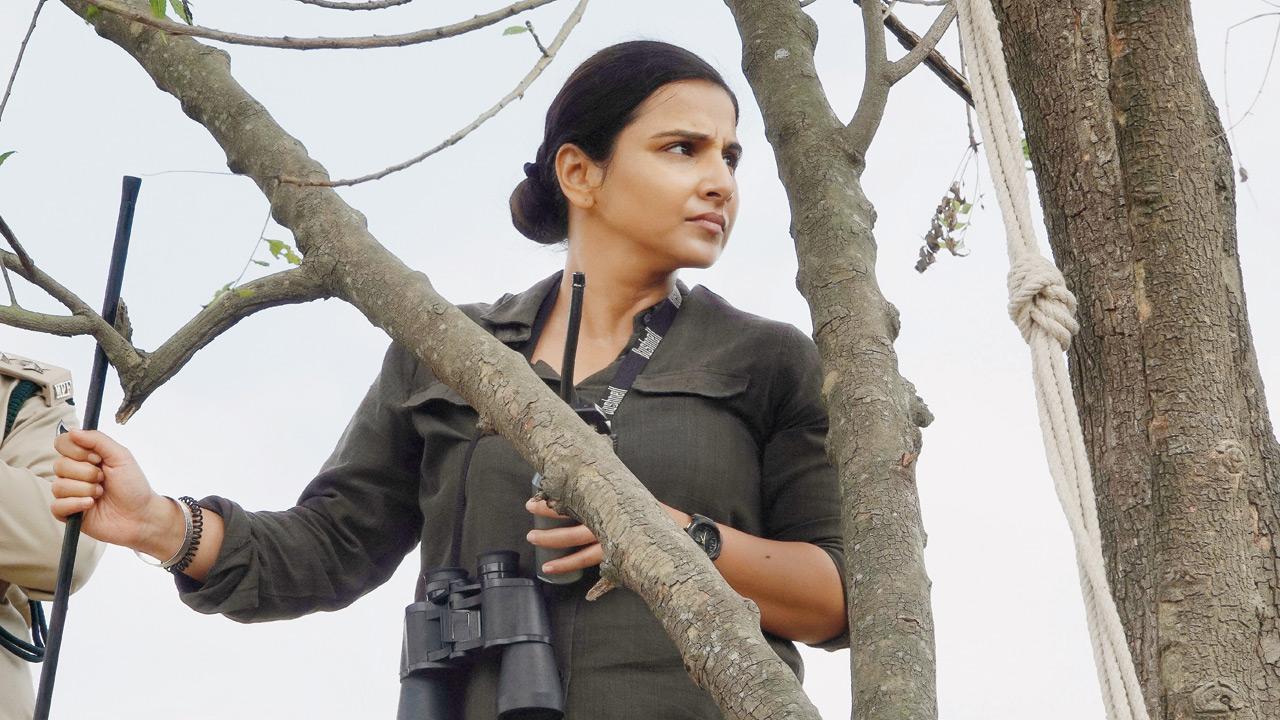 Vidya Balan in 'Sherni'
Sherni
On: Amazon Prime Video
Dir: Amit Masurkar
Cast: Vidya Balan, Vijay Raaz, Neeraj Kabi
Rating: ***
If you've followed tiger news-stories — many of which, at least from Bombay/Borivali, by my mid-day colleague, Ranjeet Jadhav; also thanked in the opening credits of this film—here's what may have amused you in the past.
As with cyclones, how each tiger is charmingly named in the impression of humans — Jai, Munna, Maya, Pasha, Agastya, etc. So we relate with them as individuals. Even if the sherni (tigress), as in this film, has turned into a man-eater. Although, named T-12, she sounds more like an airport.
What would the man-eater mean in a forest? Little, if it's not human habitat. But for a few urban Tarzans drawn to a life in the jungle. Holidaying humans tend to classify themselves as either 'beach' or 'mountain' kinda people. Guessing there once used to be an equally popular third — the 'forest' type. Except, forests hardly exist.
Don't mean Ranthambore/Corbett, that I'm guessing you've been to. Only to excitedly return, having spotted tiger pugmarks. As a forest officer puts it in this film, and unsure if it's true, "If you go to spot a hundred, chances are you'll see a tiger—once. What's certain though is he's seen you 99 of those times!"
This forest guard, among others, reports to a newly appointed forest officer in a presumably imagined district/locality of Bijashpur in middle India. Why's the tiger a menace in these parts? Because humans are. Given that farmlands alternately separate forests. And so you can't tell, really, who's encroaching on whom!
Therein lies the conflict, without much of a moral compass among everyone involved. But for the said forest officer. Vidya Balan plays that part. Needless to add, she's quite the chameleon in Sherni. Especially if you consider the ensemble cast surrounding her — Brijesh Kala, Neeraj Kabi, Sharat Saxena, Ila Arun, etc. Much loved as they all are, they're really being as they've always been.
With her Bollywood releases, Balan doesn't just repeatedly break the Bechdel Test at large — let's just define it as a movie centred on a woman, and having nothing to do with men. She also finds novel ways to do it.
In this case, right after the super feisty Shakuntala Devi (2020), she's soft yet sincere/firm, smartly more internalised as the bureaucrat Vidya Vincent — in-charge of a forest area, that is currently under attack from all ends, including desperate, power-hungry men.
The film's directed by Amit Masurkar, best known for Newton (2017), which was announced as India's entry to the Oscars on the very day of its release. Newton was set in tribal jungles. Dealt with politics that rarely touch sub-altern lives, but mess with them nevertheless. And a battery of bureaucrats and politicians, who play dress-up, in this dance-drama called democracy.
Same for Sherni, in an equally subtle/skilled way. The script (by Aastha Tiku), in fact, shines brightest, or bites hardest, when pricking holes in people in pompous positions, by simply revealing their real selves.
There was in fact a glimpse of that Kafkaesque humour, if you may, even in Masurkar's debut Sulemani Keeda (2013), which was otherwise a mumble-core movie, on movies itself. Distinctly recall a debauched Censor Board officer from that pic!
What's different here of course are the vistas — vast forests, with mining on one side, and farm lands on the other. The visuals, scaled up, lend themselves naturally to the big screen. Which may have been the original plan.
But it's essential to note here that this is not a creature picture. Or a genre-movie in general — either about deathly anacondas, or indeed Mr Natwarlal's tiger fights, Kaal's kalakaari at night, or Junoon's Rahul Roy turning into a tiger himself. There is no score/soundtrack to throw you off (it's miraculously a T-Series release!).
It looks and feels low key. The stakes, under the surface, are way higher, though. Since it comments on diversity plus ecology, with a level of engagement that suits popular entertainment still.
Thanks to dedicated/proactive work, especially in the '60s and '70s (from my rapid-reading of Jairam Ramesh's book on the subject), India actually has some phenomenally protective environment/wildlife laws. As you can see in this movie, they protect the lead character's concerns rather well too. It's not a lost cause.
Without making Sherni sound like a trite old documentary, only for already converted empaths (which it's not); here's the precious point the picture makes: "No animal is a man-eater. They're merely hungry." Evidently, can't say that about humans. Or perhaps can — only the collective, insatiable hunger isn't restricted to food.
Also read: 'Sherni' trailer: Vidya Balan looks powerful as Forest officer