Padma Shri awardee and playback singer Sonu Nigam recently launched the music video of Shri Hanuman Chalisa during the Gorakhpur Mahotsav 2023, in the presence of Chief Minister of Uttar Pradesh, Yogi Adityanath. The event witnessed a huge footfall of over 50,000 people from in and around the city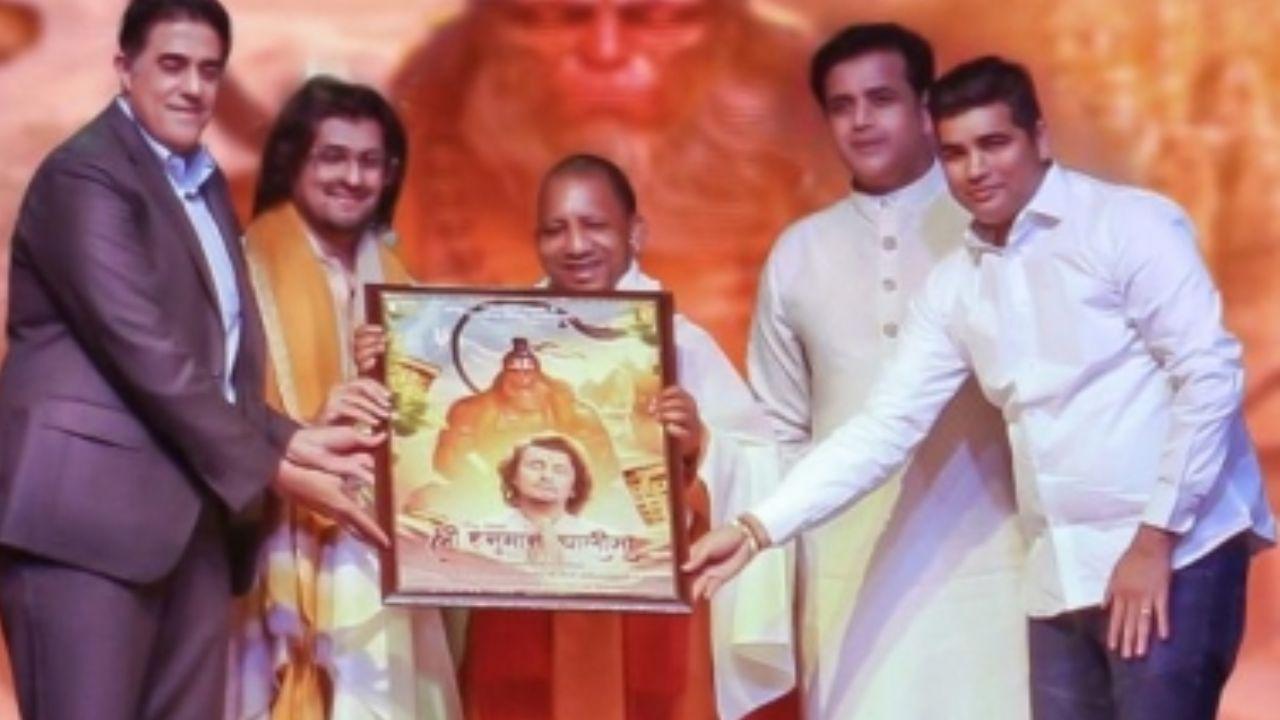 Pic Courtesy: IANS
Padma Shri awardee and playback singer Sonu Nigam recently launched the music video of Shri Hanuman Chalisa during the Gorakhpur Mahotsav 2023, in the presence of Chief Minister of Uttar Pradesh, Yogi Adityanath. The event witnessed a huge footfall of over 50,000 people from in and around the city. The singer shared that he would feel the presence of his mother while working on the track.
Also Read: Sonu Nigam dedicates his Padma Shri award to his mother
ADVERTISEMENT
With this music video featuring Sonu Nigam, the audience gets to experience a new version of the devotional hymn praising Lord Hanuman with unique video effects. The track was released simultaneously on more than 50 YouTube channels, making it the first ever such track in the history of a music asset launch.

Addressing the audience, the Chief Minister said: "We just heard a line now from Shri Hanuman Chalisa sung by Shri Sonu Nigam ji. Hanuman Chalisa is a famous work composed by Goswami Tulsidas ji. Whether educated or illiterate, singing Hanuman Chalisa is as simple and easy for both. Every person, every Indian recites the Hanuman Chalisa with great reverence and respect. Here today, the famous musician Shri Sonu Nigamji has given it a new height with his voice."

He further mentioned: "I thank him from the bottom of my heart for this, that by giving voice to this chalisa of Bajrangbali Hanuman, the supreme devotee of Shri Ram, Sonu ji has not only produced his work through this medium but has also given a new direction to Lord Hanuman's devotees. For this, I again extend my heartfelt thanks to Sonu ji."
Also Read: UP CM Yogi Adityanath lays foundation stone for 2nd stage of Ram temple construction
Walking down the memory lane, Sonu Nigam said: "It was my mother who in my childhood insisted that I visit a temple every Tuesday and recite the Hanuman Chalisa. She was the one who inculcated in me the spirit of reverence to one super consciousness represented by multiple faiths. I, being a mother's boy, did obey her always and thus Hanuman Chalisa became an integral part of my life."

"When I sat down to compose it, I could feel my mother streaming down the composition and the arrangements spiritually. It was like magic. This is my tribute to my mother, the beautiful 'Sanskars' of Hinduism that I was born to, the Great Saint Tulsidas Goswami and our beautiful Motherland Mother India," the singer added.

The music video of Shri Hanuman Chalisa was released under Sonu Nigam's I Believe Music label along with Global Music Junction.
"Exciting news! Mid-day is now on WhatsApp Channels

Subscribe today by clicking the link and stay updated with the latest news!"
Click here! Did you like the trailer of Kartik Aaryan-starrer Shehzada?