Anupam Kher was advised to rest for two months following facial paralysis but he continued shooting for Salman Khan's Hum Aapke Hai Koun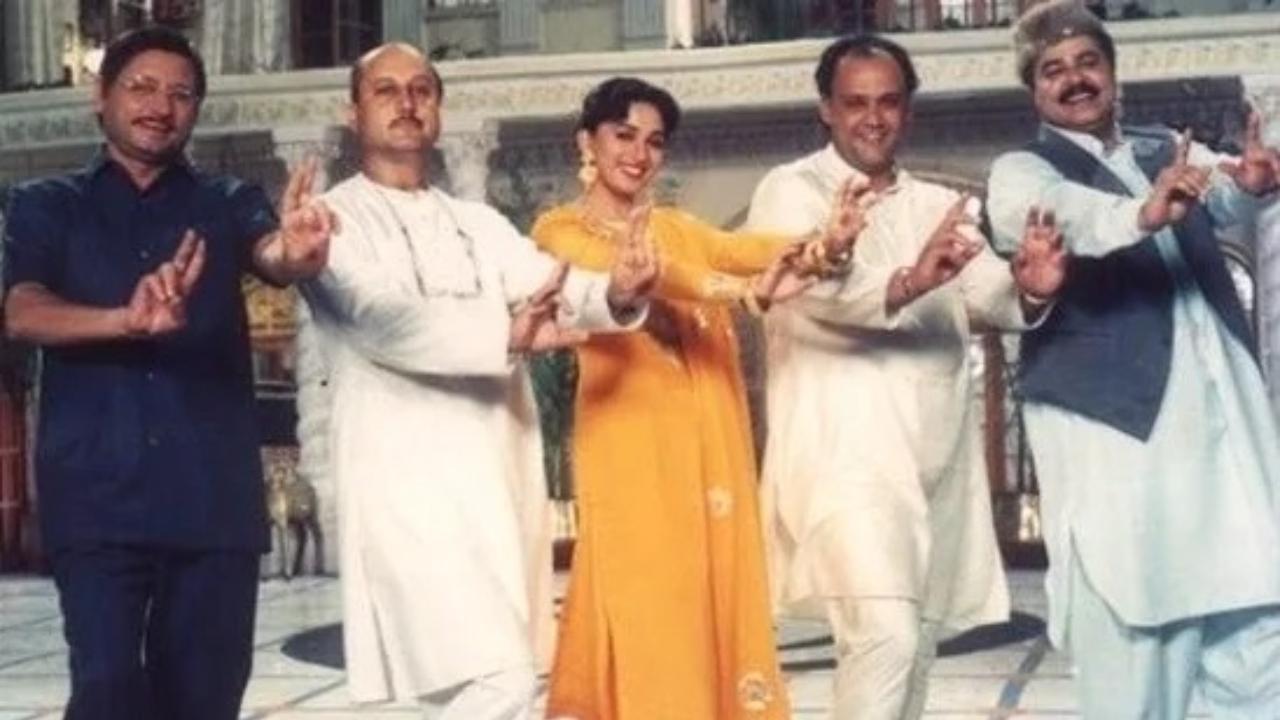 Anupam Kher in Hum Aapke Hai Kaun. Photo/Twitter
Actor Anupam Kher turned 68 today. He has been a part of the film industry for nearly four decades now. He made his film debut in 1984 with Mahesh Bhatt's directorial 'Saaransh'. In the film, he portrayed a 65-year-old retired class teacher who loses his son. 
But did you know that the actor suffered from facial paralysis in 1994? The actor was shooting for director Sooraj Barjatay's film 'Hum Aapke Hai Koun'. The film also starred Salman Khan, Madhuri Dixit, Alok Nath, Reema Lagoo, Bindu, among others. Despite facial paralysis, Kher shot for the film and eventually defeated the paralysis. He was advised by the doctors to rest for two months. But since he had committed to shooting, he went ahead with it. 
ADVERTISEMENT
Anupam Kher had spoken about the disease on Rajat Sharma's show Aapki Adalat. He said, "One day, I was having food at Anil Kapoor's place. His wife Sunita told me that 'your one eye is not blinking'. I thought it must be due to fatigue. When I was brushing the next morning, water came out from my mouth on its own."
"For a long time, Madhuri Dixit and Salman Khan thought I was doing comedy by making a face. I gathered everyone around and told them, 'This is my situation, my problem but I am ready to shoot," he added.
Also Read: As Deepika Padukone turns presenter for Oscars, 'teacher' Anupam Kher shares throwback picture of the superstar
On the work front, Anupam Kher was last seen in the recently released film 'Shiv Shastri Balboa'. The film which marked his 519th film also starred Neena Gupta, Nargis Fakhris and Jugal Hansraj. The film was directed by Ajayan Venugopalan under the banner UFI Motion Pictures Pvt Ltd. The film is tale of Shiv Shastri, a huge fan of the 'Rocky' movies. He moves to the United States and winds up on an unexpected road trip through the American heartland, learning it's never too old to reinvent oneself.
Anupam Kher also has 'Emergency', 'The Signature', and 'Tiger Nageswara Rao' in the pipeline along with Ravi Teja.