Mid-Day Online caught up with the inimitable Jackie Shroff for an exclusive interview, wherein he credits his mother and wife Ayesha for a major reason. Read on to find out more…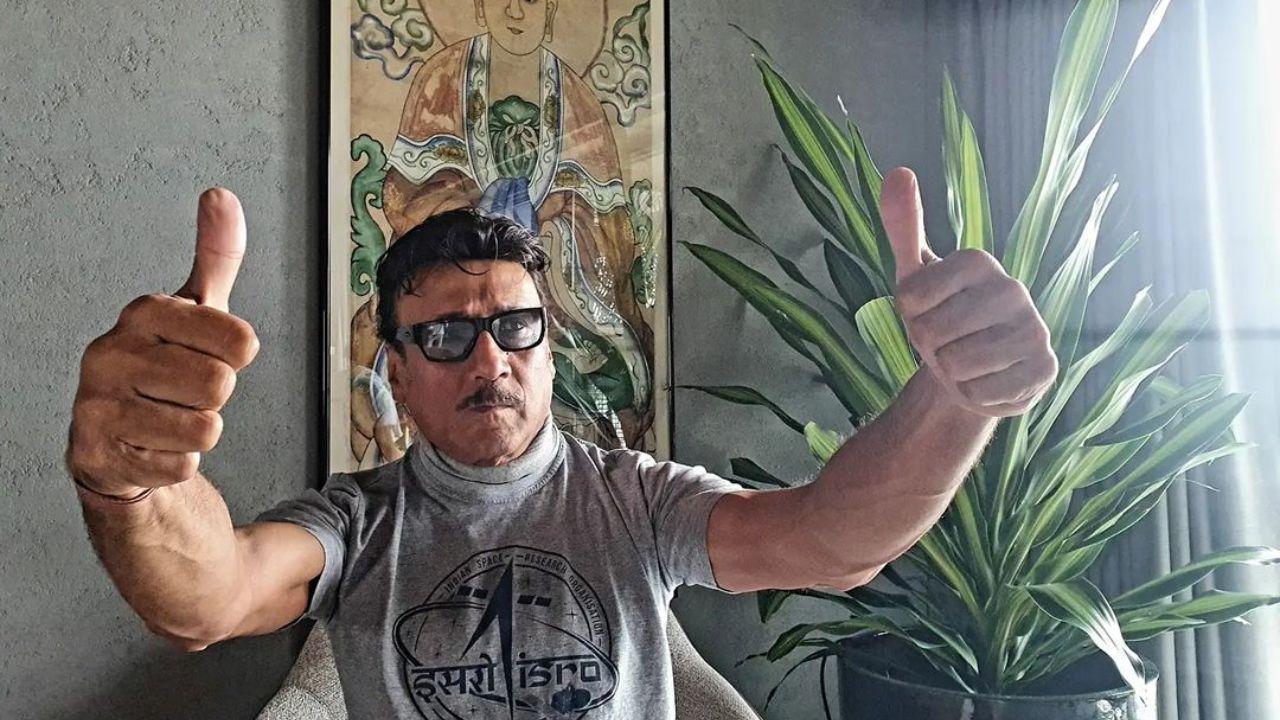 Official Instagram Account of Jackie Shroff
Everytime one meets Bollywood's very own Jackie Shroff, he never fails to amuse you with his ocean of positivity and God-gifted charm. There are many out there who were yearning to see him back on the silver screen. Well, the good news is that, the Jackie Shroff starrer 'Atithi Bhooto Bhava' is now all set to release on September 23 on ZEE5.
Mid-Day Online caught up with Jackie dada for an exclusive interview, wherein he credits his mother and wife Ayesha for a major reason. Read on to find out more…
In a nutshell, what's the film 'Atithi Bhooto Bhava' all about?
The film is all about love which is beyond one's life. It's about the relation between a guy who becomes a ghost in his next life. And in what way he is connected to the film's hero (played by Pratik Gandhi) and what are the things which happens after that, is something that you will get to know only after you see the film. All that I can say is that the character of Pratik in the film doesn't believe in expressing his love before anyone.
Was there any specific reason/s that you said yes to the film?
There was no specific reason as such. I simply loved the very thought of the film. When you see the film, you will understand what I am saying. The feeling of love has been expressed in such a beautiful and sensitive way in the film, that I feel everyone will fall in love with the film. It's such an honor to work with two gems- Pratik Gandhi and Sharmin Segal. Both of them are such talented people.
When the script was narrated to you, were there any kind of apprehension/s before signing the film?
No no… not at all bhidu! The film's director Hardik is the sweetest person I have ever seen. He is one of the finest film makers with whom I have worked so far. He doesn't shout at anyone, he never gets upset … no hang ups, no tantrums at all! He is simply awesome!
You play a ghost in the film. If you were given a chance to be a ghost for a day in real life, what super powers will you ask for?
There should be no hunger in the world. No child should cry for the want of food.  Absolutely no one … no child and no adult should go to sleep on an empty stomach.
Also Read: Happy Birthday to the man who has put India on the world map, says Anil Kapoor
Looking back, you had earlier done 'Bhoot Uncle' and 'Bhoot And Friends'. With 'Athithi Bhooto Bhava', you have just managed to score a hat trick in the 'bhoot' series!
I simply love your question bhidu! Super awesome question! In 'Bhoot Uncle' and 'Bhoot And Friends', I help everyone with lots of love. In 'Athithi Bhooto Bhava', I am finding love.
If you compare 'Bhoot Uncle' and 'Bhoot And Friends' with 'Athithi Bhooto Bhava', what do you think has changed over the time?
The technique of film making has changed immensely. The medium of film-telling has changed. Despite these changes, the emotions with which the film is made has just not changed. It has remained constant throughout.
Do you believe in the existence of ghosts in real life?
I do believe. At the same time, I don't believe also! It's a very subjective thing. I can tell you one thing that, when I am alone, I switch on the lights and TV before I sleep. 
'Athithi Bhooto Bhava' also touches upon the subject of rebirth. What's your take on that? Do you believe in rebirth?
I have not 'seen' rebirth, but, the fact remains that I experience the feeling of my mother's, my father's and my brother's souls being with me all the time.
In the recent times, many big films did not fare well at the box office. On the other hand, 'Bhool Bhuliaaya 2' (which was about ghosts) went onto become a box office success. Do you think that 'Atithi Bhooto Bhav' will also do the magic at the box office, because of its likewise content?
Why just 'Atithi Bhooto Bhav'! I want all the films releasing pan India to do extremely well at the box-office. Also, I would not like to believe that the presence of a ghost in the film's plot can single handedly ensure box-office success. It's a collective effort… total team effort that goes into making any film successful.
How was it to work with Pratik Gandhi and Sharmin Segal, both hailing from new age cinema?
They are fabulous actors and well-learned actors.
'Atithi Bhooto Bhav' is being readied for an OTT release. Do you think that a family-oriented film of such premise should have been released in theaters first and then should have got an OTT release? 
I think there must be some business sense (by releasing the film on OTT). OTT has a huge reach.
The film 'Atithi Bhooto Bhav' shows a guy (played by Pratik Gandhi) who takes all the relationships for granted. In real life, do you feel gratified as a parent-father that you have been exceptional while raising your son Tiger, who has turned out to be an ideal son and more importantly, an ideal human being?
For this, I will give total credit to my mother and my wife Ayesha for making Tiger the human being that he is. While I was out shooting majority of the time, it was my mother and wife who have been totally responsible for Tiger's upbringing.
Play Quiz: How well do you know Akshay Kumar? Is Narendra Modi India`s most loved Prime Minister so far?