While Backstreet Boys happens to be one of the big names that will be performing in Mumbai, the city has experienced multiple international pop stars that made have their appearances. And what better time than now to take a walk down memory lane and reminisce the presence of these global icons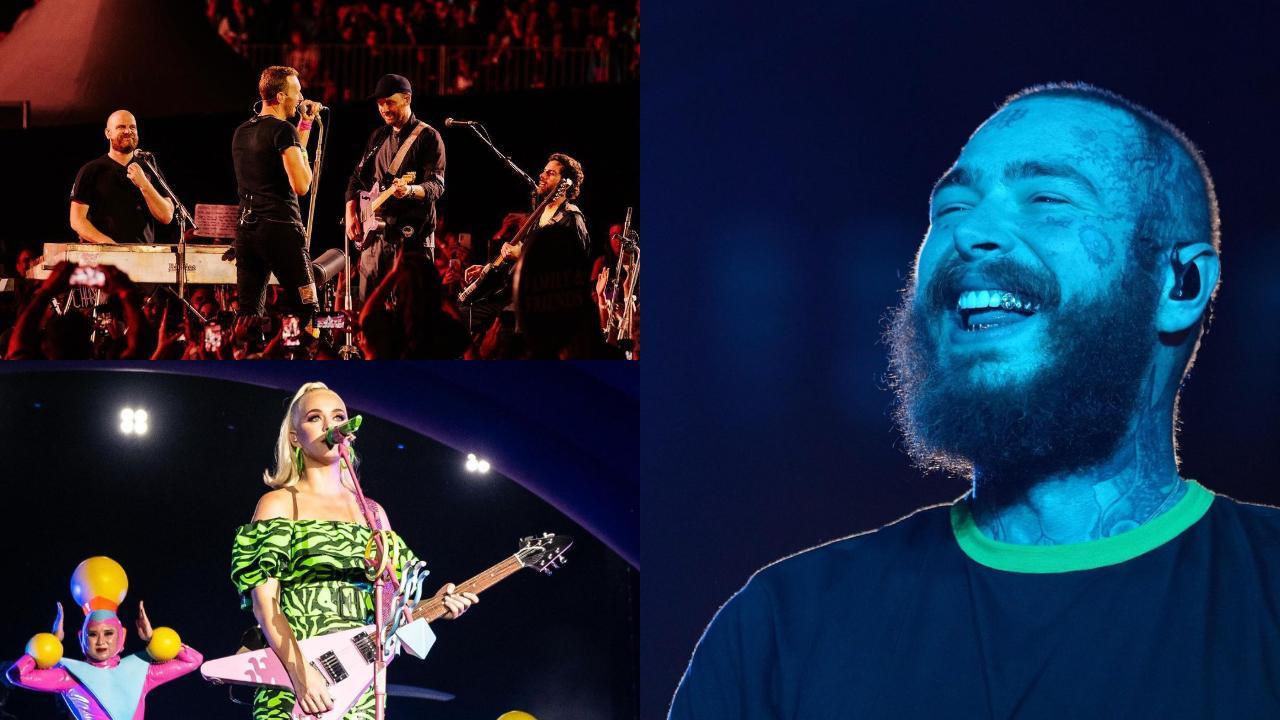 International pop stars who have previously performed in Mumbai
You wanted it that way? Well, you will have it that way! The famous 90s boyband, Backstreet Boys will be performing in Mumbai on May 4 as a part of their DNA world tour. The D-day stands less that 48 hours away from us and fans are enthralled to experience the band live again after their previous performance back in 2010. While Backstreet Boys happens to be one of the biggest names performing in Mumbai, the city has experienced multiple international pop stars that have made their appearances. And what better time than now to take a walk down memory lane and reminisce the presence of these global icons. Have a look!
1) Post Malone
American rapper Post Malone made his debut performance on December 10, 2022 as a part of the Feeding India Concert organised by Zomato. The concert was held at the Mahalaxmi Race Course and while the event saw countless Post Malone fans, it also saw B-Town stars Malaika Arora, Ibrahim Ali Khan, Mrunal Thakur and Palak Tiwari in attendance.
ADVERTISEMENT
 

 

View this post on Instagram

 
2) Justin Bieber
The 'Peaches' singer Justin Bieber gave his maiden performance in Mumbai back in May 2017 at Mumbai's DY Patil Stadium, which turned out to be a big success. The singer had announced his second appearance in New Delhi back in 2022 as a part of the Justice World Tour but was later cancelled due to health concerns citing exhaustion as the reason.  
 

 

View this post on Instagram

 
3) Coldplay
The famous British rock band Coldplay most certainly does not need an introduction! Coldplay's concert back in November 2016 saw a massive audience of 80,000 fans. The lead singer Chris Martin was also seen signing 'Vande Mataram' with the talented Indian singer A.R Rahman.
 

 

View this post on Instagram

 
4) Dua Lipa
British pop star and three-time Grammy Award winner Dua Lipa, known for her hit 'Levitating', made her debut performance in India back in November 2019 as a part of the OnePlus music festival at the DY Patil stadium. The star also performed her famous hit 'New Rules' at the concert which made her fans go wild.
 

 

View this post on Instagram

 
5) Katy Perry
The iconic pop star Katy Perry, who has given the music industry popular hits like 'California Gurls', 'Teenage Dream' and many more, had performed with pop star Dua Lipa as a part of the OnePlus music festival. The two pop queens sharing a stage had created an uncontrollable excitement among fans and needless to say, the singers delivered to their excitement. 
 

 

View this post on Instagram

 
Also read: Not just Backstreet Boys, these international icons are coming to Mumbai this year