Last month, Scarlett Johansson and Chris Evans made an unnoticed trip to Los Angeles to visit Renner, who was involved in a near-fatal accident on January 1 when he was crushed by a 7-ton snowcat, reported Variety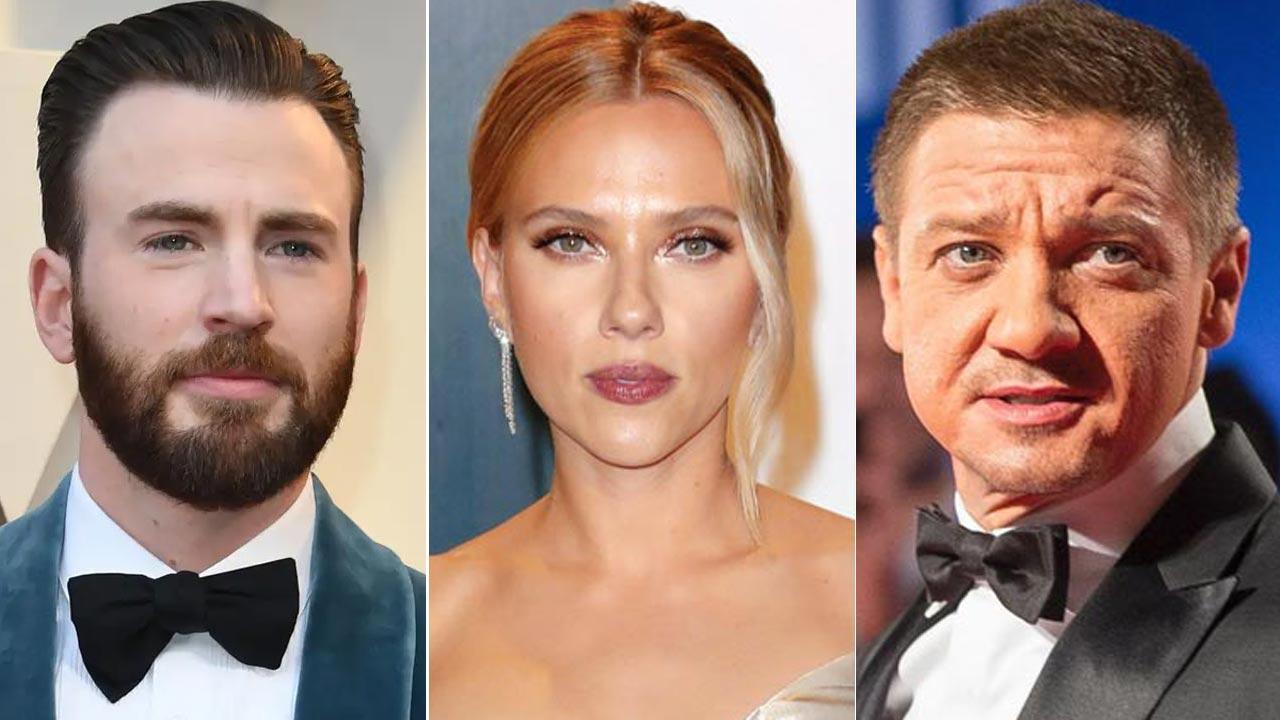 Chris Evans, Scarlett Johansson and Jeremy Renner. Pics/AFP
Jeremy Renner's road to recovery prompted a partial reunion of The Avengers.
Last month, Scarlett Johansson and Chris Evans made an unnoticed trip to Los Angeles to visit Renner, who was involved in a near-fatal accident on January 1 when he was crushed by a 7-ton snowcat, reported Variety.
ADVERTISEMENT
"I was honestly so happy to see him. I didn't know if I was ever going to see him again," Johansson tells Variety in a cover story about her 30-year career that includes eight Marvel movies, several of them alongside Renner.
"To not only see him again but to see him thriving and in such an amazing space, mentally. He's a very spiritual person in general and a very soulful person. And you can see that in his work. It comes through. He has such a depth to him. And I just was so happy to see that he is full of life and light, and he's also hilarious. We laughed a lot," Scarlett added.
Evans shared some details of what happened when the three gathered for a reunion, which wasn't publicized. "No tears at all. A lot of laughs and smiles and hugs," Evans said. "Leave it to Jeremy to take something this potentially tragic and turn it into something so inspiring."
On the day of the accident, Johansson was shooting for the upcoming Apple movie "Project Artemis" opposite Channing Tatum when she woke up to the news that her "Avengers" co-star Renner was nearly killed in a snowplow accident in Tahoe while digging out his nephew's car, reported Variety.
"I was very upset," she remembered. But as Renner's prognosis quickly improved, she and her fellow Avengers began joking. "On the Avengers text chain, we're like, 'OK, you beat us all. That's it. You won," she said. (The text thread includes the original six Avengers -- Johansson, Evans, Renner, Robert Downey Jr., Chris Hemsworth and Mark Ruffalo.) "That's like real superhero stuff. It's unbelievable."
Renner's recovery has progressed so quickly that he was able to celebrate the recent premiere of his Disney+ series "Rennervations" in person. He also recently posted an Instagram video of him exercising and taking "the new parts for a tiny test drive."
Also Read: Here's what Scarlett Johansson has to say about ex-husband Ryan Reynolds
This story has been sourced from a third party syndicated feed, agencies. Mid-day accepts no responsibility or liability for its dependability, trustworthiness, reliability and data of the text. Mid-day management/mid-day.com reserves the sole right to alter, delete or remove (without notice) the content in its absolute discretion for any reason whatsoever