Jungkook was dancing to the track 'SUPER' on his live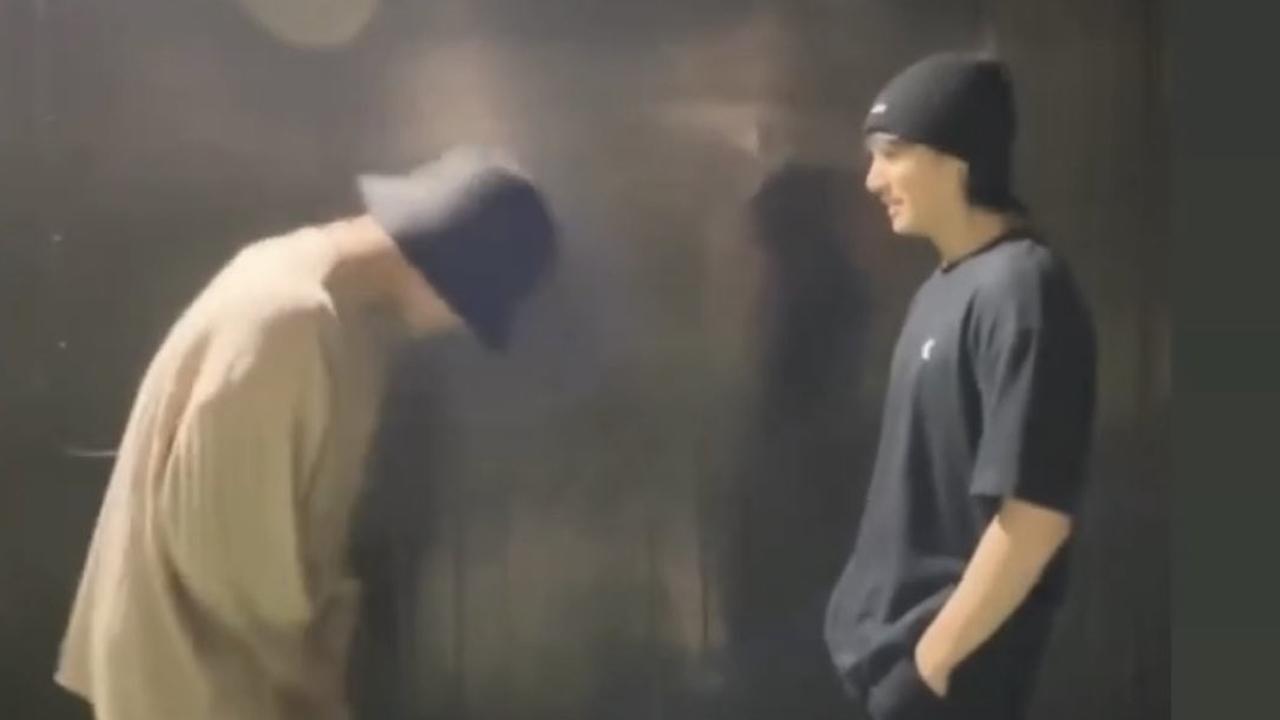 Mingyu and Jungkook
BTS's Jeon Jungkook who was seen dancing to the track 'SUPER' in a recent live chat,  joined SEVENTEEN's Mingyu for the 'SUPER Challenge.' After revealing that Jun had taught him the dance, Jungkook teased Mingyu saying that he had asked him to film the challenge but hadn't contacted him yet. 
Referring to the live, the two performed an act where Mingyu explained that he should've contacted Jungkook earlier as he thanked his sunbaenim for being part of the video. Jungkook said he'd try his best and the duo got into the challenge.
ADVERTISEMENT
Mingyu took to Weverse where he shared that the video wasn't planned but they just happened to film it. He also pointed out that he was wearing slippers but didn't have them in the video because he I wouldn't dare wear it when filming with Jungkook.
Jungkook, on the other hand posted, "I see you've uploaded the challenge kekeke Mingyu hoobae-nim (junior) it was fun and please give lots of love to 'Take two. I love you, I'm hearing it for the first in a such a long time, wow when was that recorded hehe."
Here's how fans reacted to the video that has just dropped-
🐶sunbae-nim
🐰yes yes
🐶thank you, i should've contacted you quicker
🐰ah yes yes
🐶i look forward to working with you
🐰yes yes, i'll try/work hard (on this)
🐶yes pic.twitter.com/dghlv1oaw9

— haruharu💜 (slow) (@haruharu_w_bts) June 9, 2023
it took 500 calls and 263 meeting with jungkook to do the challenge with mingyu like we are never seeing him to do dance cover ever again at least until next 3 years pic.twitter.com/QL4D2xxhoY

— ♥︎ (@levisacc) June 9, 2023
wondered why mingyu seems as tall as jungkook here when i remember him being tall as hell then i looked at their feet BTXCH HE'S JUST WEARING HIS SOCKS FDJJDDIBDY😭😭 https://t.co/4mhh1LP2bT

— kura in zyo's zone (@theescouts) June 9, 2023
jungkook's blinding smile 😭😭 pic.twitter.com/NacDD1lZ7q

— jungkook admirer¹â° (@dreamjeons) June 9, 2023