There is an inexplicable/X factor between him, the camera, and the audience, that it's impossible to take your eyes off. And for the most part, he is, as he is. Shorn of fakery, less is infinitely more. His role in Malik is not an exception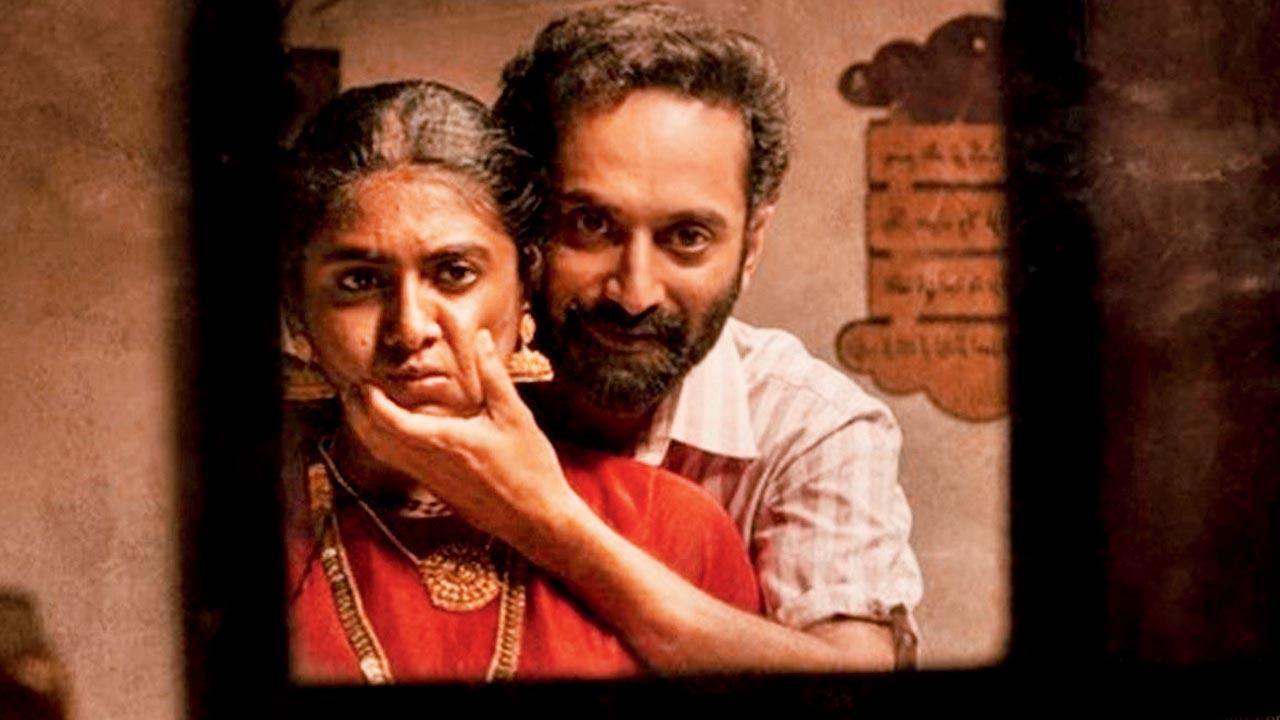 A still from Malik
Malik
On: Amazon Prime Video
Dir: Mahesh Narayanan
Cast: Fahadh Faasil, Nimisha Sajayan, Vinay Fortt
Rating: 4/5
This film starts with what can only be considered a master-class for shooting a supposedly single-take shot, lasting over 10 minutes! The camera, like a dragonfly, goes in and out of private rooms and semi-public spaces, across the walled mansion of Don Ali, in a fictional settlement/town called Ramadappally in Kerala. There is an elaborate feast going on, in this introductory scene. Which might well be inspired by The Godfather.
ADVERTISEMENT
What follows, along with opening credits, is an equally arresting sequence set in the airport. Where the same don gets picked up. Cops wait for him to get past security. Which means he's totally unarmed. He's casually weeded out of his travelling group, right before the aircraft's boarding gate — isolated; and boom, sent off to prison, I guess? Not saying more.
Watch Video
These first few minutes give you enough sense that over two and half hours of the film left still, will be worth it. Does it necessarily set the tone? Not really. It just tells you all you wanna know about the don, and his near ones. While the opening scenes suggest a certain flashy brilliance, Malik is in fact a deeply understated version of an underworld film. 
Also Read: Joji actor Fahadh: Like seeing regular characters in unconventional setting
What's really an underworld film? In my head, where family is central to crime as a theme. Else, there are gangsters/thrillers, where shit happens, as they must. Ram Gopal Varma made Company, giving this family the twist of a corporate structure. Malik, like this film's title, was also the lead character's name in Company. But in terms of ode/origin, this film probably owes way more to filmmaker Vetrimaaran perhaps (Vada Chennai remains a favourite), than Varma per se. 
Above all, I'm guessing, to Mani Ratnam's Nayakan, which wasn't too far apart from Scarface either (neither was Agneepath, for that matter). Malik follows a similarly inter-generational, classical/epic story-telling structure — patiently charting the rise (and inevitable fall) of the leading patriarch — over 30 years of his life in crime, punishment, generosity, and betrayal. 
Kamal Haasan, with his magnetic/flamboyant personality, had played the lead in Nayakan. Is there a leading man more polar-opposite to Haasan, than the Malayalam superstar Fahadh Faasil?  In terms of an inherently low key, unassuming, minimalist screen presence? I don't think so.
Faasil plays Don Ali. He's slightly shrunk and slouched, when we first see him on screen as the old man; a chiller, young dude, as we follow his character's early life. Now I haven't met Faasil to know what he's actually like in real life (short, tall; quiet, gregarious). 
But you pick him out from movies where he even shows up in a cameo, like Take Off, from where the Malik filmmaker Mahesh Narayanan's directorial career took off. Or zoom in on him in the cult-grade Kumbalangi Nights, where he hardly has screen time. Chances are you only remember Faasil from both. Let alone 47 other films, where he's probably played lead.
There is an inexplicable/X factor between him, the camera, and the audience, that it's impossible to take your eyes off. And for the most part, he is, as he is. Shorn of fakery, less is infinitely more. His role in Malik is not an exception. 
Also Read: Mahesh Narayanan: We've aimed to keep 'Malik' as close to perfection as possible
If anything, it is Faasil's most ambitious part yet. Also helps that as leading man, he's been a healthy enabler and collaborator for a diverse set of movies over the past few years. For film buffs, globally, to acknowledge that what's going on in cinema from God's own country is something more than a movement — a revolution, or Malayalam Spring of sorts!
I asked writer-editor-director Narayanan what he thought of it. He says, that merely means more responsibility. In that vein, my only advice to him (and others) is to go easy on the speed of subtitling. I had to backtrack ten seconds a few times to fully grasp what had been said on screen, since I was also too busy observing the landscape/production design across decades, choreography of key scenes, top-notch quality of performances, and with so much happening otherwise. 
Even as a non-Mallu, if you watched Malik without subtitles (please don't, obviously) — it would be hard to miss the film's multiple layers. As it goes beyond a genre picture, to examine a coastal society down South, its linkages to religion, its vulnerability to forces of nature (such as storms and tsunami), and how politics, therefore commerce, benefit from widening fissures between communities as a result. 
Narayanan also says it, how he sees it. This is not a simple subject to pull off. And he isn't blinded by aspirations for scale and craft. Given the filmmaker's own understanding of street crime and global religion, intersecting at local politics, I have reasons to believe if Marty (Scorsese) was Mallu, he would've made Malik!
Also Read: Fahadh Faasil: Was doubtful about playing the old character
"Exciting news! Mid-day is now on WhatsApp Channels

Subscribe today by clicking the link and stay updated with the latest news!"
Click here!