Creators of India's longest-running music reality show Sa Re Ga Ma Pa give mid-day a glimpse of what goes into its making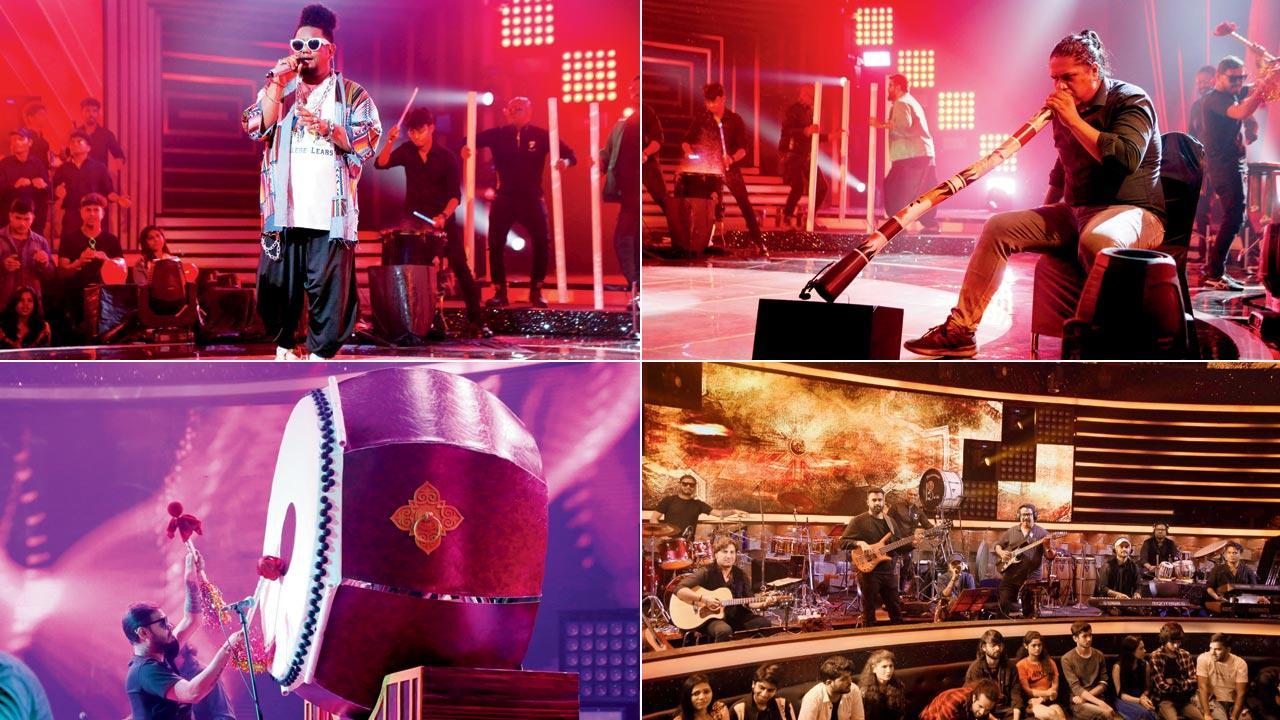 A contestant performing on Dil se re...; Musician playing the Didgeridoo and the Japanese drum; The orchestra supporting the singers
At the Sa Re Ga Ma Pa set in Malad, everyone's eyes are glued to the stage. Sitting in the audience, we ask a woman besides us, "Are you here to listen to someone?" "My daughter is part of the chorus," she responds, with a glint of pride.  
The iconic music reality show, which is now in its 28th year of telecast on Zee TV, has churned out stellar singers, including Shreya Ghoshal, Kunal Ganjawala, Kamal Khan, Amanat Ali, Raja Hassan, and Bela Shende. But what makes the show relevant, even almost three decades on?
ADVERTISEMENT
mid-day drops by for the technical shoot of the grand premiere on a lazy Sunday afternoon.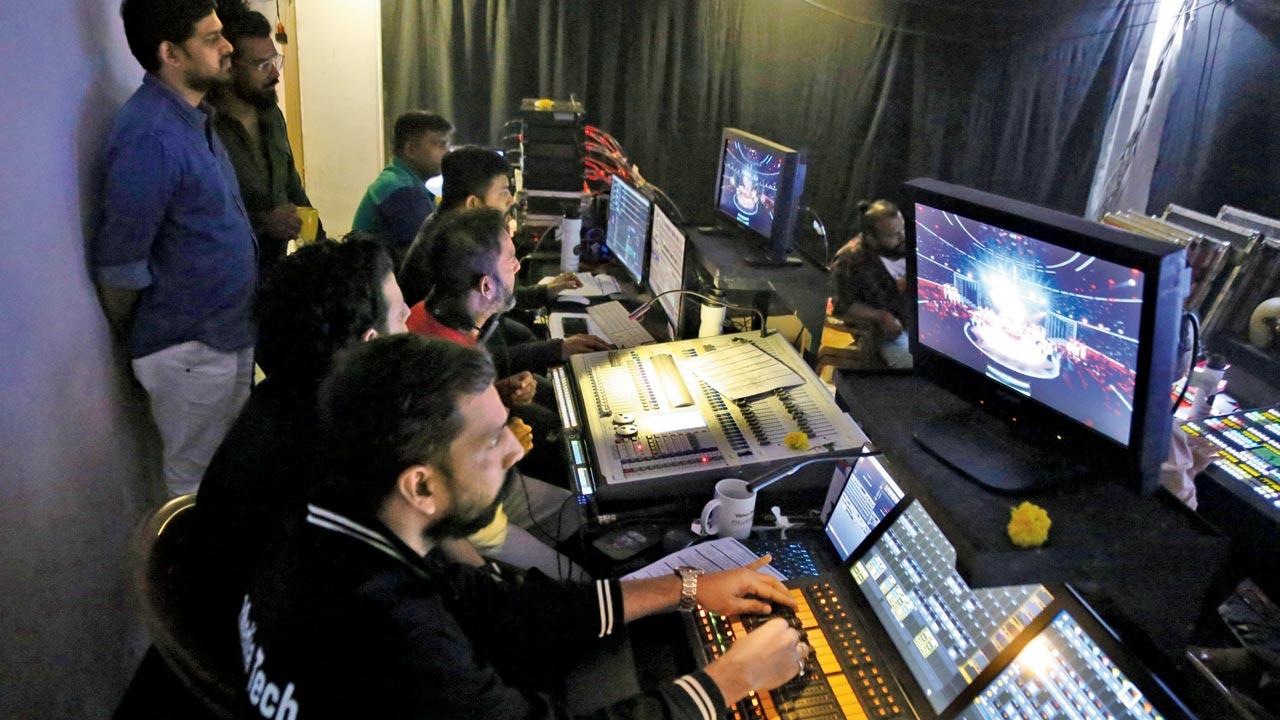 The control room
When we arrive, a contestant is performing AR Rahman's Dil se re from Dil Se (1998). You cannot stop yourself from tapping your foot and moving along with the music, almost wishing that it would never stop. The set is surrounded by 15 cameras, but it does little to distract the singer. A group of technicians are already at work in the control room, who are being directed by Ashim Sen, an industry veteran. "I enjoy being behind the scenes," he says.
The masterplan
While finding the best singer is the ultimate goal of the show, this season, Vibhor Kaamini Ratna, the producer, hoped to shake things up. "As a professional, my USP is to create a show that reflects Indian ethos and sensibilities. [Over time], I started feeling that the show had become predictable," she says, adding, "So this year, we decided to give the best performer among the top 12 contestants an original song to sing every week." This has never happened on television before, Ratna informs. "The single will then be released the next week by Zee Music. We want every singer to have their own original music."
The job is entrusted to composers Anu Malik, Arko and Himesh Reshammiya, among others, has already created tracks, written lyrics, and set the music for every singer. "So before the end of the season, irrespective of whether they've won or not, they will have one original song to their name," Ratna explains.
Rathijit Bhattacharjee, Vibhor Kaamini Ratna, Ashim Sen and Kaushik Misra
Kausik Misra, head of non-fiction content and key in charge of the creative planning of the show, says that everything from brand integration to the timing of the show is part of his responsibilities.
"Entertainment is a serious business. One should be able to laugh, cry, and see drama on the show. Our idea this time was to not only hear music, but to visualise it. All our decisions are based on consumer insights," he says, adding, "Every time the momentum drops [going by TRPs], we try to figure out the reason behind it and try something new. Once that is communicated, each department takes responsibility to execute it."
The execution
Giving an outline of how the show is created, Sen explains that once the programming team, producer, and creative director line up the theme and singers with the channel, he is brought on board and that he is their most expensive hire. "Sa Re Ga Ma Pa is a completely different story than what it used to be when it started. The heroes of the show are the singers. So, the talent has to be impeccable," says Sen, who comes from a lineage of musicians. "Music is ingrained in me. You go a little off, and my dead family members will also get up [from their graves]. My role begins once the contestants are finalised."
Besides directing the show, he says the idea is to create a character that audiences can relate to. "I am basically a storyteller. We see to it that [the show] continues seamlessly. It is the job of the crew to make the contestants comfortable and [extract] stories from them. We then imbibe it to build their characters. I don't direct it for myself. I'm doing it more for my mother, my niece, my sister-in-law, the maid, and my dad, who might be grumbling. So, if I start cringing, I know they won't like what I am [showcasing]."
Sen shares that he is closer to the contestants through the camera lens.
Sen and his team decide when and where to focus during different parts of the performance. "Vibhor is my creative director [and producer of the show]. Vikrant [Thakur] does the lighting, and Kamal Rajput is the vision mixer, who cuts on my command. Dikshita [Kothari] is the assistant director. She knows the ins and outs of the show and records the timing for every [camera] shift. Then we record it and play it back. There is a whole discussion on when the light will change, when we take the close-up of the singer, the composite shot of the orchestra, or when we strum a particular instrument, or when it is not working. Everyone moves on my command," he says, breaking down every role.
Soul and sound
What's Sa Re Ga Ma Pa without discussing the music in the show? After 12 years of exploring and learning musical instruments, it was while directing music in Sa Re Ga Ma Pa Bangla that Rathijit Bhattacharjee was spotted by the programming team. New to Mumbai and making his debut in the mainstream Hindi GEC, he says, "Picking up instruments from the different corners of the world, merging popular music with folk songs, and sometimes blending it with classical music is my forte. I have to execute the musical vision of the show. The idea is not just to present it as a competition, but also to give people a different musical experience," says Bhattacharjee, who will be using zen drums, stomping, didgeridoo, water drums, marimba, fire drums, tap dancers, the grand piano, and nasik dhol, among others, this season.
"I research musical instruments every day and will try to introduce them on the show as it progresses. Stomping with feet and sticks is something I am attempting for the first time. We will also use the balafon, which is a South African instrument, for a song." Bhattacharjee says that there are many instruments in India that people are not aware of. "Ektara, for instance, is an instrument predominantly used in Bengal. We will have another performance where we won't use any instruments and rely purely on a cappella, which uses the voices of musicians to create instrument sounds. The trick is to use the right instrument for the right song and ensure that it doesn't sound bad," he shares, adding that his job also requires him to train with the orchestra on every number, decide which singer will croon which song, and how every musical piece is different from the others. There's a lot that rests on Bhattacharjee's shoulders, who also plans to use foley—sounds from nature—to create music this season. "There is music in everything, from the water to the car batteries; I plan to use them all."
"Exciting news! Mid-day is now on WhatsApp Channels

Subscribe today by clicking the link and stay updated with the latest news!"
Click here!