Monalisa and Vikrant Singh Rajpoot take mid-day.com's Trending TV couple quiz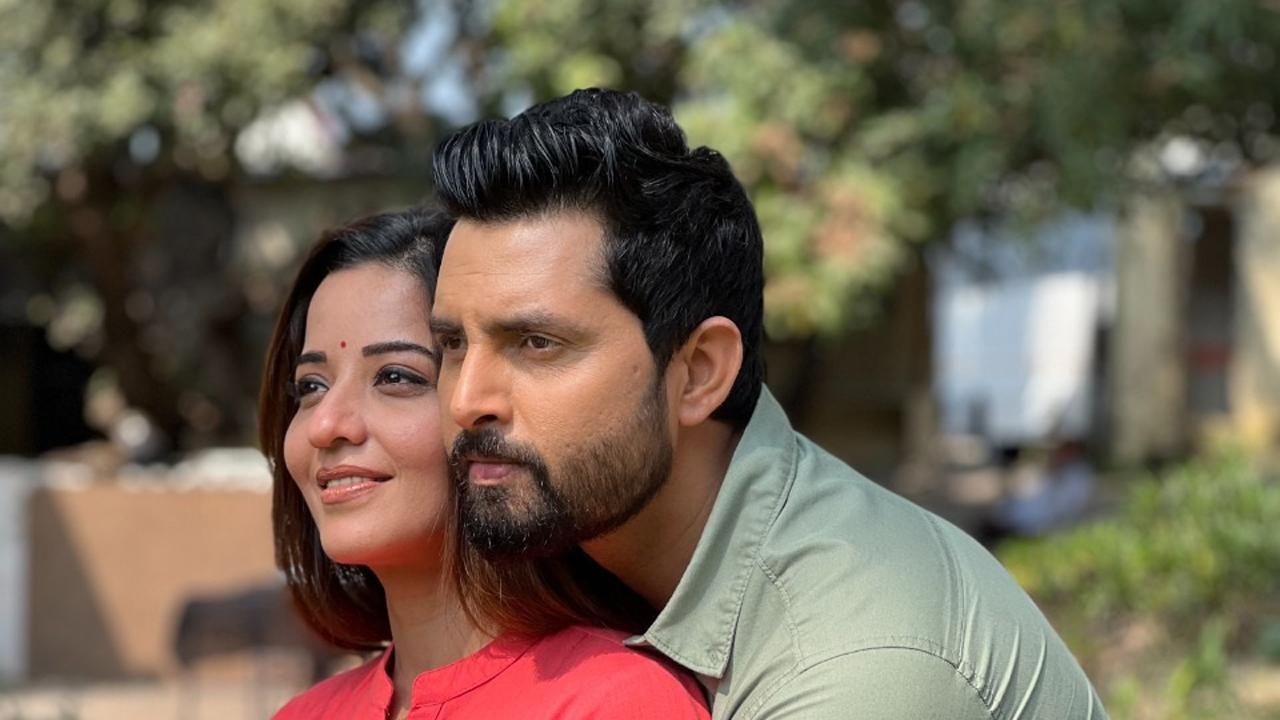 Monalisa and Vikrant Singh Rajpoot
Actress Monalisa and husband Vikrant Singh Rajpoot, are currently seen on Star Plus's reality show 'Smart Jodi.' The couple who tied the knot on national television, on Salman Khan's show 'Bigg Boss' in 2017, open up to mid-day.com about what makes them tick and how their relationship has gotten stronger over the years. Read on to know more!
The qualities in your partner you admire or fell in love with?
Monalisa: We met each other on April 24, 2008, on a Bhojpuri movie set named 'Dulha Albela.' No one helped in bringing us together. While shooting, we connected with each other, we loved shooting together, we enjoyed talking, laughing, acting, doing scenes, and didn't realise how 20 days of that schedule got over. Once we returned from that shoot, we realised that and started missing each other. I think that's how we got to know that there is something between us.
ADVERTISEMENT
He was my co-actor so I treated him as any other hero at the beginning but I heard him listening to a song that was my favourite 'Aankhien teri kitni haseen'  and that's how we started talking. Slowly we started talking and spending more time together, it was a romantic film so automatically we had to develop great chemistry. He was very friendly, jovial and always cracking jokes and making others laugh, which made me feel good. Vikrant's best quality is he is very honest. He is very loyal to me, whatever he has in his mind is what he says. He doesn't manipulate or say things just to please anyone. He's very fun-loving and good looking as well. He takes care of me in every way.  He has supported me every time even when I was in a bad phase mentally.
Vikrant: Mona is very innocent and loving. I consider myself very lucky in this matter that I found her. Our understanding is very good.
Memories of your first date and who was first to propose?
Monalisa: No one proposed first as such. We were shooting in different cities at that time. I was in Gaya (Bihar) and we used to talk for almost 24 hours. As soon as my shot got done I called him and vice versa. So we were missing each other and it was quite obvious that we were deeply in love. The day I came back from Gaya I straight away went to meet him in Juhu. I still remember I jumped on him after coming out of my car. So in our minds, we were clear that we were in love and we really missed each other.
Memories from your wedding…
Monalisa: We got married on national television and since I was inside 'Bigg Boss' house I had no clue that this biggest surprise would happen to me. He came inside the 'Bigg Boss' house and he proposed to me with an engagement ring that was so special. Since he didn't have my ring size it was bigger in size but I was amazed and couldn't believe this was happening with me. Then he said ' Will you marry me' and I immediately said yes! Our haldi and mehendi ceremony happened. My mom and my sister-in-law attended from our families, some of our friends also joined in our grand Shaadi inside 'Bigg Boss' house.
Who is the more romantic one among you two and any sweet surprise/gesture by your partner that you can share?
Monalisa: Though he will never accept because he will say he is more romantic but I object! I am more romantic than him. I make all the lovely romantic travel plans, with lovely locations, places where it's full of romance, special things I plan. But yes he gave me a great surprise a long time even before our marriage. He bought a very cute mangalsutra for me and that made me emotional. He was so sure of me that yes I am the one for him forever.
Vikrant: Both of us are romantic. We enjoy making each other feel special.
Through your journey together, what is it that you have learnt makes a relationship or marriage successful and any advice for other young couples starting their journey together?
Monalisa:  I have realised that among couples understanding is very important, to make any relationship strong. We have to accept the fact that we need to compromise on many things.  Sometimes the girl and other times the boy. We should not let our opinions be so firm that they can't change at all, we should discuss, if something is not acceptable to the other still we should discuss and find a way. If any arguments happen we should discuss and sort there themselves and not keep it in mind because that brings distance in any relationship and that is really bad.
Vikrant: Our nature is extremely different but when love is strong, the relationship lasts. I'm blunt and bindaas, I take things lightly and don't panic easily. Mona is exactly the opposite in nature. It's both of our responsibilities to maintain the right balance in the relationship.
How did you decide on your first home together and who decided on the decor etc…
Monalisa: We were in a live-in relationship since 2008 and we had a rented 1BHK flat at Yari Road. We both were not that stable with finances and the rent was getting higher every year. It was Vikrant who insisted and decided to buy a flat even if it is far from the main shooting area. I was not sure how will we will pay the EMIs but by God's grace it happened and we bought a 2BHK flat in Mira Road in 2013. We didn't do any renovations or any interiors at all, that was the biggest day for us, we had our own place in the city of dreams.
Most memorable vacation together…
Monalisa: I want to travel and discover all the new and beautiful things in the world. Whenever we get the time and if we are monetarily strong I would love to travel with him everywhere. All our vacations are so special, even if it is a one day tour in Lonavala or a 15 days tour abroad, we try to enjoy every single moment while we are together and in a simple way we try to make it special for each other. So, I really can't say which one was more memorable.