Farzi is Shahid's debut on an OTT platform, with a caper, that's so dramatically different from, say, his Badmaash Company (2010)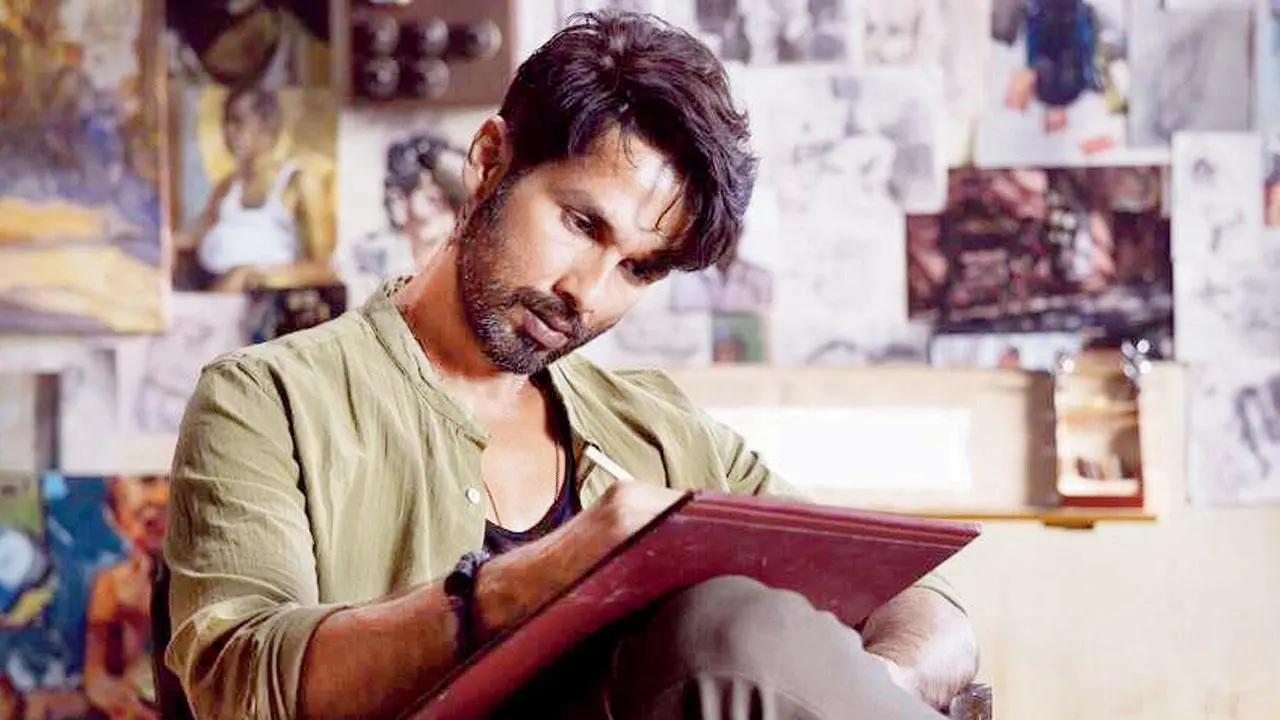 Farzi
Farzi
On: Amazon Prime Video
ADVERTISEMENT
Director: Raj & DK
Actors: Shahid Kapoor, Vijay Sethupathi
Rating: 3/5
I don't know where the term 'chocolate boy' for a romantic hero comes from. Given that all desi boys, like girls, are born various shades of chocolate. 
That said, with age, the ideal aim for the male-lead in mainstream Bollywood is to shed that look/image, and go full-macho, if you may. For, how long can you be the lover-boy anyway? 
As you can tell with Shah Rukh Khan on the big screen (Pathaan). Likewise, Shahid Kapoor, the star most inspired by SRK. Farzi is Shahid's debut on an OTT platform, with a caper, that's so dramatically different from, say, his Badmaash Company (2010). He's the brooding, muscled, quiet swindler, with a Midas touch, when it comes to reproducing paintings. Where can this talent be put to best use? Apparently, in counterfeiting currency notes. 
Also, what is it about such an artist that makes them separate from others? As we learn—the fact that they must attain the opposite of success; absolute anonymity, instead of fame! 
Perhaps because of how Shahid's role is written, or how he's generally on screen—while he's doing all the wrong things, we root for him all through. His character, surprisingly, feels less and less guilt, while wading deeper and deeper into the life of international crime: "Laalach shauq ko zaroorat mein badal deti hai (greed turns luxuries into necessities."
Who's this fellow, though? There's a strange upbringing involved—maybe a reason he goes from suave city-slicker in one scene, swiftly into a 'sadak chhaap' in another. An orphan, really, he was kinda raised by his grandfather, who's a fiery krantikari (revolutionary), for a newspaper publisher-editor, by night. 
I don't see a newsroom anywhere, only a printing press. During the day, the old man is an artist. Amol Palekar, the great Indian middleclass hero from the '70s, plays this part. 
In life, the gentle Palekar is a full-time painter. Which makes this casting choice as inspired as the one for Tamil superstar Vijay Sethupathi, as super-cop Michael, looking so worn out, overworked.
Can't recall the last time an actor worked such charm and swag with a 'dad-bod'—a cool term for paunch, coined by dads, who else? It's all the more cool to watch South-North cross-pollinations: Regina Cassandra (playing Sethupathi's wife), like Priyamani, or Samantha Prabhu, for that matter, in The Family Man. 
The only obvious actor in the principal cast is Kay Kay, softly killing it, as the main villain, Mansoor. What else sets master-directors Raj & DK apart, usually? Besides thoughtful casting moves? Lots of R&D (research and development). 
It shows in Farzi, as the camera moves between locations, cities, settings, timelines, tapping into men and women, with multiple motivations. The opening shot of the lead, literally caught in the dark, loops in with the fourth episode, when we learn the where, and the how. 
By this point, the thought on my mind was: Why is this a series? And not a film, for crying out loud? It's got three top-class leads in place, representing the full spectrum of shades—white (Vijay), grey (Shahid), black (Kay Kay): "Nobody is indispensable. Our needs change; or people do!" Possibly stuck between is the female protagonist (Raashii Khanna.)
The main plot is tight as hell. The dialogues (Hussain Dalal), as quoted above, are sharp. Yet, we proceed further, with everything progressively feeling looser and looser. As if eight episodes, of almost an hour each, was a goal to reach—even if it meant over-explanations, and long, lingering scenes, to fill up the emptiness within. 
Addictive cliffhangers don't deliver you from an episode to another. Farzi is not exactly your Friday-night mad binge. I've a feeling, junkies, who're comfortable consuming content at faster speeds, might simply press an x2, x1.5. I just can't. 
Before pressing on this show, the first thing I wished to check out instead is if this Amazon Prime Video series is, in fact, inspired by A Man of Action, a Netflix original (film)
Well, there's the sorta backdrop of how the rich have devised a system of lending to the poor, and living off interest, forever—and that the only way to break that system is through kranti (revolution); anarchism?
Equally the anti-hero's journey, with a clinical process, patiently surveyed, over split screens and smart jargon, to make the intricacies of his fraud, interesting—so Breaking Bad, no? 
Yes, and no. Because that's like saying, Raj & DK's The Family Man was so True Lies! No. This is not a farzi (fake/copycat) show. If anything, it is in more The Family Man itself, going by Sethupathi's Michael, and that he's actually friends with Srikant Tiwari (Manoj Bajpayee), even the top-informer Chellam Sir. 
Between the two spy thriller universes, crossing over, and moving ahead, you'd think Raj & DK have twin retirement plans in place, already. Of course, I'm kidding. This is a lotta work. It shows, and for the most part, the show's well-worth it too. 
Also Read: Exclusive! Farzi creators Raj & DK: 'A lot of research went into printing fake currency notes' Are you happy with MC Stan`s win on Bigg Boss 16?