Squid Game premiered on Netflix on September 17, and became the most-watched series in the US in a matter of few days. It became the first Korean drama to top Netflix's top 10 weekly most-watched TV show globally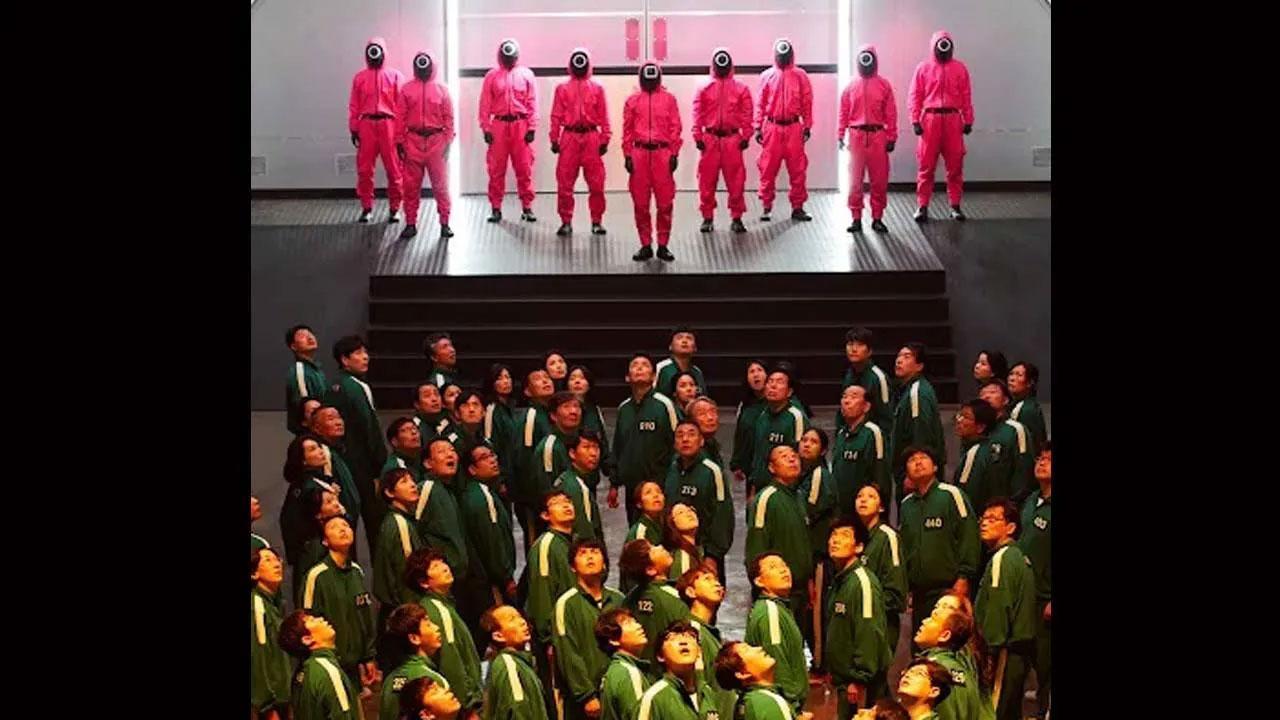 A still from Squid Game/ Picture: Mid-day Archives
456 players. 6 childhood games with a dark twist. Cash prize of 45.6 billion Won. 
In case you missed the memo, writer-director Hwang Dong-hyuk's latest Korean survival drama Squid Game has become Netflix's most-watched series globally. Initially scripted in 2008, season 1 of Squid Game that spreads across 9 episodes, is a tale of 456 people who risk their lives in a deadly survival game to bag a cash prize of 45.6 billion Won and get rid of their miseries.
Squid Game premiered on Netflix on September 17, and became the most-watched series in the US in a matter of few days. It became the first Korean drama to top Netflix's top 10 weekly most-watched TV show globally. It reached the No 1 spot in 90 countries, including US, UK and India. The popularity of the show was widely driven through word-of-mouth and social media. The show was localised with subtitles in 37 languages and dubbed in 34 languages that helped significantly to capture an international audience.
Squid Game stars Lee Jung-jae, Park Hae-soo, O Yeong-su, Wi Ha-joon, Jung Ho-yeon, Heo Sung-tae, Anupam Tripathi and Kim Joo-ryoung in key roles.
Seong Gi-hun, played by Lee Jung-jae, is a divorced chauffeur neck deep in debts. He is invited to play a series of games for a chance to win a large cash prize and put an end to his miseries. After he accepts the offer, he is driven to an unknown location only to find he is not alone in the game. There are 455 other players, all crushing under large debts due to various circumstances life has thrown at them. 
Also Read: Squid Game star Jung Ho-yeon becomes South Korea's most followed actress on Instagram
Kept under a constant watch by several masked guards and a Front Man, the players discover that there is no turning back from this point. Losing in a game means losing your life, and each death adds 100 million Won to the grand prize. No matter what is the game, losers are killed by the masked guards point blank. How the protagonist survives the physical and psychological twists of the games will keep you hooked to the series until the very end, only to discover a very unexpected twist.
Speaking to IANS about what makes Squid Game so popular across the globe, director Dong-hyuk said, "There are many works that depict survival games or death match but most of those survival game themed artworks depict how complex the games are and how dangerous games are. Those are mostly the focus of those works but then Squid Game is different." 
The games in this series are simple childhood games that originated in Korea, but they have a dark twist. These games are easy to understand, not just for Koreans, but also the global audiences. The players' lives are at risk if they lose any of the 6 games and in the end only the sole survivor takes the entire cash prize. 
However, it's not just the games or their simple rules, but more so the people and their emotions that global audience will identify with, that sets Squid Game apart from other survival game series. It could be called a Korean dystopian series that combines games, violence and money. Fans of the series described it as a violent combination of The Hunger Games, Black Mirror, and Parasite.