What does it take for a theatre group to thrive in a war-torn country? Jana Natya Manch's Sudhanva Deshpande found out during a two-week trip to a Palestinian refugee camp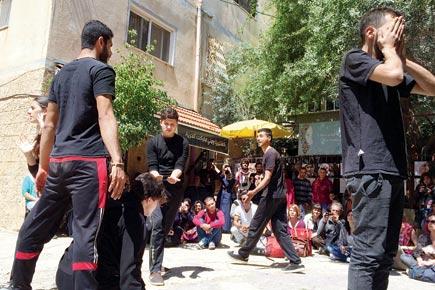 His journey to Palestinian theatre, says 47-year-old stage veteran Sudhanva Deshpande, began with one question: 'What kind of change can theatre, or any art form, hope to bring in a war-ravaged land like Palestine?'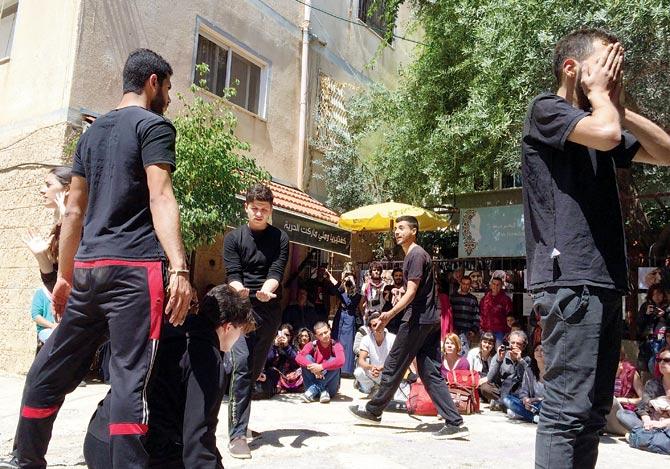 Students of The Freedom Theatre School perform a street play, titled The Occupation Machine, which they worked on during a two-day workshop with Sudhanva Deshpande. pics/Sudhanva Deshpande
Deshpande got a glimpse into the answer earlier this year when he went there for a fortnight to work with The Freedom Theatre, a community-based cultural centre in Jenin Refugee Camp, West Bank, with over 16,000 residents.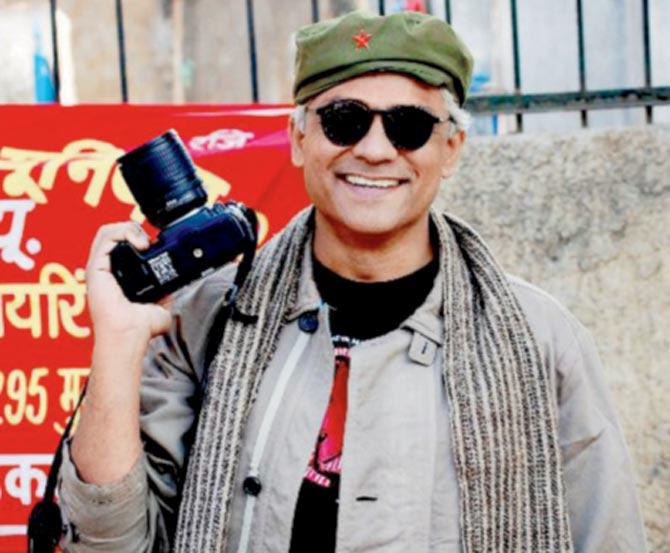 Deshpande, an actor and director with Delhi-based Left-wing street theatre group, Jana Natya Manch (Janam), can find many correlations between his group, co-founded by Safdar Hashmi in 1973 and Freedom Theatre, founded by Juliano Mer-Khamis in 2006. For starters, both are politically motivated and use art as a medium of resistance and public spaces as their stage. Janam regularly 'stages' its plays at factories, universities and working-class neighbourhoods, while Freedom Theatre performs all over the West Bank in Palestinian villages and towns. What is also eerily similar is the way both, Hashmi and Mer-Khamis were killed. Hashmi was attacked during a street performance in 1989, while Mer-Khamis was shot by a masked gunman in Jenin in 2011. "When I read the news — an April 4, 2011, headline, 'Jewish-Arab director shot dead in northern West Bank' — my heart sank," says Deshpande. The previous month, he had written to Mer-Khamis after hearing of Freedom Theatre.
"My first introduction to Mer Khamis was through the 2004 award-winning documentary he made on his mother, who ran a small theatre group with the children at Jenin Refugee Camp, through 1989 and 1996, titled Arna's Children. Later, I heard that he'd taken over his mother's work and tried contacting him," says Deshpande.
After connecting with Ben Rivers, who heads Freedom Theatre's Playback Team — a troupe that travels through Palestine and stages plays based on experiences shared by the audience — three members of the theatre arrived in India earlier this year. They then invited Deshpande to make a short trip to meet the group behind internationally acclaimed plays Fragments of Palestine (2009) and Suicide Note from
Palestine (2014).
Describing the theatre scene in Palestine as "phenomenal", Deshpande says, "They were well versed with contemporary theatre of Europe and North America. They are technically accomplished, even though the technology at their disposal hardly compares to what European or American theatres have. The quality of their plays and performances amazed me." He adds, "They even have a circus school… something India is yet to have."
Deshpande, who will be in Mumbai next week to discuss his Palestinian experience as part of a Mumbai Local initiative, affirms that no theatre in Palestine is apolitical.
For instance, one of the plays that Freedom Theatre recently staged was based on the 39-day siege of Bethlehem by the Israeli army in April 2002. "The Western media reported the Israeli narrative. No one heard the other side. The Siege was their account of what happened. There is one truth and many false stories. These these theatre groups are trying to bring the truth to the table."
While Freedom Theatre — six of its members are headed to India in December to work with Janam — doesn't have to battle Censor Board gag orders, there are restrictions on human rights like commuting from one place to another.
"Most people don't even have a passport. The authorities decide if they will let you inside a particular region or not. Putting up plays in this scenario is no easy task. Imagine that you are at a check post and half your cast is not allowed to enter. I have seen them make the best of the situation and improvise," he adds.
As far as the question he began with goes, perhaps he's found some sort of an answer now. "Theatre has also acted as a bridge between the youth and their rich cultural heritage. Watching it and participating in it, gives them a fresh perspective. A young man I met told me that previously his only ambition was to become a martyr. Now, he wants to live and do something worthwhile. That is the power of theatre."