Move over Batman, Spider-Man and Co. Avatarex, created by Grant Morrison is a digital comic set in India that looks at a superbeing and the upheavals he must face in a world that is in constant churn
Avatarex
In early July, an announcement in the comic book space caused much cheer and buzz. Legendary writers Stan Lee, Grant Morrison and Deepak Chopra started work with Graphic India to bring in adrenaline-packed digital comic book exclusives to Humble Bundle to raise money for Doctors Without Borders/ Médecins Sans Frontières (MSF) and Worldreader. This was to include the worldwide exclusive release of Morrison's Avatarex Chapter 1. Morrison's first digital comic, Avatarex is published by Graphic India, and introduces readers to an epic world around a 'superbeing'. In the comic, living myth collides with the mundane realities and cultural upheavals of contemporary India.
Later, legendary, Spider-Man, Iron-Man and The Avengers co-creator, Stan Lee, will join the promotion with Chakra The Invincible — Lee's first Indian superhero creation. This will also see its exclusive e-book release in this bundle. Chopra, the acclaimed New York Times best-selling author, will also be a part of this with his e-book comic series, Buddha: A Tale of Enlightenment.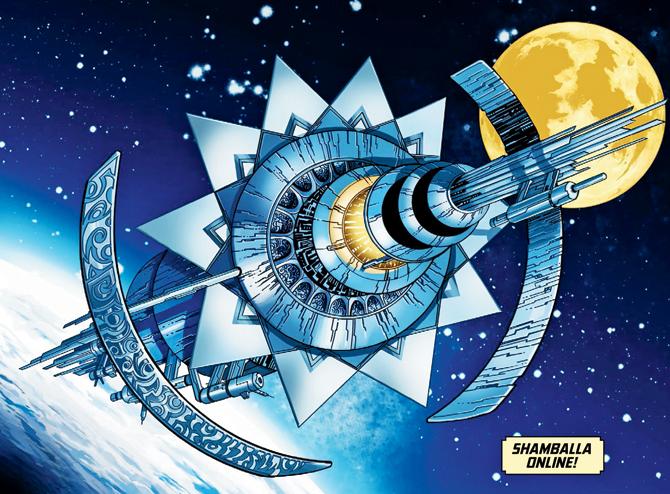 In addition to the above titles, the Humble Bundle campaign will feature Graphic India e-books including Ramayan 3392 AD, Myths of India, The Mighty Yeti, Morrison's 18 Days, and others. Normally valued at over US$200, these e-books will be available for $15 as part of this charity raising event.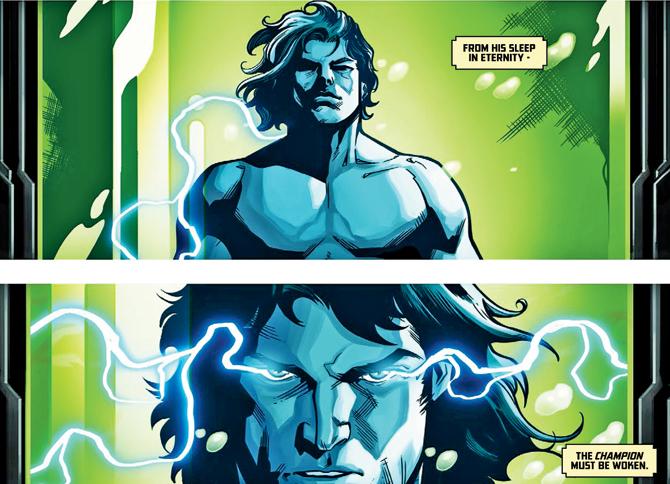 Frames from the first chapter of Avatarex, in digital comic book format
Excerpts from an email interview with Grant Morrison:
Q. Why did you decide to create a digital comic and not in print? What was it like to work on Avatarex?
A. I'm in Los Angeles right now with an Internet connection — but back home in rural Scotland, where I work, I can't get a signal. So, generally I have no Internet, no phone, and no watch. My wife, Kristan takes care of everything involving communication! Which is to say, I rarely think about how my work is being read. I do like the democracy of digital comics — they can be sourced and read anywhere, anytime, and that aspect of it is something I'd like to get into a little more. I want to create work for all available delivery platforms. Avatarex is the first digital-only comic that I've written and I'm excited by the opportunity to create for a more accessible global platform.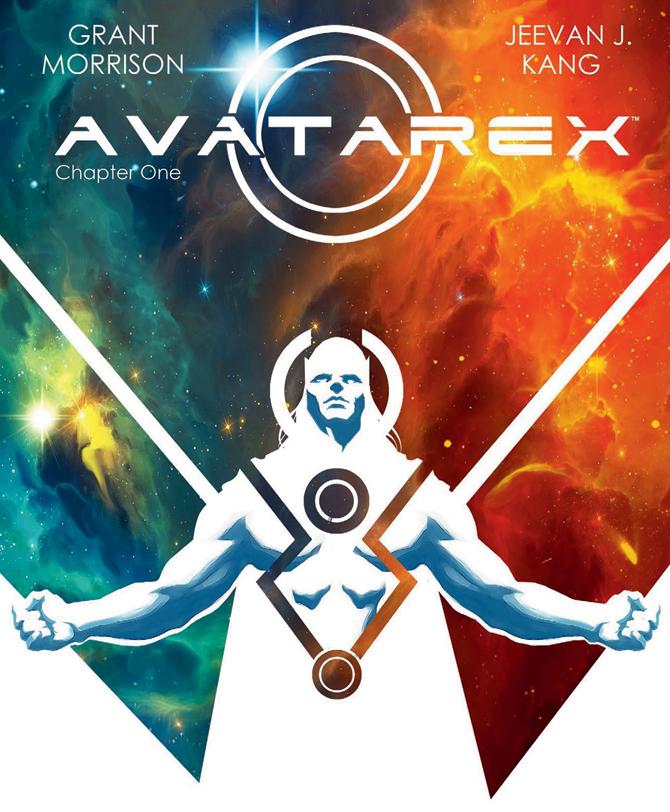 Chapter 1 of digital comic, Avatarex
Q. Could you give our readers a brief backgrounder about the epic world that we will see in Avatarex?
A. In Avatarex, the epic world of living myth collides with the mundane realities and cultural upheavals of contemporary India. What happens when an all-powerful super-being awakens to fight the Last War of the Age — only to discover he's been sent too early for the End Days and must somehow learn to exist in a world that's too small and too frail to survive his presence? How does humanity react to the challenges of such a paragon in our midst? Will Avatarex raise us to his level — or will we drag him down to ours? Can the embodiment of our highest aspirations exist side-by-side with our all-too-human failings or will the gulf between what we wish we could be and what we are destroy us?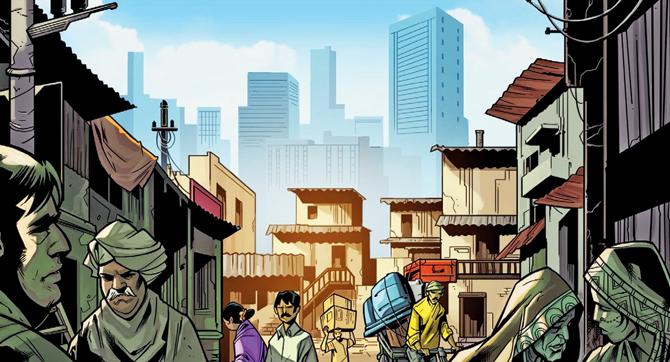 Q. What were some of the challenges you faced while working on this form of content? Was there a time during the process where you had to rethink your plot and storyboard?
A. I've written Avatarex, the same way I write my other books, so there hasn't been too much of a change in the process other than thinking of shorter episode breaks than traditional 24 page monthly comics.
Q. Tell us about the Humble Bundle initiative to raise money for Doctors Without Borders and Worldreader.
A. I believe that educated young women are our world's best hope for the future and I'm very proud to be working with Graphic India and Humble Bundle to support Worldreader and Doctors Without Borders in the all-important fight against poverty, lack of medicine and illiteracy in India. This is a chance to make a real difference in the lives of underprivileged girls and perhaps help inspire the doctors, artists, and leaders of tomorrow. By buying the books online a portion of the proceeds of the digital comics purchased will support these programmes. The digital comics bundle is available on www.humblebundle.com /grantmorrison.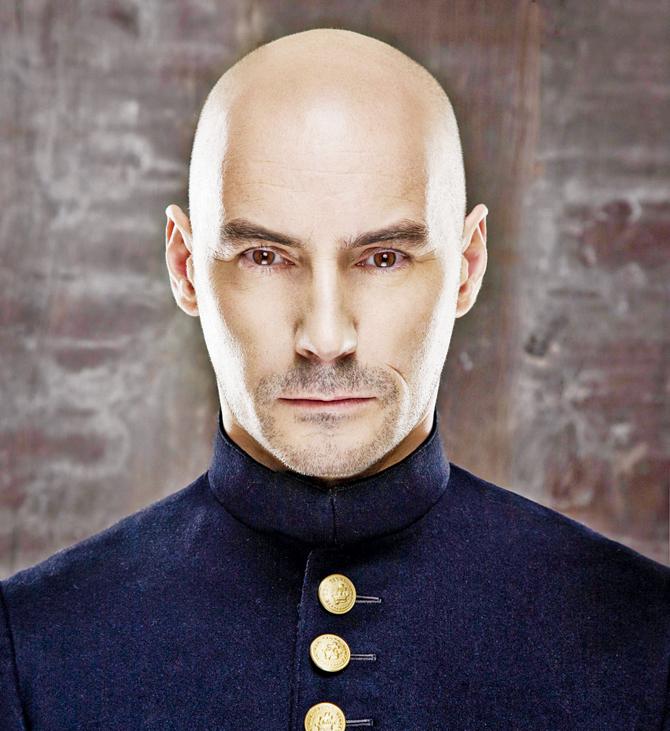 Avatarex's creator, Grant Morrison
Q. What is your reading of the graphic novel landscape that is emerging from India?
A. The work I see from Graphic India is changing the perception of Indian graphic novels for me. The amazing artists from India I have worked with (through Graphic India), like Jeevan J Kang, Mukesh Singh, Saumin Patel and others are doing groundbreaking work. Also, it seems to me — mostly from reading the papers and watching the news, I must admit — that there's a much more progressive and positive feeling in some of the countries of the East, like India and China. In the West, at the moment, the future is something to be feared. In the East, it is something to look forward to.
For me, the superhero has always been a crude and hopeful representation of how the human future might look if we don't blow ourselves up. The reactionary soldier superhero of the West has his place but I'd like to see the kinds of superheroes who might arise from cultures with a little more faith in tomorrow.
At a time when I feel I've said about as much as I have to say about the American superhero, Avatarex is an opportunity to re-imagine the entire concept through a different cultural lens.
Log on to: www.humblebundle.com/books to read more about these titles and see the full bundle