The Spanish School in Fort offers a window to its language, and Spain's ties with India, from food to the La Liga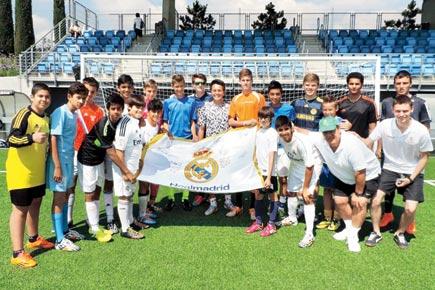 As Spain celebrated its National Day on October 12, we stumbled upon a fascinating Iberian connect, in the heart of South Mumbai.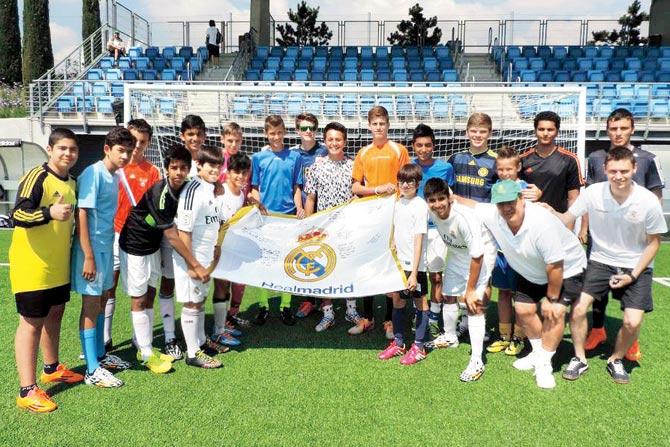 Kids from Mumbai at a football training camp in Barcelona
ADVERTISEMENT
Anu Dalmia, a World Bank consultant for many years, moved to Mumbai and wanted to learn Spanish as a hobby but was unable to locate any institute in South Mumbai. Years later, while on a sabbatical from work, she chanced upon a Spanish teacher who taught her Spanish for a year. During that time (2012), she decided that learning and teaching Spanish was her calling. She started The Spanish School at Fort, which offers lessons in Spanish to children and adults. Apart from teaching the language, Dalmia wanted her institute to allow Mumbaikars to understand and celebrate Spanish culture. So, the school conducts art, food, music and dance workshops and celebrates special Spanish and Hispanic festivals like the Tomatina, The Bull Run, San Fermin and Cinco de Mayo. There are movie screenings and fun Fridays to learn to party Spanish style.

Maria Arroyo Blazquez conducts a class at The Spanish School in Fort. Pics/Tushar Satam
"I learnt French in school but found it too refined and tight-lipped for my taste. I found Spanish to be a warm, relaxed culture and a lovely language. I learnt it after I was 30 and had two children, I believe it's a language that anyone who is interested can learn," reveals Dalmia, seated in her office on Prescott Road.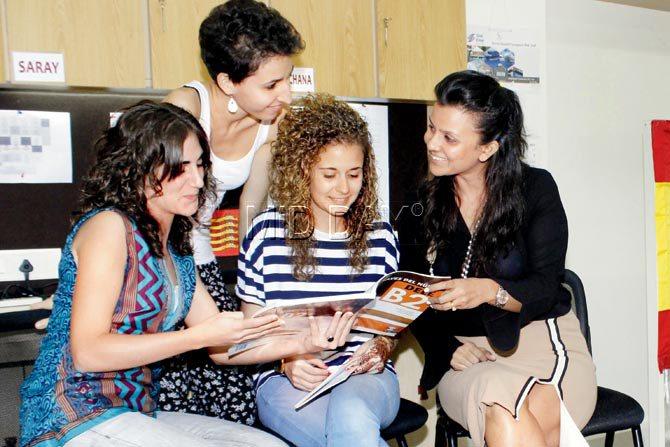 Anu Dalmia, founder and director, The Spanish School (right) with her team of Spanish teachers
She explains why, unlike an Alliance Francais for French and Mux Mueller Bhavan for German, Spain didn't have a representative school in Mumbai. Dalmia says, "I found it strange and I hope to bring the Institute de Cervantes to Mumbai, one day. One of the reasons is the shortage of space and the sky-high rents in Mumbai. I had a lot of ideas and wanted to be able to execute them without having another institute breathe down my neck, which is why, I didn't tie up with another institute."
Learn, involve, excite
Started in February 2012, the institute currently teaches students from the age group of four to 80. "When we started, we had space for only eight students and we had two teachers, so, we were planning to have two batches of eight students. We had 20 enrollments and had to hire another teacher," she informs. "Over 500 million people around the world speak Spanish. It's the second most spoken language in the world. It's the official language of more than 20 countries and is one of the official languages of the UN. Besides all of these popular reasons, to many, it's a gateway to understand Spanish culture, food and connect with Spanish speaking people all over the world. Indians are amongst the brightest students in classrooms around the world and knowing a foreign language puts them at an even greater advantage," adds Dalmia as she gives us the tour of the school.
When we visit this bright and cheery space, Dalmia insists that we attend a session. Our teacher is the vivacious Maria Arroyo Blazquez who greets us in Spanish, and begins on the day's class, which includes a memory game with chits that act as jigsaw puzzles, using which, students try to put full sentences together. Her animated techniques help us follow bits of what she is saying.
Each teacher at the school shares his/her resources as well. The team of three teachers is constantly researching new methods and tools. "I hire teachers from Spain. Earlier, we had Indian teachers but from this year, we have only Spaniards; not even South Americans. There are a lot of Spanish speaking people in the city, and we get many applications, but I wanted people who are teachers," Dalmia asserts.
Presently, the institute has 150 students including kids and adults. For kids, each batch has been segregated age wise. "We did our research on cognitive abilities of children and designed programs accordingly. For example, we have a jumping programme for four-year-olds, music programmes for five-year-olds and a reading programme for six-year-olds. We conduct an informal evaluation, and don't inform parents about it as we don't wish for it to get competitive," she feels, adding that the school also receives admission applications from women who had to give up their careers for various reasons.
At The Spanish School, 202, Venkatesh Chambers, Prescott Road, Fort.
Call 40049545, 992053587
Log on to www.thespanishschool.in
Cost Rs 18,000 (basic courses for adults), Rs 25,000 (one-year course for children; inclusive of registrations, materials and taxes, exams and certificates)
"Exciting news! Mid-day is now on WhatsApp Channels

Subscribe today by clicking the link and stay updated with the latest news!"
Click here!