Muslims in Mumbai are busy bringing in celebrations that started earlier this morning but will continue throughout the day. While some of the are soaking in the chaos of festivities, others are being surprised by family and coming together for bigger celebrations than the last few years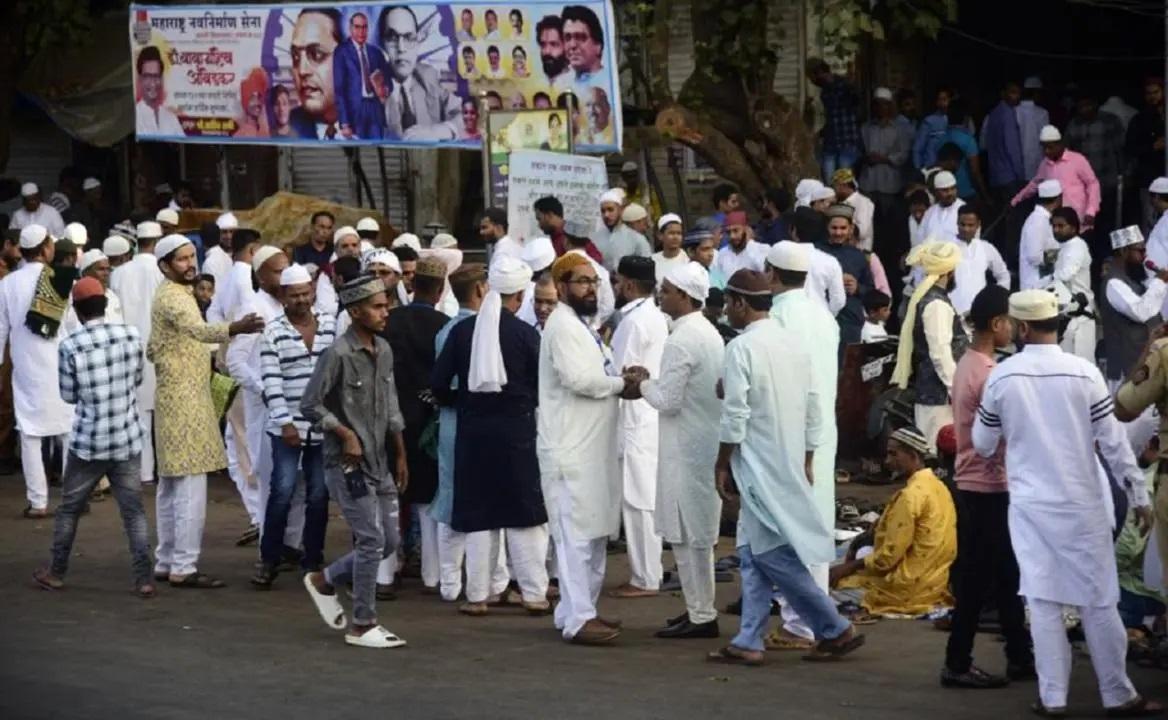 Mumbaikars are celebrating Eid-ul-Fitr today after fasting during the holy month of Ramadan. Photo Courtesy: Atul Kamble/Mid-day
The delicious aroma of sheer kurma wafting in the air is all Sadiya Bobere could think of leading up to Eid al-Fitr celebrations this year, after her family ritualistically observed the holy month of Ramadan. The sweet dish, which is put to boil in the kitchen, is just one aspect among other preparations for the rituals and celebrations followed by the Bobere family for the day and they have done everything they can and more. "Just like every year, this time too Eid started by waking up before sunrise for the morning obligatory prayers, followed by dressing up and then performing the Eid prayers. The unnecessary chaos on the morning of Eid is unavoidable in my home as everyone wants to be the first one to get ready for the blessed day," says the excited CST resident. 
After these rituals, the 26-year-old intends to wish friends and family, and spam WhatsApp groups with Eid Mubarak messages like always so that she can take all the time to enjoy a delicious lunch after that. "Instead of taking a long nap after eating biryani for lunch, this year I plan to visit close relatives for a get-together," she adds. It was something that she couldn't do in the last few years because of the Covid-19 pandemic that wreaked havoc around the world. She explains, "Eid this year will be a bit different for a lot of people as a few relatives and family members are no longer with us because they have passed away during Covid. While most of us have made it normal to simply wish everyone on the phone instead of visiting due to social distancing during the Covid-19 pandemic, it is important to visit friends and family for social gatherings as it revives the bonds and helps us stay connected."
ADVERTISEMENT
Every year, Muslims and followers of Islam celebrate Eid al-Fitr during this time of the year after fasting while observing the holy month of Ramadan not only in Mumbai but all around the world. Bobere is one of many Mumbaikars in the city who will be bringing in the festival with friends, family, and good food. Even as their celebrations are underway, they are busy coming together to make the food. "Making sheer kurma and biryani is mandatory on Eid in our family, along with half a dozen other sweets like sevaiyan, pineapple halwa and gajar halwa, and kunafa. that get exchanged with our neighbours," says the Mumbaikar, who finds joy in giving gifts. "Growing older makes me realise the happiness of giving gifts more than just receiving them," she adds. 

Play Quiz: How much do you know about Eid-ul-Fitr?
Elsewhere in Kurla, Sajid Syed is also very excited for the day not only for the traditions but also the food and meeting friends and family. He explains, "After coming home, we enjoy three sweets that have been prepared for Eid like sheer kurma, sevaiyan and shahi tukda (also called double ka halwa)." Just like Bobere, the 49-year-old IT professional will be exchanging greetings and sweets with his neighbours. "Later in the day, we will call up all our relatives to greet them and after that we will gift Eidy (gifts) to the children in the family," he adds. 
Like many other Muslims in Mumbai, Syed has had a busy morning starting with the fajr prayer followed by a visit to the masjid to read the Eid namaz, after which his family gave the poor alms as is done by most members of the community, followed by shaking hands and giving warm hugs to fellow Muslims to indicate warmness and letting go of any negative emotions and instead celebrating the festival to the fullest. 
Affan Shaikh, another Kurla resident, has had a perfect start to the morning for Eid celebrations. The 21-year-old youth explains, "There are many kinds of traditions my family follows but one of my favourites has to be enjoying the khajoor milk. We drink it before going for Eid prayers and it has been practised in my family for generations." It is not only the food but also the fact that his family got a surprise this morning that has made Eid celebrations even sweeter. "The eldest cousin in the family gave a surprise visit from Poland this morning," shares an elated Shaikh, who is indulging in intimate celebrations with his family today. 
It is one that they couldn't have during the Covid-19 pandemic not only because of the virus but also the lockdowns that were put in place to avoid the spread of the virus. "Our Eid celebrations begin from the last day of Ramadan which was not possible in recent years. My entire family including my uncle and aunty, visit at our place to enjoy the last iftaar together. It's been a family ritual from even before I was born. So, during the Covid-19 phase it was very difficult for us to celebrate Eid without our family. It hit us hard because even my father had never experienced an Eid without his brothers and sisters around, but this year we are able to do it like we have always done," shares Shaikh as gets pulled away by his family to celebrate and cherish these memories like many other Mumbaikars. 

Also Read: Indulge in these lavish meals in Mumbai, Delhi and Bengaluru in India 
"Exciting news! Mid-day is now on WhatsApp Channels

Subscribe today by clicking the link and stay updated with the latest news!"
Click here!