For almost a month, eight female students studying at the Government Women's Pre-University College in Udupi have been denied entry into their classrooms for protesting against a hijab ban imposed by the college. Amid the controversy, Mid-day Online reached out to Mumbaikars to understand what they think about the issue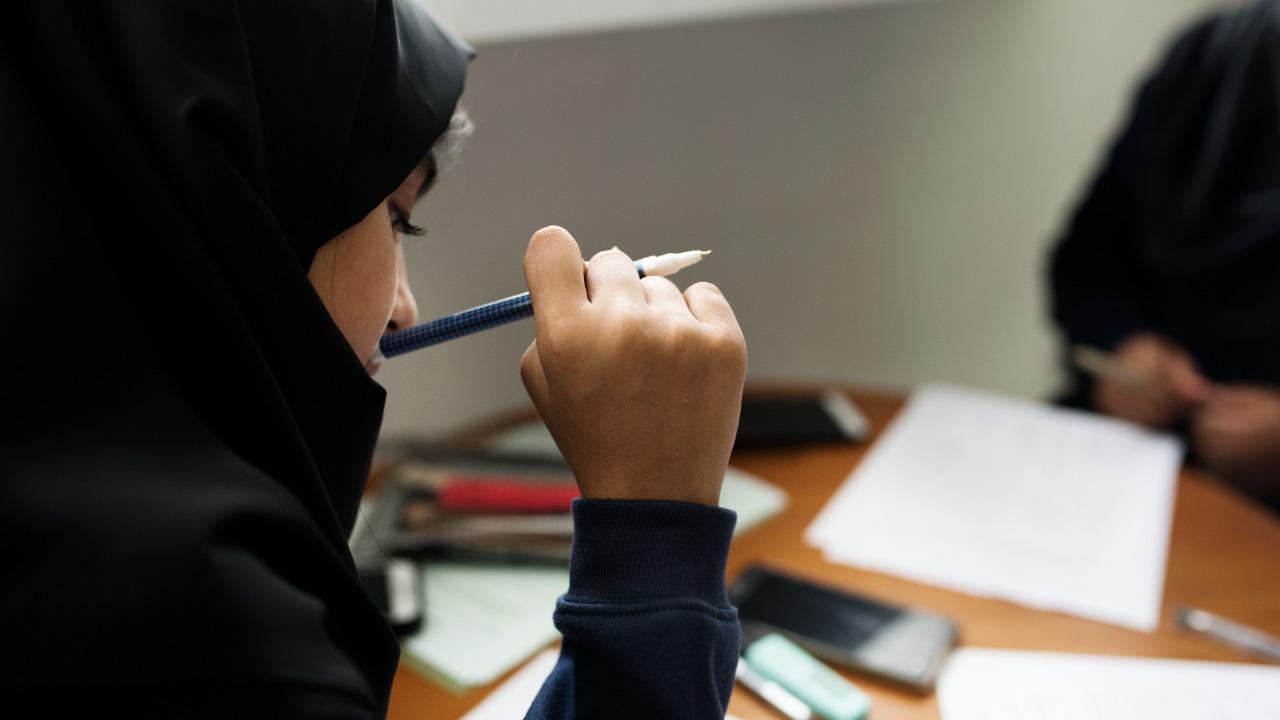 Image for representational purpose only. Photo: istock
It has been more than three weeks now that eight Muslim students in Karnataka's Udupi district have not been allowed to enter their classroom after they protested against a hijab ban imposed by their college. In an interview with the Indian Express, Rudre Gowda, the principal of the Government Women's Pre-University College said the ban was being imposed on the students to maintain uniformity. Initially, there were more students who were a part of the group that protested the hijab ban, but some of them reportedly gave in after they were told that they wouldn't receive their exam hall tickets.
The college does not have any policy or guidelines which state that the students cannot wear a hijab, but the principal said that it has been something the college has followed for the last 37 years, ever since its inception in 1985. 
Wearing the hijab is a personal, religious choice and given that the Constitution of India guarantees the right to practice religion, the fact that the girls are being allowed into the college premises but not being allowed to attend classes is not only problematic but also goes against the law. 
Amid the controversy, the college has currently been shut as six students and a teacher have tested positive for Covid-19, and if no other students test positive, will be reopened on January 27. 
Mid-day Online reached out to Mumbaikars to get their reaction to the issue. While the right to education is a recurring theme, the targeting of religious groups is another aspect that they feel needs to be addressed. 
Anam Ansari, 26, Curriculum Developer
Right to Education and religion are fundamental rights of every citizen. Practicing religion is also a fundamental right that the Constitution grants to every citizen. No one can be discriminated against, based on religion. Denying Muslim girls entry into the classroom for three weeks just because of their wearing a hijab is a clear discrimination based on religion. And why do people feel offended when the girls have chosen to cover themselves? Nobody forced them to do so. Every individual has their own liberties of wearing what they choose to wear.
Also, if you or any citizen in India in that case stops any other person from practicing their culture, they are defying the constitutional rights directly. I myself wear a hijab, I have never felt any kind of oppression in wearing it and neither has anyone forced me to do so, I chose to wear the hijab myself and I do not feel that anyone has the right to ask me to take it off in any condition. In a similar way, I feel the girls have the right to choose to wear what they want to. Nobody else has the right to ask them to take their hijab off. 
Steffi Cusher, 34, teacher  
A school is a place where children are educated. It ensures that all pupils have the opportunity to learn and make progress. 
The goal of modern education is to focus on ensuring that children would be problem solvers, decision makers and enablers. Students need to leave school with life skills that help them navigate challenges even if they don't know the solutions to them. 
If hijab is banned in schools, some parents may deny education to Muslim girls. Denying the right to education for the girl child just because she could not wear a hijab will be absolutely unfair and unjust. The school needs to understand that their ultimate goal is to educate pupils.
Daniya Fakih, 30, dentist
Firstly, keeping religious sentiments aside, which is a major deciding factor in this case, is the question of freedom of choice. If it is something you decide to wear, I don't think anybody needs to have a say in that. Irrespective of whether it is in a modest way or a vulgar way, I think freedom of choice is something that should not be questioned or banned. If that's what they are comfortable with, nobody should have an opinion about it. 
Girls in India aren't allowed to do a lot of things because of the idea that the girl's place is in the kitchen, which I think is an absolutely rubbish concept. There are also things that parents tell their daughters, that you cannot do this sort of thing, do it after you are married. Don't go out on too many trips or do it only after you get married. I think that is stupid – why is a girl's life set in these timelines, she's 'parayadhan' with her parents and then she is trained to be a wife, then her husband and his family set the rules and God forbid, if something goes wrong, the girl feels like she doesn't have anybody else because they're always treated as temporary. 
It is also about the selective targeting of religious minorities. The state of affairs in the last few years in our whole country, with the whole communal divide, I think is a big trigger in not letting the girls wear the hijab or burqa in school. 
Priyadarshani Yuvaraj, 24, social worker 
Being born and brought up in Mumbai, it feels weird to live in such a time. Gone are the days where discriminations and phobias towards people were subtle even though it did take place. What I'm seeing today is a society that is going backward in many ways -- where hate, discrimination, phobias are openly practised and supported by the well-educated and unexpected friends too. 
The issue that's going on in Udupi and many other places is a clear example, in my opinion, that democracy is dying. You can't voice out against the ultimate, you cannot question, and criticism will be considered as a heinous crime. 
I thought and believed that we were born with rights, and can fight and snatch our rights if not given.  That's what I did my whole life until now, but this incident coming out so openly makes me think, is there somebody who is supreme enough to think that they can give or snatch the rights of ones who are born with it? And why are people supporting it? 
It's absurd for me, to such an extent that I can't directly name a party, or question our country, because freedom of speech is a thing of the past now, and I fear to be labelled as an 'anti-national'. That's how slowly things turn out to be tyrannical in a society. Today it's the hijab, if we don't voice out now then it will reach the other end with different types of people being deprived of their rights, and justice- until an aristocracy is formed.