When Mumbaikars were struggling in the pandemic, they tweeted at Ruben Mascarenhas. The activist-politician had help from dozens of citizens, who jumped in to take helpline requests for medical aid and ferry cooked meals for the non-profit Khaana Chahiye. But how did they make things happen amid lockdown and a deadly second wave?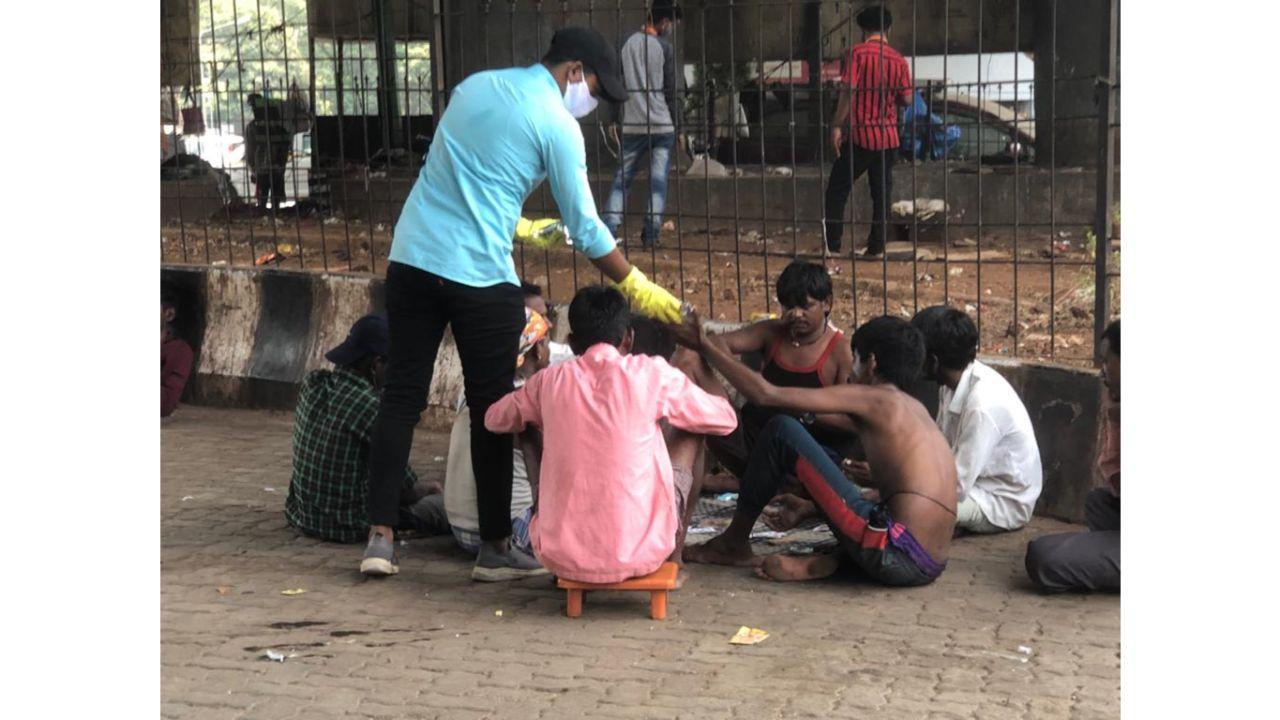 A Khaana Chahiye volunteer distributes food packets. Pic Courtesy: Swaraj Shetty
One person who gets tagged in almost all Covid-19 SOS messages in the city is politician and activist Ruben Mascarenhas. "The joke had been that if you need a bed in Mumbai, you 'tag' Ruben," says the 33-year-old. While he is recognised as the go-to man in emergency situations, there are in fact large teams of citizen volunteers — students, working professionals — helping him mobilise medical aid and hot meals during the pandemic. 
At the peak of the second wave of coronavirus, when the healthcare system was overburdened and patients were struggling to find oxygen, ambulances, hospital beds and medicines, they sought assistance on social media. Whereas the Brihanmumbai Municipal Corporation (BMC) has its own war rooms -- run by school teachers, data entry operators, and doctors -- for emergency response, a helpline and non-profit launched by Mascarenhas have emerged as supplementary, and much used, services in the city. Behind the scenes of the latter efforts are regular people who work from their respective homes, pooling organisational skills, civic know-how, and elbow grease to keep things running.
ADVERTISEMENT
Stepping up, stepping in
Given the need of the hour, on April 15, a helpline – 7718812200 – was set up to support Mumbaikars. It was handled initially by workers of the Aam Aadmi Party, of which Mascarenhas is national joint secretary, but more citizens stepped forward when the volume of calls and requests became enormous. Two thirds, or 60 of the 90 volunteers, are regular citizens. "We connected the helpline with a cloud telephone service," he says.
Ruben Mascarenhas
One among such volunteers was 22-year-old policy researcher Ratnabh Mukerjei. When the second wave hit, his familiarity with the local administrative systems proved an asset for the team. "We created a network essentially of doctors, bureaucrats, seniors from political parties and other office holders. We tied up with the BMC war rooms and MoH [Medical Officer of Health]. A system was put in place where we were working in conjunction with the BMC, informally," says the young economics graduate, who volunteered 14 to 16 hours a day. 
New volunteers were suitably briefed, which helped streamline efforts amid the crisis. "We conducted regular training sessions with all of our volunteers to familiarise them with the entire system. It was to make them understand how prioritisation works and how to go about these cases – negotiating with officers in war rooms, reaching out to MoH etc," says Mukerjei. At the peak of the second wave, they used to receive almost 1,500 calls a day. Now they field about 150 calls.
Ratnabh Mukerjei
While the helpline was trying to address the critical medical requirements of citizens, the vulnerable section in the city was going through a tough time when it came to something as basic as food availability. 
This is where the non-profit Khaana Chahiye helped out. Mascarenhas was among its co-founders when it started in March 2020 during the first lockdown, together with Rakesh Singh, Swaraj Shetty, Anik Gadia, Neeti Goel, Shishir Joshi and Pathik Muni.  Whereas Mascarenhas works with and amplifies the initiative, Khana Chahiye is wholly citizen-led and has no political affiliations. As a pilot project, it provided 1,200 meals to people who resided along the Western Express Highway, but this year it has expanded through crowdfunding, donations and a growing volunteer base. 
"It is actually a collective of 250 Mumbai citizens. We registered as an NGO because we are, right now, looking at long term solutions for the problem of hunger in the city," says co-founder Shetty, a communication professional. Last year, they collaborated with two other NGOs – Project Mumbai and Bharat Utthan Sangh -- and reached meals to over six lakh migrant workers and other vulnerable sections who lacked the resources to cook at home. Besides cooked food, they distributed grocery kits too.
Shetty explains how they work. If someone has a request, they go to the initiative's website and fill up the details on the 'report hunger' tab. Someone from the team gets in touch with that point of contact and sends a core member from the team on-ground to verify. "This process has given us a database of around 20,000 vulnerable people across Mumbai, which we've collected and verified and given food at various points last year." This year, they have distributed close to eight lakh meals and more than 4,000 grocery kits for families.
Working together, not as substitutes
The helpline volunteers were clear that their purpose was to be participative citizens, rather than substitutes for the BMC. They made sure that proper process was followed while addressing people's requirements. Says Mascarenhas, "For example, if there is a requirement for a bed, and after giving the details to the BMC if there is no response for a few hours, we actually call the war room. Then we speak to the to the MoH, who, in this case, is in charge of the war room and then escalate it to the ward officer, leverage our relationships to try and work out a solution."  
Khaana Chahiye's community kitchens and food production work follow relevant safety standards. They also focus on the quality and nutritional value of the food. They have a pre-decided weekly menu. The food is cooked, weighed and packed by their vendors, after which volunteers distribute the packages once or twice a day. They work around entire Mumbai Metropolitan Region, including Thane, Navi Mumbai, Kalyan and other areas. "Our focus is on-ground requirements and what the beneficiaries need."
Khaana Chahiye's community kitchens and food production work follow relevant safety standards
But they realised that the pandemic is going to prolong and hunger isn't just a pandemic problem, it is an economic problem. Shetty elucidates, "We are not policy experts. So, when we decided that to focus on long term solutions, we needed collaborators. We involved volunteers who are policy experts. We tied up with the BMC, with Mumbai University, to document the vulnerable clusters and get the data on where the need is and plan multi-level long term interventions via the Hunger Map Project." The larger idea with the availability of the data is that – even though they might not have the solution – local points of contacts and NGOs can get involved and try to work with it. 
Dodging obstacles
The efforts of these city volunteers have been appreciated by most. However, there have been lingering questions about how they managed to help at a challenging time with issues which the authorities were sometimes unable to solve. Mascarenhas says, "Did the government do their work, of course they did. But was it enough? No, it wasn't. It is about a very entrepreneurial way of solving a problem. That is what makes the difference. People need to go literally out of their way to help and not just come up with explanations and lip service."
Swaraj Shetty
Shetty also hopes that everyone, including the government, takes cues from these citizen-driven initiatives and builds the required structure for solving problems. "Nobody can replace the government. But we can change the system. I am optimistic that it will happen and I have noticed good work being done, at least in Mumbai," says Shetty. 
While everyone hopes that we will not have to face a third wave of Covid-19, these initiatives are prepared and their volunteers are on standby, to step in again, whenever required. 
Also Read: Here's how Twitter became the new COVID-19 helpline
"Exciting news! Mid-day is now on WhatsApp Channels

Subscribe today by clicking the link and stay updated with the latest news!"
Click here!